India's Most Trusted Online Loans Marketplace
7382159
Happy customers

Log in
OR






Over 6 Million
Registered Users

1,100 + Locations
Served By Us

Offers from
29+ partner banks

Rated 4.5/5
By Customers

Online application,
quick processing

Transparent
terms & conditions

Dedicated advisor +
doorstep service

attractive
voucher
Rated As
4.5/5.0
(
4,721
Reviews)
---
Choice Of Partners With Us
---
Assisted Digital Loan Process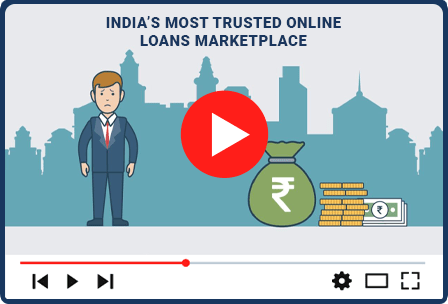 Free Service and
Quality Response
Digital + Doorstep
Service
---
Current Interest Rates & APR
Current Interest Rates
*T&C Apply
Illustration of the total cost of a personal loan
Total amount borrowed: ₹ 1,00,000
Time period: 3 Months to 72 Months
Interest Rate: 10.25% to 36.00%
Processing Fee payable to: Upto ₹ 3,500
Fee payable to MyLoanCare: NIL
Total Monthly Cost – From ₹ 1,865 for 72 Months ₹ 1,00,000 loan at 10.25% (lowest rate, longest time period) to ₹ 35,353 for 3 Months ₹ 1,00,000 loan at 36.00% (highest rate, shortest time period). This is inclusive of principal repayment.
Annual Percentage Rate (APR) of charge including all applicable fees: 10.83% to 36.58%
Total cost payable over loan tenure: ₹ 5,213 for 3 Months loan to ₹ 37,796 for 72 Months loan
Home Loan

Home Loan at all-time low rates starting at 6.50%. Cashback of up to ₹ 1,000

Apply Now

Personal Loan

Instant Personal Loan starting at 10.25% with Cashback of up to ₹ 1,000.

Check Offers

Gold Loan

Instant Gold Loan starting at 9.00% with Cashback of up to ₹ 500

Apply Now

Loan Against Property

Best Loan Against Property Offers starting @ 6.90%. Cashback of up to ₹ 1,000*.

Apply Now

Business Loan

Collateral Free Business Loan Rates starting at 14.00% with Overdraft facility.

Apply Now

Fixed Deposit

AAA rated FDs with returns as high as 7.05%.

Invest Now
2022-05-18 : Axis Bank Changes Marginal Cost of Lending Rates


Axis Bank has revised MCLR for different tenures. As a result, Overnight and one-month MCLR is 7.55%. MCLR for three months, six months and one year is 7.65%, 7.70%, and 7.75% respectively. In addition, the MCLR for two and three years is 7.85% and 7.90%.

2022-05-13 : Punjab National Bank Increases Personal Loan Rates


The bank has increased the rates by 40 basis points, and after the revision, the bank offers personal loans starting from 8.85% to 14.85%.

2022-05-13 : Union Bank Increases Car Loan Interest Rates


The bank has increased the interest rates on both new and old cars. The car loan interest rate ranges from 7.30% to 8.40% for new cars. In addition, the bank offers car loans for old cars starting at 10.80% to upto 10.90%.

2022-05-13 : PNB Revises Gold Loan Rates


Punjab National Bank has increased the rates on gold loans, and as a result, the bank offers the lowest rates starting at 7.55%. Earlier, the rate was 7.25%.

2022-05-13 : Ujjivan Small Finance Bank Profit Falls by 7% for Q4


The bank has reported a 7 percent fall in its net profit to Rs 126.5 crore. Earlier, the bank had posted a net profit of Rs 136 crore in the same quarter of the preceding fiscal year 2020-21.
*Terms and conditions apply. Credit at sole discretion of lender, which is subject to credit appraisal, eligibility check, rates, charges and terms. Information displayed is indicative and collected from public sources. Read More

Please wait while your information is being processed...