Over 2 Million
Registered Users

1,100 + Locations
Served By Us

Offers from
25+ partner banks

Rated 4.5/5
By Customers

Online application,
quick processing

Transparent
terms & conditions

Dedicated advisor +
doorstep service

attractive
cashbacks
Rated As
4.5/5.0
(
3,959
Reviews)
---
Choice Of Partners With Us
---
Assisted Digital Loan Process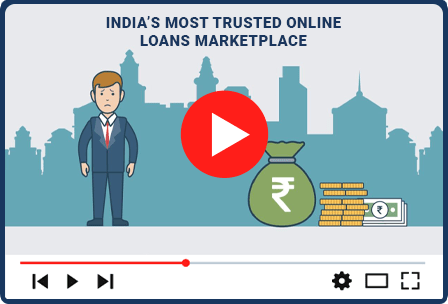 Free Service and
Quality Response
Digital + Doorstep
Service
---
Current Interest Rates & APR
Current Interest Rates
*T&C Apply
Illustration of the total cost of a personal loan
Total amount borrowed: ₹ 1,00,000
Time period: 6 Months to 72 Months
Interest Rate: 10.40% to 24.00%
Processing Fee payable to: Upto ₹ 3,500
Fee payable to MyLoanCare: NIL
Total Monthly Cost – From ₹ 1,873 for 72 Months ₹ 1,00,000 loan at 10.40% (lowest rate, longest time period) to ₹ 17,853 for 6 Months ₹ 1,00,000 loan at 24.00% (highest rate, shortest time period). This is inclusive of principal repayment.
Annual Percentage Rate (APR) of charge including all applicable fees: 10.98% to 24.58%
Total cost payable over loan tenure: ₹ 6,555 for 6 Months loan to ₹ 38,343 for 72 Months loan
---
20th Jan, 2021 :

DA hike approved for government employees of Chhattisgarh, Delhi and West Bengal

Chhattisgarh, Delhi, West Bengal government hiked the dearness allowance of its employees. The Central government is also considering hiking the dearness allowance by 4% in January. This increase is expected to be based on the recommendations of the 7th Central Pay Commission.

20th Jan, 2021 :

SBI HDFC, ICICI, remain systemically important banks

RBI reiterated that the SBI, HDFC Bank and ICICI Bank continue to be the systematically important banks or SIBs of the country banking system. SIBs are subjected to higher levels of supervision so as to prevent disruption in financial services in the event of any failure.

20th Jan, 2021 :

41 crore Jan Dhan accounts opened under PMJDY

The Finance Ministry clarified that more than 41 crore people benefited PMJDY, a scheme striving for financial inclusion. As on January 6, 2021, the total number of Jan Dhan accounts stood at 41.6 crores.

20th Jan, 2021 :

IIFL Home Finance and Standard Chartered Bank joined hands for co-lending

IIFL Home Finance and Standard Chartered Bank joined hands for extending credit. It is one of the first co-lending partnership after Reserve Bank India's co-lending guidelines were issued. Under this co-lending agreement, IIFL Home Finance Ltd and the Standard Chartered Bank will co-originate these loans and the IIFL Home Finance Ltd will service the customers through the entire loan life-cycle including.

19th Jan, 2021 :

Bank of Maharashtra reported Q3 profit up of ₹154 crore

Bank of Maharashtra reported a net profit of Rs. ₹154 crores in the third quarter ended December 31, 2020, against ₹135 crores in the year-ago quarter. Advances that include home, personal, car, two-wheeler and gold loan along with business and mudra loans increased by 12 per cent year-on-year to ₹1,04,904 crore. Further, deposits which include FD and Rds increased by 14% to ₹1,61,971 crore. The share of the low-cost current account, savings account (CASA) deposits improved to 50.91% of total deposits from 50.51% in the preceding quarter.