Over 2 Million
Registered Users

1,100 + Locations
Served By Us

Offers from
25+ partner banks

Rated 4.5/5
By Customers

Online application,
quick processing

Transparent
terms & conditions

Dedicated advisor +
doorstep service

attractive
cashbacks
Rated As
4.5/5.0
(
3,608
Reviews)
---
Choice Of Partners With Us
---
Assisted Digital Loan Process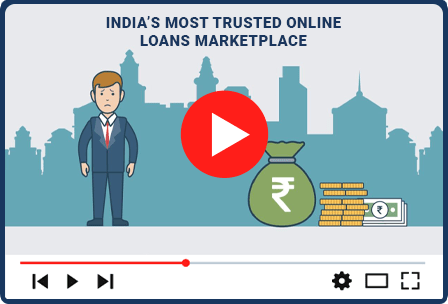 Free Service and
Quality Response
Digital + Doorstep
Service
---
Current Interest Rates & APR
Current Interest Rates
*T&C Apply
Illustration of the total cost of a personal loan
Total amount borrowed: ₹ 1,00,000
Time period: 12 months to 60 months
Interest Rate: 10.99% to 22%
Processing Fee payable to: Upto ₹ 2,000
Fee payable to MyLoanCare: NIL
Total Monthly Cost – From ₹ 2,174 for 60 months ₹ 1,00,000 loan at 10.99% (lowest rate, longest time period) to ₹ 9,359 for 12 months ₹ 1,00,000 loan at 22% (highest rate, shortest time period). This is inclusive of principal repayment.
Annual Percentage Rate (APR) of charge including all applicable fees: 11.39% to 22.4%
Total cost payable over loan tenure: ₹ 14,313 for 12 months loan to ₹ 32,424 for 60 months loan
---
7th Apr, 2020 :

Gold rates touched record high prices

Gold rates increased for consecutive days and stand at Rs. 42, 520 per 10 gram for 24 carats as on 7 April 2020. The increasing streak in the gold prices will impact gold loan borrowers.

7th Apr, 2020 :

HDFC Bank revised MCLR

HDFC Bank changed its MCLR with effect from 7 April 2020. The overnight and one-month MCLR is 7.60% and 7.65%, respectively. The three months and six months, MCLR stands at 7.70% and 7.80%, respectively. Further, the MCLR for one year, two years and three years is 7.95%, 8.05% and 8.15%, respectively.

7th Apr, 2020 :

Borrowers to be considered under moratorium by default

Reserve Bank of India instructed the Banks and financial institutions to consider the borrowers under three months moratorium by default irrespective of their opting-in or otherwise. RBI is aiming to provide relief to borrowers amid the COVID- 19 and subsequent lockdown. It will impact retail loans like home, personal and car loans along with business loans.

6th Apr, 2020 :

The Central Government announced relief for its employees

The Central Government has announced the extension of the deadline for submission of the Annual Performance Review Report (APAR) from 15th April 2020 to 30th June 2020. The decision has been taken to provide respite to the employees amid the COVID-19 pandemic.

6th Apr, 2020 :

EPFO to accept Aadhaar as a birth proof

EPFO notified that it would accept Aadhaar card as the valid documents to rectify the date of birth of its subscribers, provided the difference between the DOB is three years. EPFO is aiming to ease the process of withdrawal amid the COVID-19 and subsequent lockdown.