Over 2 Million
Registered Users

1,100 + Locations
Served By Us

Offers from
25+ partner banks

Rated 4.5/5
By Customers

Online application,
quick processing

Transparent
terms & conditions

Dedicated advisor +
doorstep service

attractive
cashbacks
Rated As
4.5/5.0
(
3,806
Reviews)
---
Choice Of Partners With Us
---
Assisted Digital Loan Process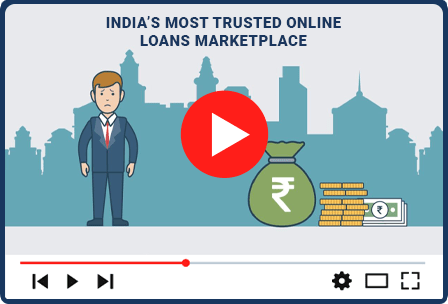 Free Service and
Quality Response
Digital + Doorstep
Service
---
Current Interest Rates & APR
Current Interest Rates
*T&C Apply
Illustration of the total cost of a personal loan
Total amount borrowed: ₹ 1,00,000
Time period: 12 months to 60 months
Interest Rate: 10.99% to 22%
Processing Fee payable to: Upto ₹ 2,000
Fee payable to MyLoanCare: NIL
Total Monthly Cost – From ₹ 2,174 for 60 months ₹ 1,00,000 loan at 10.99% (lowest rate, longest time period) to ₹ 9,359 for 12 months ₹ 1,00,000 loan at 22% (highest rate, shortest time period). This is inclusive of principal repayment.
Annual Percentage Rate (APR) of charge including all applicable fees: 11.39% to 22.4%
Total cost payable over loan tenure: ₹ 14,313 for 12 months loan to ₹ 32,424 for 60 months loan
---
26th Nov, 2020 :

Credit growth slows to 5.8% in the September quarter

RBI reported that the credit growth which includes retail loans like home, personal, gold, two-wheeler and car loan along with business and mudra loan decelerated to 5.8% in the September quarter from 8.9% in the year-ago period. Further, deposits which include FD and RD increased by11% year-on-year in the July-September period as compared to 10.1% growth a year ago. The share of current account and saving account (CASA) in total deposits stood at 42.3% in September 2020 compared to 41.2% a year ago.

26th Nov, 2020 :

HDFC Bank, ICCI join hands to support SMEs, start-ups

Inventivepreneur Chamber of Commerce and Industries or ICCI has signed an MoU with HDFC Bank to support SMEs and start-ups. ICCI will engage, enrol, and bolster various start-ups, SMEs, MSMEs to facilitate inter-alia financial and other facilities to and from HDFC Bank.

26th Nov, 2020 :

Lakshmi Vilas Bank to operate as DBS Bank from Friday

The RBI clarified that the merger of Lakshmi Vilas Bank with DBS Bank India will come into force from 27 November. Further, the moratorium imposed will also be removed.

26th Nov, 2020 :

Over 40 lakh subscribers enrolled for Atal Pension Yojana this fiscal

Pension Fund Regulatory and Development Authority (PFRDA) reported that over 40 lakh new subscribers have been enrolled under the Atal Pension Yojana. With the new additions, the total enrolments under the APY have crossed 2.63 crores.

25th Nov, 2020 :

RIL has set to refinance overseas loans worth ₹10,500 Cr to reduce borrowing costs

Reliance Industries plans to refinance ₹10,500 Cr worth of overseas loans to slash borrowing costs. The new debt will cost up to 70 basis points less, helping save on interest costs. Standard Chartered Bank, Citigroup, State Bank of India, MUFG, HSBC, and DBS Bank are in talks with the RIL.