80DDB
80DDB Deduction
Last Updated 30th Oct 2020
Section 80DDB of the Indian Income Tax Act explains tax deduction for specified diseases or treatment.
Individuals and HUFs residing in India are considered as an assessee under this section.
An assessee can bear medical expenses of their own or of their dependents.
Form no 10-1 duly filled and verified by specialists or doctors with Medical Council recognized degree is to be submitted at the IT department.
The deduction amount is capped at Rs. 40,000 for individuals below 60 years and at Rs. 1 lakh above 60 years.
Section 80DDB
Medical expenses are subject to taxation as it falls under expenditure incurred by individuals. Medical expenditure can refer to different areas of medical expenses from specified deceases to the maintenance of disabled individuals. For calculating the tax liabilities of individuals, all legitimate tax deductions against the earned income or incurred loss have been specified in various sections of the Indian Income Tax Act of 1961. Section 80DDB among these sections sheds light on the permitted deductions against the expenses sustained by individuals and HUFs due to selective diseases. This section provides clear guidelines on who all are subject to tax deduction for which diseases and allowed limit.
Income Tax Deductions & Exemptions
Section 80DDB Deduction
Section 80DDB of Income Tax Act states the deductions related to the treatment cost of specified diseases. Any medical expenditures incurred for the treatment of the specified diseases or ailments is subject to taxation. The section has further mentioned the list of diseases and treatments that come under its coverage. Deduction under this section is called 80DDB deduction. However, this section does not consider premiums of health insurance as medical expenditure. Health insurance premiums have been covered under section 80D of the IT Act. 
Who can Claim Deduction Under 80DDB Income Tax?
Individuals and HUFs are eligible for 80DDB income tax deduction. Moreover, only individuals or HUFs residing in India in the respective financial year are considered as income tax assessee. Hence, Non-Resident Indians are not subject to taxation under this section. Remember that the individual incurring the expenditure can only claim the deduction. Corporate or other entities cannot claim 80DDB deduction.
Whose medical treatment allowed as a deduction under 80DDB?
As mentioned under section 80DDB of Income Tax Act, the expenses must be done for treating the following.
Individual assessee
Under the 80DDB section, the individual assessee is supposed to bear the medical expenses for themselves or for other individuals depending on the assessee for support and maintenance. The depending individuals can be spouse, children, parents and siblings.
HUF or Hindu Undivided Family
HUF can bear the medical expenses of himself or any other member of the HUF who is dependent on the HUF.
What kind of medical treatments are allowed under sec 80DDB?
Following medical treatments are allowed under section 80DDB of the Indian Income Tax Act od 1961.
Neurological diseases with a certified disability level of 40% or above. Neurological diseases refer to the following:

Dementia
Aphasia
Ataxia
Hemiballisums
Dystonia Musculorum Deformans
Motor Neuron Disease
Chorea
Parkinson's disease

Malignant Cancers
Full Blown AIDs or Acquired Immuno-Deficiency Syndrome
Chronic Renal failure
Haematological disorders such as the following:
Documents Required for 80DDB of Income Tax Act
Documents under section 80DDB refer to the prescription or medical certificate proving the treatment has actually been provided. Earlier it was mandatory to avail the prescription from doctors practising in government hospitals. However, from the AY 2016-17, the terms have been relaxed by considering prescription from specialists working in private sectors to be valid. However, the doctors must hold the specific degree recognized by the Indian Medical Council.
Below goes the list of documents based on the disease or treatment required under section 80DDB of the IT act. 
Neurological diseases: Prescription from Neurologist holding a Doctorate of Medicine or D.M. degree in Neurology or any other equivalent degree.
Malignant Cancers: Prescription from an Oncologist holding a Doctorate of Medicine or D.M. degree in Oncology or any other equivalent degree.
AIDs: Prescription from any specialist holding a post-graduate degree in General or Internal medicine.
Chronic Renal failure: Prescription from a Nephrologist holding a Doctorate of Medicine or D.M. degree in Nephrology or from a Urologist holding a Master of Chirurgiae or M.Ch. Degree in Urology or any other equivalent degree. 
Hematological disorders: Prescription from a specialist holding a Doctorate of Medicine or D.M. degree in Hematology or any other equivalent degree.
How much Amount Claimed deduction under sec80DDB?
Under section 80DDB, the claimed amount is decided based on the age of the person getting the treatment. For individuals or HUFs and dependents of individuals or HUFs, the maximum claim amount is capped at Rs. 40,000 or the actual medical expense, whichever is the lesser amount. In the case of senior citizens, be it individual or HUF, the maximum amount is capped at Rs.1 lakh or the actual medical expense, whichever is the lesser amount.
Here goes the list of amounts that can be claimed as deduction under the 80DDB section of the Indian Income Tax Act.
For Below 60 years: The actual medical expense or Rs. 40,000 (whichever is less)
For Senior citizens aged 60 years or more: The actual medical expense or Rs. 1 lakh (whichever is less)
For Super senior citizens aged 80 years or more: The actual medical expense or Rs. 1 lakh (whichever is less)
Section 80DDB Form Format
Form no. 10-1 is to be used as the certificate or prescription under 80DDB section. The singular paged form contains personal information of the one getting the treatment, information of the one paying for the expense or the assessee and a verifying statement from the respective specialist or doctor. The assessee must submit this form to the IT department while making a claim.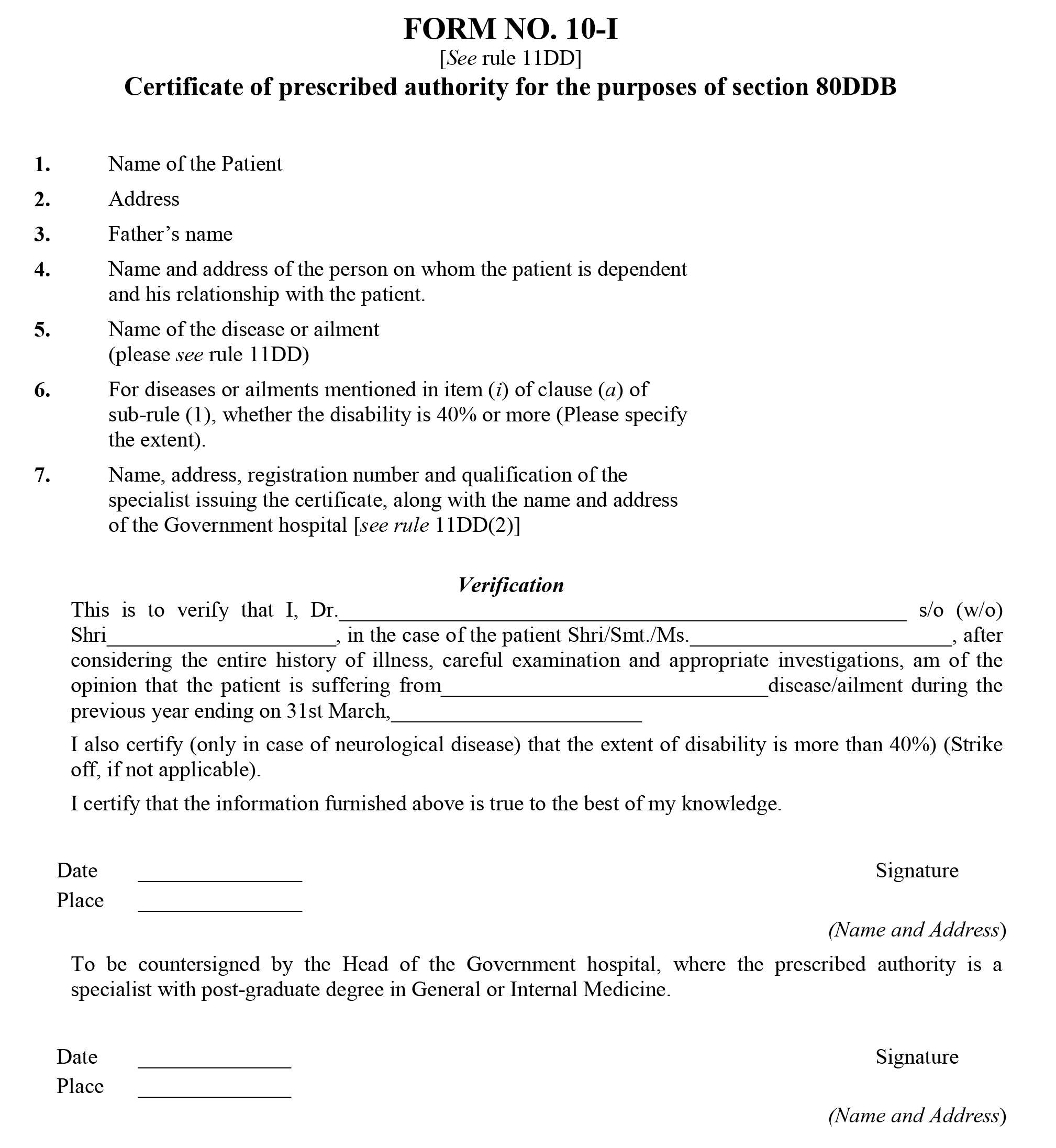 How to Fill Section 80DDB Form?
You can fill in the 80DDB form or form no. 10-1 within a few minutes by providing the required information. Follow these steps and complete the task easily.
Enter the following details of the individual or HUF member getting the treatment.

Name
Address
Name of the father

Enter the following details of the person supporting the patient and bearing the expenses.

Name
Address
The relation between the patient and person bearing expenses.

Enter the name of the disease or ailment (as per rule 11DD).
Mention if the disability id more 40% or more.
Enter the following details of the certificate issuing specialist or doctor.

Name
Address
Registration number
Qualification

Enter the following details of the government hospital.
Fill in the verification section along with signature and date.
The form will further require a signature from the head of the government hospital if the prescribing specialist holds a post-graduate degree in General or Internal Medicine.
Section 80ddb income tax act for senior citizen
Previously the section 80DDB income tax act deduction amount for senior citizens and super senior citizens was capped at ₹ 60,000 and ₹ 80,000 respectively. However, in the 2018 budget, an amendment to the previous provision was proposed. The proposal was to increase the deduction amount for both senior and super senior citizens to ₹ 1 Lakh.
Amendments made in section 80DDB in AY 2018-19
The amendment proposal was accepted and helped in enhancing the 80DDB deduction for senior citizens. The amendment was effective from April 1, 2019, and is to be implemented in the assessment year of 2019-20. Hence, instead of the previous ₹ 60,000, and ₹ 80,000 standard, deductions can be claimed up to ₹ 1 Lakh for senior and super senior citizens.
FAQs
✅

Which diseases are covered under 80ddb?

The following diseases are covered under 80DDB section.
Neurological diseases (with disability level of 40 or above)
Malignant Cancer
AIDs
Chronic Renal failure
Hematological disorder
✅

Can I claim both 80dd and 80ddb?

Yes, you can claim both 80DD and 80DDB. However, make sure that your claims meet the regulations of both sections.
✅

Is heart disease covered under 80ddb?

No. heart disease is not covered under section 80DDB as it is not mentioned in the list of specified diseases.
✅

Can medical bills be claimed under 80ddb?

Yes, medical bills can be claimed under 80DDB section but only by the individual paying for the medical expenses.
✅

What is difference between 80dd and 80ddb?

Section 80DD covers the expenses incurred for medical treatment or maintenance of disabled dependent, while 80DDB covers medical treatment or selective diseases for self and dependent.
✅

Who can claim under 80DDB?

Any individual bearing the medical expense of self or of any dependent can claim under 80DDB. It includes individuals and HUFs residing in India.
✅

Can medical expenses be claimed on tax return India?

Yes, medical expenses can be claimed on the tax return in India.
---
2020-10-28 :

Income tax return filing deadline for FY20 extended till Dec 31


The income tax return (ITR) filing deadline for FY 2019-20 has been extended to December 31, 2020, for most individual taxpayers. The earlier deadline of ITR filings was November 30, 2020. This is the second time the tax filing deadline for FY20 has been extended.

2020-09-10 :

Faceless assessment ushers in a new era tax transparency


Income tax authorities are likely to start the faceless tax assessment from 25 September. The objective is to make the tax assessments seamless, painless and faceless. It will bring in transparency and objectivity in tax assessments, foster taxpayer's trust and confidence, and boost voluntary compliance.

2020-09-10 :

CBDT issues over ₹1,01,308 crore refund to 27.55 lakh taxpayers


Income Tax Department reported that CBDT has issued refunds of over ₹1,01,308 crore to more than 27.55 lakh taxpayers between April 1 to September 8, 2020. Further, The I-T refunds of ₹30,768 crores were issued in 25,83,507 cases and corporate tax refunds of ₹70,540 crores have been issued in 1,71,155 cases.

2020-09-03 :

Banks, post offices can now check ITR filing status


Banks can now check the status of ITRs of their customers based on their PAN. Through this facility banks or post, offices can get the applicable rate of TDS using the PAN of the person withdrawing cash.

2020-08-31 :

IT Department to intimate taxpayers under scrutiny about faceless assessment


The income tax department will start sending out intimation to assessees undergoing scrutiny that such cases would be handled under faceless assessment. Under faceless scrutiny assessment, a central computer picks up tax returns for scrutiny based on risk parameters and mismatch and then allots them randomly to a team of officers.
*Terms and conditions apply. Credit at sole discretion of lender subject to credit appraisal, eligibility check, rates, charges and terms. Information displayed is indicative and from collected from public sources.
MyLoanCare is an independent professional service provider and is not related to the government or government bodies or any regulator or any credit information bureau in any way. Information carried at this website is not and should not be construed as an offer or solicitation or invitation to borrow or lend. The Company does not undertake any liability with respect to the correctness of the content, information and calculations. Information is subject to change without notice. By submitting your query or using any tools or calculators, you authorize MyLoanCare to share your information with lender(s), consent for such lender(s) to access your credit information report and contact you regarding your query overriding your number being in National Do Not Call Registry. This is a free service and no charges are payable by the borrower to MyLoanCare. The Company may receive remuneration from lenders for services provided to them.
Read More
Read Less