ITR Forms
Income Tax Return Forms
Last Updated 25th Jan 2022
| ITR Forms | Applicability |
| --- | --- |
| ITR-1 or SAHAJ | For individuals with annual income below ₹ 50 Lakh and not more than one house property. |
| ITR-2 | For individuals with annual income above ₹ 50 Lakh. |
| ITR-3 | Individuals or HUFs carrying proprietory business or profession. |
| ITR-4 or Sugam | Assesses opted for Presumptive Income Scheme or individuals, HUFs and partnership firms (except LLPs). |
| ITR-5 | For LLPs, AOPs, AJPs, BOIs, etc. |
| ITR-6 | Applicable for all companies except those who are claiming exemption under Section 11. |
| ITR-7 | For all assessees covered under Section 139(4A), or 139(4B), or 139(4C), or 139(4D), or 139(4E), or 139(4F). |
What is ITR?
All taxpayers are required to file information regarding their income earned and tax payable in an appropriate form which is known as Income Tax Return or ITR. Till date the income tax department has notified 7 different formats of ITR (ITR-1, ITR-2, ITR-3, ITR-4, ITR-5, ITR-6, and ITR-7) based on the assessee type, amount of income, sources of income, etc.
Why should you file ITR?
It is mandatory to file ITR in India if any of the below-mentioned conditions are applicable to you.
In case you have more than one source of income. It means apart from, say; regular income like salary, if you have also generated income from capital gain, then you must file ITR.
In case you want to claim a refund of tax submitted with the Income Tax Department, then ITR filing is mandatory.
For companies or firms, ITR filing is mandatory irrespective of profit or loss.
In case your gross annual income is more than:

₹ 2.50 Lakh, for an individual below 60 years of age.
₹ 3 Lakh, for an individual below 80 years of age but above 60 years.
₹ 5 Lakh, for an individual above 80 years of age.
In case you want to apply for a loan or visa, then you need to file ITR as it is a mandatory document to get any of those.
In case you have invested or earned from foreign assets in the Financial Year, then the filing of ITR is mandatory.
Changes in ITR Forms due to Covid19 pandemic
According to the recent changes the taxpayers, which includes individuals, Hindu Undivided Family, professionals and businessmen can avail benefits of investments or savings made during the Q1 of FY 2020-21 ending on June 30th owing to Covid-19 pandemic.
All ITR forms will have a separate dedicated space where you can describe the expenditure of investments made during the quarter ending on June 30th in FY 2020-21 to get it counted for deductions or exemptions while filing your tax return for FY 2019-20.
Along with expenditures of Q1, the ITR form 1, ITR-2, ITR-3 and ITR-4 also require details from those taxpayers who have paid more than ₹ 1 Lakh for electricity bill in a year/ deposited ₹ 1 Cr or more in the bank account/ incurred ₹ 2 Lakh or more on foreign travel.
In ITR-1 along with the State and Central government, a new government employee type 'NA' has been added.
PAN number is made optional in ITR-4 in case the Aadhaar is provided.
In Section 44D, a new clause of electronic mode has been added along with electronic clearance, and the presumptive income has been reduced from 8% to 6%.
In Section 44AE, instead of a maximum ceiling, the validation of 'number of vehicles should not exceed 10 at any time during the year' has been added for presumptive income from goods carriages.
The new ITR-3, 5, and 6 also seek details from assessee regarding paying additional income tax in case the primary adjustment within the prescribed limit is non-repatriable.
The ITR-6 has a new drop-down utility option to opt for the concessional regime of 22% under Section 115BAA and 115BAB.
Which ITR to File?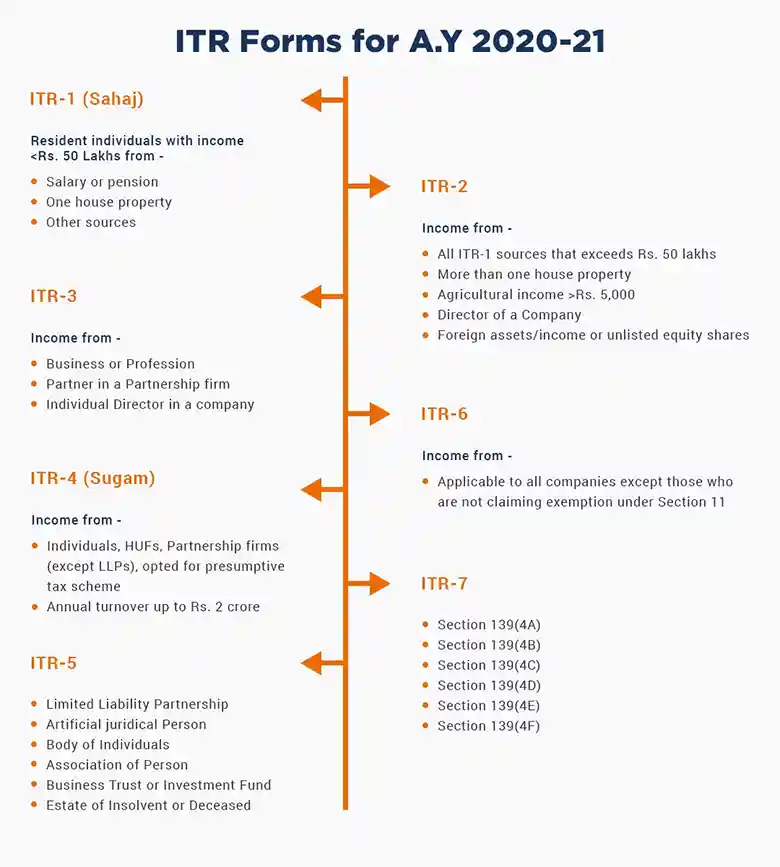 To understand which ITR form is applicable to you, let's go through the applicability of each form:
ITR -1
ITR-1 is also known as SAHAJ. It is the most basic return form for an Indian citizen. The resident individual whose Total Income includes one or more of the following needs to file ITR-1.
The Total Income is not exceeding ₹ 50 Lakh.
If you have Income from only one house property, except when the loss is brought forward from previous year.
Agriculture income does not exceed ₹ 5,000.
There is no income from capital gain or business or profession.
There is Income from other sources excluding Income from Lottery and Horse Races.
You cannot file ITR-1 if:
You are a Director of a company, or
You own foreign assets or have generated foreign Income.
If you are a Resident not Ordinary Resident (RNOR) and Non-Resident.
ITR-2
ITR-2 is applicable in the following conditions:
When the Total Income exceeds ₹ 50,00,000 and it includes income from all or any of these three sources; Income from salary, Income from house property, and Income from other sources (including Lottery and winning Horse Race).
If you have agricultural income more than ₹ 5,000.
If you are a Director of a company.
If you held investment in unlisted shares at any time during the F.Y.
There is Income from Capital Gains.
You have foreign assets or foreign Income.
You are either Resident Not Ordinary Resident (RNOR) or Non-Resident.
However, in case you have Income from business or profession, ITR-2 is not applicable to you.
ITR-3
ITR-3 is applicable only to individuals or a Hindu Undivided Family who is carrying on any proprietary business or any profession. The eligible incomes are:
In case the assessee is an individual Director in a company.
If you have income as a partner in a firm.
If you carry on any business or profession.
ITR-4
ITR-4 is also known as Sugam. All those assessees who have opted for presumptive income tax scheme, or they are individual or HUF or Partnership Firm (except LLPs) carrying on any business or profession and have an annual business turnover up to ₹ 2 Cr.
However, you cannot file ITR-4 in any of the following cases:
If Total Income exceeds ₹ 50 Lakh or have any income source outside of India.
You have income from more than one house property or own any foreign asset.
You are a Director in a company or have held unlisted investment at any point during the F.Y.
If you are a Resident not ordinary resident or non- resident.
In case you are assessable for the income of another person, and in the same respect, the tax is deductible in the hands of another person.
ITR-5
The ITR-5 is applicable for LLPs (Limited Liability Partnership), AOPs (Association of Persons), AJP (Artificial Juridical Person), BOIs (Body of Individuals), business trust and investment fund, for Estate of a deceased and the Estate of insolvent. The extent of income or profit/loss is no bar in this case.
ITR-6
ITR-6 is filled only electronically. It is for the companies except for those companies who are claiming exemption under Section 11, which is Income from property held for Charitable or Religious Purposes.
ITR-7
ITR-7 is for those companies which are required to furnish their income tax return under Section 139(4A), or 139(4B), or 139(4C), or 139(4D), or 139(4E), or 139(4F).
Under Section 139(4A), any person who has derived Income from property held trust or any other legal obligation, whether wholly or in part for charitable or religious purpose.
Under Section 139(4B), covers political parties in cases when the taxable amount without including the sum covered under Section 139(4A) exceeds the threshold of tax-free Income.
Under Section 139(4C), ITR is mandatory for News Agency, associations or persons mentioned under Section 10(23A), any Fund or institution or university or any other educational institution and any medical hospital or medical institution, scientific research association.
Under Section 139(4D), those educational institutions, university or college are covered which are not covered under any other provisions of section 139.
Under Section 139(4E), covers those businesses and trusts which are not required to furnish Income or loss in any other provisions of this section.
Under Section 139(4F), mandates return filing for those funds which are mentioned under section 115UB.
Income Tax Return Forms FY2019-20
The Central Board of Direct Tax (CBDT) through the Income Tax Department has notified new and simplified ITR forms for filing income tax return for FY19. Please note the following points:
Department has released 7 ITR forms as applicable for different types of assesses and different income types.
E-Filing of Income Tax Return mandatory : ITR has to mandatorily be filed using E-filing facility only on income tax website: https://incometaxindiaefiling.gov.in/. The last date of filing ITR is 31st July of each year for individuals unless extended.
Very few exemptions on ITR filing : CBDT has allowed following taxpayers to fill ITR Form-1 (Sahaj) and ITR Form-4 (Sugam) in paper form:

An individual with age of 80 years or above at any time during the last year
An individual or HUF whose income does not exceed ₹ 5 Lakh and who has not claimed any refund in the return of income

New ITR forms requires verification : The person signing the tax return is required to declare his capacity in which he is filing the tax return and that he is competent to prepare the return and verify it.
E-Filing of income tax return with reference to employee stock options : Employees will need valuation report for sale of unlisted shares to ensure correct reporting of capital gains or loss. Detailed break-up of such transactions is also asked in the new form.
Penalties for late E-tax filing : This year's budget announced penalties for late filing of ITR. As a result, the income-tax software may not allow assessees to file their returns unless they pay the penalty first. Relevant new rows have been added to the new ITR Form for details of tax filing delays. A fine of ₹ 5,000 is to be paid if the tax return is filed after the due date (i.e., 31 July) and before 31 December of the subsequent FY. The fine payable would be ₹ 10,000 if the tax return is filed after 31 December of the subsequent FY.
New ITR 1 Form (Sahaj) Details
The new ITR-1 has been introduced with many changes, making it a simplified one page form. It has five parts, which focus on more attention to detail and break up of all income sources. The new Sahaj Form has been explained below.
Part A- General Information
This section of ITR Form 1 includes the following information:
PAN (mandatory) of taxpayer
Aadhaar Number (mandatory) of taxpayer
Personal details of taxpayer such as name, address, mobile number, type of employment
Part B- Gross Total Income
This section of the form explains the details of the income earned during the year which includes the following:
Salary/ Income:
Salary
Allowances not exempt
Value of perquisites
Profit in lieu of salary
Deduction under Section 16
House Property
Gross Rent received
Tax Paid to local authorities
Interest payable on borrowed capital
Part –C -Income Tax Deductions as per Income Tax Act
Under this section of ITR Form 1, taxpayer can claim tax deductions as per Income Tax Act under following Sections:
Section 80C (deduction claimed against PPF, LIC premium, tuition fees, EPF with the maximum limit of deduction of amount ₹ 1.50 Lakh)
Section 80D (deduction claimed against medical insurance premium and health check up)
Section 80G (deduction claimed against donations of any recognized society)
Section 80TTA (deduction claimed against interest earned on savings account)
Part D- Computation of Tax payable
This section of the form includes the computation of amount of tax paid by taxpayer. Taxpayer is required to pay tax on his income at a marginal rate of interest as per Income Tax Slabs for FY 2016-17. In order to compute the tax liability following information is required to be provided:
Tax payable on total income as per Income Tax Slabs
Rebate under Section 87A
Cess
Relief under Section 89 (I)
Interest under Section 234A, 234B, 234C
Fees under Section 234F
Income exempt from tax
Agriculture Income
Part E- Other Information
Details of bank account such as IFSC code of bank branch, name of the bank, bank account number, cash deposits during the previous year if aggregate cash deposit during the period exceeds ₹ 2 Lakh.
Details of Advance Tax, Self Assessment Tax Payments
Information including BSR code date of deposit, serial number of Challan, amount of tax paid
Details of TDS and TCS (As per Form 16/ 16A/27D) issued by deductor/ employer/ collector
Information including TAN of deductor, name of deductor/ collector, amount which is subject to tax deduction, tax deduction/ collection year
Information Required to File ITR
PAN for all assessees
Aadhaar - mandatory for individual taxpayers. In case of non individual taxpayers, Aadhaar of authorized person filing the return is mandatory
Personal details such as name, address, mobile number, type of employment
Income from salary, house property, other sources (such as interest), capital gains, profession, agriculture
Deductions under chapter VI-A, chapter 10 and various sections such as 80C to 80U including 80D, 80G, 80TTA
Bank account details (for all accounts held in the name of the taxpayer) – Bank, branch, IFSC code, account number
Details of cash deposits of old demonetized notes of more than ₹ 2 Lakh made from 9th Nov to 31st Dec 2016
Advance tax paid, self assessment tax paid, TDS and TCS will be auto updated at the time of E-filing and need not be entered
FAQs
✅

Which ITR form to file for individuals?

For individuals generating income from salary/pension, one house property and income from other sources with annual income below ₹ 50 Lakh ITR-1 is applicable. However, in case the income from capital gain is included, or annual income exceeds ₹ 50 Lakh then ITR-2 is applicable.
✅

What are ITR 1 ITR 2?

In ITR-1, the individual is not earning income from Capital Gain, or Lotteries or Horse Races. While in ITR-2, the individual is either earning from Capital Gain, or Lotteries or Horse Races. Otherwise, the annual income must be exceeding ₹ 50 Lakh.
✅

Who can file ITR 3?

ITR-3 is applicable for those individuals and HUFs who are carrying any business or profession or earning as a partner in a partnership firm (except LLPs).
✅

What are the benefits of filing my return of income?

Some key benefits of filing ITR are:
It is a mandatory document when you want to apply for a loan or visa.
You can claim an income tax refund.
The filing of ITR helps avoid penalties.
You can carry forward some of your losses to the next year.
It serves as a valid Income Proof wherever required.
✅

What precautions should be taken while filing ITR?

Some essential precautions to keep in mind while filing ITR are:
Keep in mind the due date and make sure to file the return before it.
Download 26AS and assess actual TDS and TCs paid.
Make sure to organize the relevant documents while filing the return.
Identify the correct return form applicable based on your income source.
Do a couple of recalculations or use an online income tax calculator to ensure you have properly included all the relevant income and deductions, and your tax liability or refund is accurate.
Carefully check other details like PAN, name, address, etc. to make sure they all are accurate.
---
Home Loan

Home Loan at all-time low rates starting at 6.50%. Cashback of up to ₹ 1,000

Apply Now

Personal Loan

Instant Personal Loan starting at 10.25% with Cashback of up to ₹ 1,000.

Check Offers

Gold Loan

Instant Gold Loan starting at 9.00% with Cashback of up to ₹ 500

Apply Now

Loan Against Property

Best Loan Against Property Offers starting @ 6.90%. Cashback of up to ₹ 1,000*.

Apply Now

Business Loan

Collateral Free Business Loan Rates starting at 14.00% with Overdraft facility.

Apply Now

Fixed Deposit

AAA rated FDs with returns as high as 7.05%.

Invest Now
*Terms and conditions apply. Credit at sole discretion of lender, which is subject to credit appraisal, eligibility check, rates, charges and terms. Information displayed is indicative and collected from public sources.
MyLoanCare is an independent professional service provider and is not related to the government or government bodies or any regulator or any credit information bureau in any way. Information carried at this website is not and should not be construed as an offer or solicitation or invitation to borrow or lend. The Company does not undertake any liability with respect to the correctness of the content, information and calculations. Information is subject to change without notice. By submitting your query or using any tools or calculators, you authorize MyLoanCare to share your information with lender(s), consent for such lender(s) to access your credit information report and contact you regarding your query overriding your number being in National Do Not Call Registry. This is a free service and no charges are payable by the borrower to MyLoanCare. The Company may receive remuneration from lenders for services provided to them.
Read More
Read Less

Please wait while your information is being processed...