Income Tax Refund
IT Refund
Last Updated 31st Oct 2020
When an assessee claims or request of refund for the additional amount paid as tax over the actual income tax payable, then such a refund is termed as Income Tax Refund.
You can visit the NSDL portal or e-filing portal of the Income Tax Department for making a claim.
The refund claims made through ITR must be filed within the due date of ITR return filing for the concerned assessment year.
Interest at a 6% is charged on the refund amount if the Income Tax Department delays making payment of it to you.
What is Income Tax Refund?
When Can I Claim Income Tax Refund?
How to Claim Income Tax Refund?
How to Check Income Tax Refund Status Online?
Steps to Check Income Tax Refund Status on NSDL Website
Pay a visit to the NSDL website https://tin.tin.nsdl.com/oltas/refundstatuslogin.html.
Once you are on the homepage of NSDL, the page will ask for two details.
Type in the Captcha Code as given in the image.
Tap on 'Proceed' and the page will show your ITR refund status.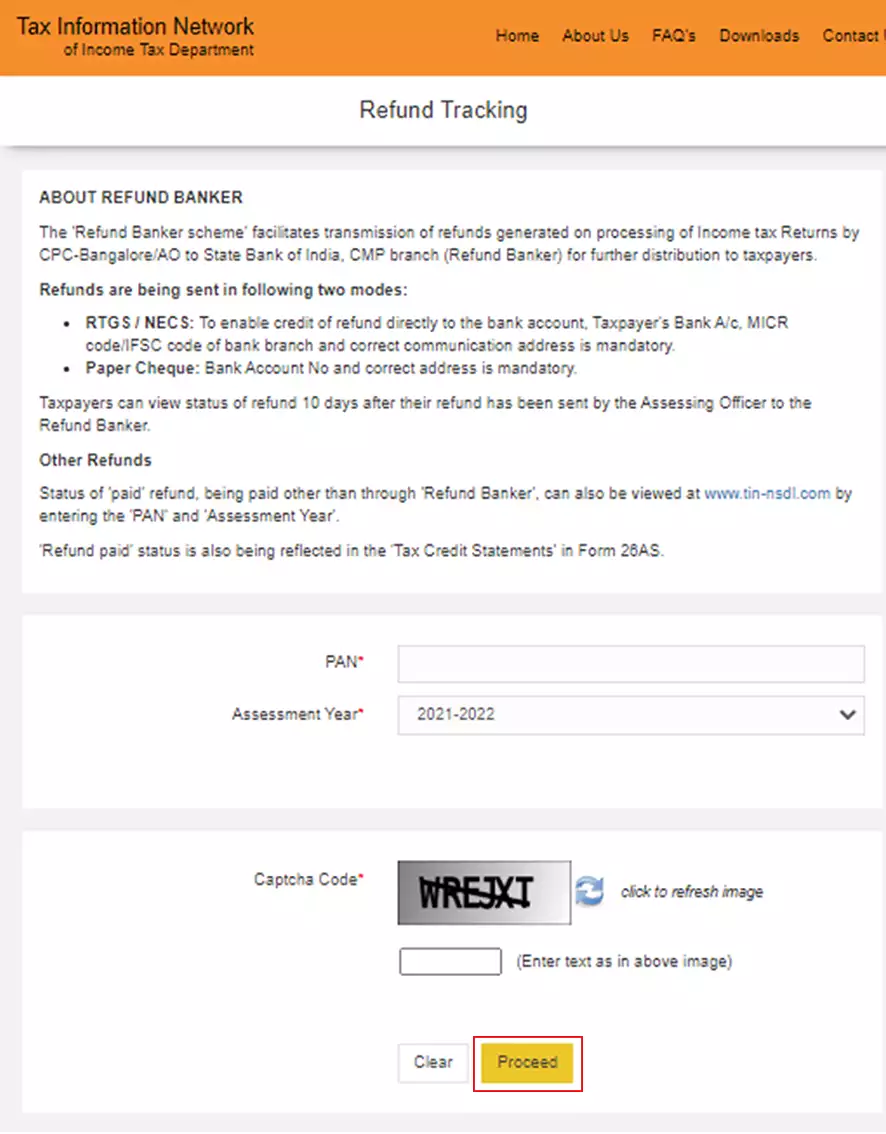 The status will inform you whether your request is still processing or has been transferred to your account. If you have entered the wrong credentials or want to re-enter, take the option of 'Clear' and follow the same steps as mentioned above.
Steps to Check Income Tax Refund Status on e- filing Portal
Step 1: Get to the e-filing portal of income tax refund https://portal.incometaxindiaefiling.gov.in/e-Filing/UserLogin/LoginHome.html?lang=eng.
Step 2: You will land on the login page. Fill in the page with your account credentials and captcha code.
Step 3: Click on Login and access the homepage of the portal.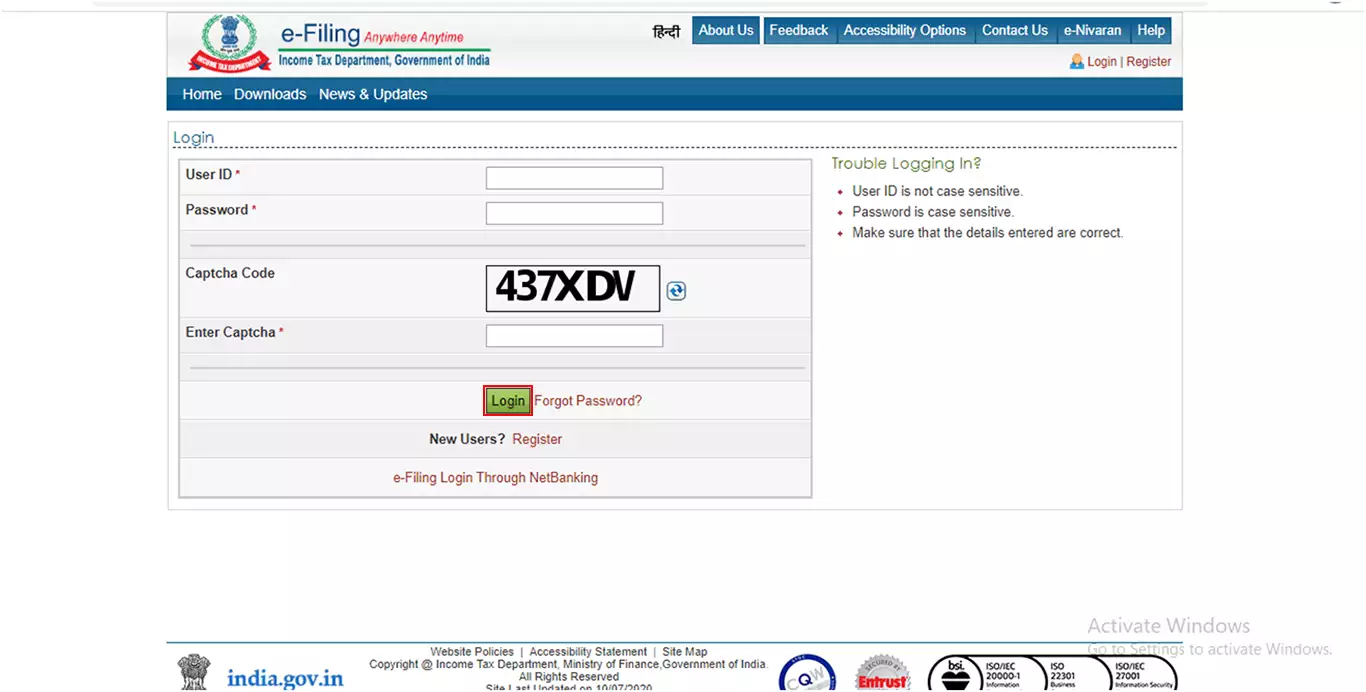 Step 4: Once on the home page, tap on 'View Return / Forms' on the Dashboard.

Step 5: Click on 'My Account' tab and choose 'Income Tax Returns' using the 'Select an Option' menu.
Step 6: Tap on 'Submit' to generate the list of returns details.

You can view the status given in the 'Status' column beside the 'Ack. no.' column. You can get the details by tapping on the respective 'Ack. no.'
Eligibility for Income Tax Refund
The following taxpayers are eligible for an income tax refund.
Taxpayers who have paid more than their tax payability
Taxpayers who have paid excessive tax in advance
Taxpayers who have faced double taxation
Taxpayers who have invested in tax-saving investments but have not declared them
How to Track Income Tax Refund?
An income tax refund can be made either via direct transfer or via cheque. Below are two steps for income tax refund tracking.
Tracking income tax refund made via direct transfer: In the event of direct transfer, you can visit the NSDL portal (https://tin.tin.nsdl.com/oltas/refundstatuslogin.html) and the e-filing portal (https://www.incometaxindiaefiling.gov.in/home) of the Indian Income Tax Department for income tax refund tracking.
Tracking income tax refund made via cheque: For tracking your income tax refund made via cheque, you can contact the post-service in charge of delivering. However, the reference number of your ITR claim will be required.
Due Date to Claiming Income Tax Refund
The claim for an income tax return has to be done within the respective assessment year. However, in some instances, this pre-decided income tax refund time can be altered. Such late claims will require verification and consideration of the respective assessment officer. Furthermore, income tax refund claims are applicable for only six consecutive assessment years, and the refund amount must not cross the Rs.50 lakh bench per assessment year.
Interest on Delayed IT Refund
Delayed IT refunds are subject to interest accumulation. The taxpayers will receive interest on income tax refund at a rate of 6% from the date on which tax was paid, till the date, the refund was generated. The interest will be processed together with the refund. However, interest on an income tax refund is not applicable in the cases of late claims.
Income Tax Refund Helpline
Following are the income tax refund< helpline numbers.
Queries related to IT refund (AayakarSamparka Kendra): 1800 180 1961
Queries related to refund or any modification (CPC Bangalore) : 1800 425 2229 / 080 43456700
Queries related to refund payment (SBI Contact Centre): 1800 425 9760
You can mail your query at the official mail ID of AayakarSamparka Kendra, ask@incometaxindia.gov.in.
FAQs
✅

How can I check my income tax refund status?

You can check your income tax refunds by visiting the official website of NSDL or by going to the e-filing page of the Income Tax Department.
On the NSDL website, follow these steps.
Enter PAN, Assessment Year and captcha.
Tap on the 'Proceed' button.
On the e-filing portal, follow these steps.
Log in using your credential.
Tap on 'View Returns / Form' on the Dashboard and then 'My Account'.
Select the option of 'Income Tax Returns' and push 'Submit'.
✅

Will tax returns be bigger in 2020?

The Union Budget of 2020 has restructured the tax slab and in the new structure tax accountability of individuals has been reduced. Moreover, taxpayers have the option to either go along with the new tax slab or continue along with the previous one.
✅

Why are my taxes less this year 2020?

The fewer taxes in 2020 can be due to an increase in your investments which are eligible for income tax deduction while calculating. Otherwise, another reason can be that you have earned less income than the previous year.
✅

How much should I expect to get back in taxes?

The refund you get on your taxes depends on the excessive tax amount you paid. In case of delay in receiving the refund, the excessive amount you paid along with interest accumulated on the amount since you started paying tax and till the date of refund generation will be your income tax refund.
✅

When can I expect my refund in 2020?

After you have filed your ITR claim, the verification needs to be completed within 120 days of making the claims. Once the verification has been done, the Income Tax Department usually takes 30 to 45 days to generate the refund.
✅

Why is my refund still being processed in 2020?

If your refund is still processing, it might be due to incorrect details provided along with your ITR claim or due to the claim being rejected. Check the status properly by contacting CPC at their toll-free numbers, 1800 425 2229 and 080 43456700.
---
2020-10-28 :

Income tax return filing deadline for FY20 extended till Dec 31


The income tax return (ITR) filing deadline for FY 2019-20 has been extended to December 31, 2020, for most individual taxpayers. The earlier deadline of ITR filings was November 30, 2020. This is the second time the tax filing deadline for FY20 has been extended.

2020-09-10 :

Faceless assessment ushers in a new era tax transparency


Income tax authorities are likely to start the faceless tax assessment from 25 September. The objective is to make the tax assessments seamless, painless and faceless. It will bring in transparency and objectivity in tax assessments, foster taxpayer's trust and confidence, and boost voluntary compliance.

2020-09-10 :

CBDT issues over ₹1,01,308 crore refund to 27.55 lakh taxpayers


Income Tax Department reported that CBDT has issued refunds of over ₹1,01,308 crore to more than 27.55 lakh taxpayers between April 1 to September 8, 2020. Further, The I-T refunds of ₹30,768 crores were issued in 25,83,507 cases and corporate tax refunds of ₹70,540 crores have been issued in 1,71,155 cases.

2020-09-03 :

Banks, post offices can now check ITR filing status


Banks can now check the status of ITRs of their customers based on their PAN. Through this facility banks or post, offices can get the applicable rate of TDS using the PAN of the person withdrawing cash.

2020-08-31 :

IT Department to intimate taxpayers under scrutiny about faceless assessment


The income tax department will start sending out intimation to assessees undergoing scrutiny that such cases would be handled under faceless assessment. Under faceless scrutiny assessment, a central computer picks up tax returns for scrutiny based on risk parameters and mismatch and then allots them randomly to a team of officers.
*Terms and conditions apply. Credit at sole discretion of lender subject to credit appraisal, eligibility check, rates, charges and terms. Information displayed is indicative and from collected from public sources.
MyLoanCare is an independent professional service provider and is not related to the government or government bodies or any regulator or any credit information bureau in any way. Information carried at this website is not and should not be construed as an offer or solicitation or invitation to borrow or lend. The Company does not undertake any liability with respect to the correctness of the content, information and calculations. Information is subject to change without notice. By submitting your query or using any tools or calculators, you authorize MyLoanCare to share your information with lender(s), consent for such lender(s) to access your credit information report and contact you regarding your query overriding your number being in National Do Not Call Registry. This is a free service and no charges are payable by the borrower to MyLoanCare. The Company may receive remuneration from lenders for services provided to them.
Read More
Read Less