UPI
Unified Payment Interface
Last Updated 27th Jul 2021
UPI, Unified Payment Interface, is an instant payment system that allows you to transfer money between two parties' bank accounts.
UPI Payment Interface does not require an account number or IFSC Code.
To use UPI, you must create your profile, link your bank account and generate a 6 digit UPI Pin.
UPI provides the facility of transferring funds 24X7.
Since its launch, UPI has been accepted and integrated by many payment apps like Paytm, PhonePe, Google Tez, SBI Pay, Airtel Payments Bank, etc.
Along with making payment, you can also request money by entering the payee's Virtual Payment Address (VPA) or selecting it from an existing list.
Apply for Savings Account
Points to Note:
MyLoanCare does not charge any fees for processing your application. Never pay any cash to anyone for your application.
Never share your OTP with anyone.
Please Re-confirm Your Number
What is UPI?
UPI or Unified Payments Interface is an instant payment system that allows you to transfer money between two parties' bank accounts and does nor require an account number or IFSC Code. To send or receive money you require UPI pin and UPI ID. UPI PIN is a 4-6 digit pass code you create as you register with the App. The UPI system was developed by NPCI (National Payments Corporation of India). Since its launch, UPI has been accepted and integrated by many payment apps like Paytm, PhonePe, Google Tez, SBI Pay, Airtel Payments Bank, BHIM etc.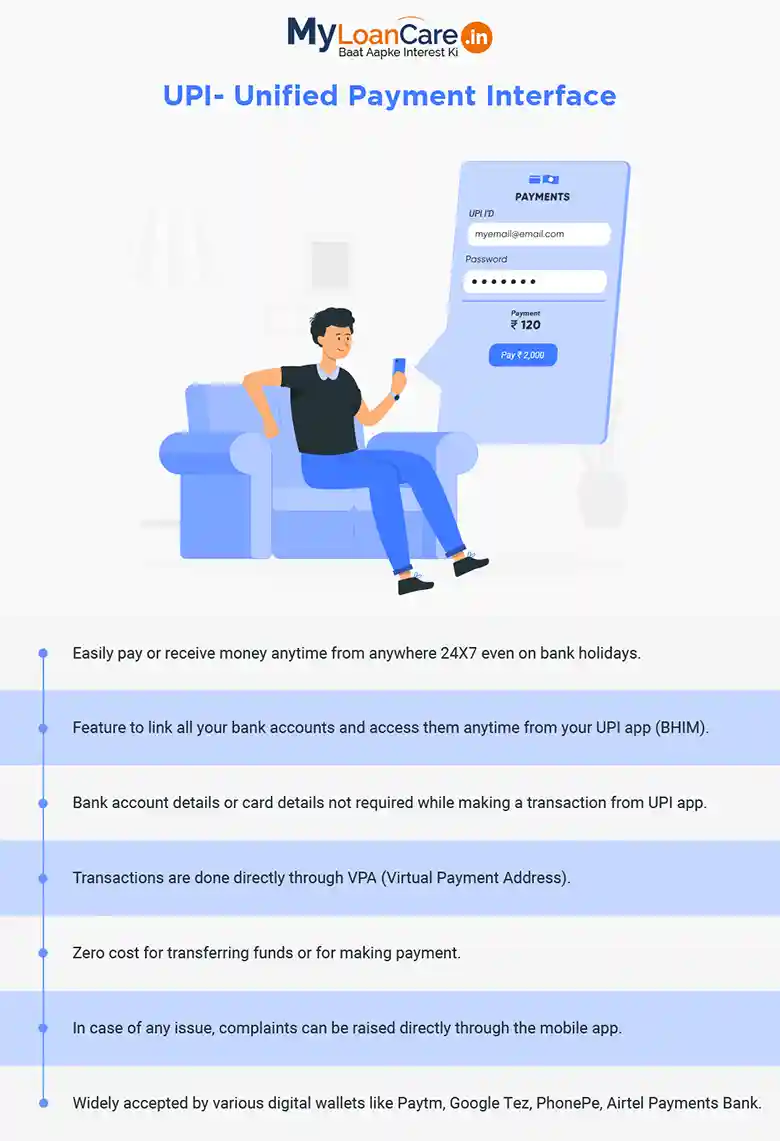 Who Initiated UPI?
The National Payments Corporation of India launched UPI. NPCI is a unified organization for retail payments across the country. It was created jointly by the Reserve Bank of India and Indian Banks Association. The Board for Regulation and Supervision of Payment and Settlement System was set up by the RBI in 2005. It was in this organization's vision document a proposal was put forward for incorporating Retail Payment System across the country. The aim was to bring different payment systems across the country in uniformity, along with practicing good business standards for retail payments.
How does UPI Work?
With the help of UPI, you can transfer funds digitally without the need of bank account number, name and IFSC code. To set up your UPI account, all you need are:
A smartphone
A bank account
An active mobile number which is registered with your bank account.
Internet connection
Once you have these things, you need to download a UPI app and register by linking your bank account with the app and then generating an mPIN.
After the registration and generation of mPIN are complete, you are all set to use UPI. It facilitates the transfer of money from the sender's bank account to the receiver's bank account without the exchange of information like bank account number, IFSC code, etc. You can use UPI in the following ways:
You can use the Virtual Payment Address (VPA) to transfer funds.
You can also scan the QR code and then send money.
UPI is a completely secure mode of payment, and you can link multiple bank accounts as well.
Features of UPI
You can make online payments for various merchant services and shopkeepers, whether in case of online shopping or retail shopping.
You can also set it as default payment for making payments in various utility apps.
You can transfer friends from one account of yours to another.
You can also use the app to request money from others.
How to Register for UPI App?
Follow these steps to register for the UPI app:
You need to first download a UPI app from your app store.
After you have downloaded the app, open it and create your profile by entering the necessary details like name, registered mobile number, virtual payment id, password.
In the next step, you need to link your bank account by clicking on Add or Link or Manage Bank Account.
Lastly, you have to generate ATM PIN to start using UPI for which you have to follow these steps:

Firstly choose the bank account from which you want to pay using UPI.
Click on Generate mPIN to receive OTP on your registered mobile number with your bank account.
After that, you will be required to enter the last 6 digits of your debit card and its expiry date.
Next, enter the 6 digit mPIN of your choice and click on the 'Submit' button.
How to Make UPI Money Transfer?
You can make UPI money transfer by following these steps:
Open the UPI app in which you have linked your bank account set up mPIN.
Next, select the 'Transfer/Send Money' option in the app.
In the next step, you can either scan the QR code or enter the beneficiary's registered mobile number or Virtual Payment Address.
After that, you have to confirm that you want to pay and then enter your 6 digit UPI mPIN.
Money is transferred instantly after you confirm the payment by entering your UPI pin.
How to Request money for United Payment Interface?
Requesting money is not too complicated from the UPI app either. The steps for it are:
Open the UPI app in your smartphone.
Next, select the 'Request Money' option on the app.
Enter the VPA of the payee or select the payee from the existing list.
Now, enter your mPIN, and your request will be sent directly to the payee.
UPI Bill Payment
Open the UPI app in your smartphone and select the option of 'Bill Payment'.
In the next step, you have to add the biller to whom you need to make payment.
After selecting the biller, enter the amount and follow it up by entering your mPIN.
After you confirm the mPIN, the transaction will be processed, and payment will be credited instantly to the biller.
Benefits of Using UPI
You can use the facility anytime from anywhere if you have an internet connection.
The UPI is easy to use, and transfer of funds happens instantly.
You can easily manage all your bank accounts through a single app.
Transactions are authenticated through mPIN, which makes the payment process easier and quicker.
The interface is highly secured, and all personal information is protected.
The system of VPA ensures there is no need for sharing any personal information.
The process of requesting money is as easy as making payment.
In addition, merchants are able to collect funds instantly without sharing account details.
There is no additional cost attached as opposed to a POS machine.
In fact, the COD has also become much easier and cashless due to UPI payments.
UPI Transaction Limit & Charges
Some of the top banks in the country have a total transaction limit in a day and top ceiling of one transaction through UPI to be ₹ 1 Lakh.
Most banks allow a maximum of 20 transactions in a day through UPI.
If you are using BHIM UPI App, then the per transaction limit is ₹ 10,000 and the daily limit is ₹ 20,000 .
Transaction limits vary from bank to bank, and it may also be changed from time to time.
Currently, UPI has tied up with more than 40 banks to make funds transfer easy and available 24X7.
Banks Offering the UPI Facility
Axis Bank
Bank of Maharashtra
Bhartiya Mahila Bank
Canara Bank
Catholic Syrian Bank
Union Bank of India
Punjab National Bank
South Indian Bank
Yes Bank
DCB Bank
Federal Bank
ICICI Bank
TJSB Sahakari Bank
Karnataka Bank
UCO Bank
State Bank of India
HDFC Bank
Bank of Baroda
Banks Offering NetBanking Services
Check Balance Enquiry Toll Free Number of Top Banks
Top Banks Providing IMPS Facility
Latest news about HDFC Mobile Wallet
Now do banking transactions easily


HDFC Bank announced the availability of mobile ATMs in 50 cities to assist customers during the lockdown. You can do 15 types of banking transactions through these mobile ATMs. The mobile ATMs are currently active in various cities, including Chennai, Mumbai, Delhi/Gurugram, Dehradun, Cuttack, Ludhiana, Lucknow, Bhubaneshwar, Chandigarh, Thiruvananthapuram, Noida, Bengaluru, Mysuru, Jaipur, Panipat, Ambala, Jammu, Nashik, Rewari, Patna among others. From the first week of June, the mobile ATMs will be made available in cities like Puducherry, Vizag, Rajahmundry, Madurai, Tirunelveli, Hyderabad, Cochin, Thane, Kolkata etc.
FAQs
✅

What is UPI in banking?

UPI is a real-time payment system which facilitates the transfer of funds from one bank account to another through a Virtual Payment Address.
✅

How does UPI work?

UPI helps to transfer funds digitally without the need of a bank account number, name and IFSC code. To make UPI payments you would need to register on UPI App and can then send or receive money using UPI PIN.
✅

How do I get a UPI ID?

You can get the UPI ID by registering yourself, linking your bank account and generating the mPIN.
✅

How do I send money through UPI?

You can send money through UPI by opening the mobile app on which you have set up UPI payment. After that choose the option of money transfer, select the payee or scan QR code, enter the amount and follow it up by entering your mPIN, then confirm. The money will now be sent.
✅

How do I activate my UPI?

To activate your UPI you have to create your profile, link your bank account and then generate your mPIN.
✅

Are UPI and Google pay the same?

UPI is the payment interface launched by NPCI, while Google Pay is a payment app which supports the transactions done through UPI.
✅

Which apps use UPI?

Some popular apps which use UPI are PhonePe, Paytm, Google Tez, Airtel Payments Bank, Mobikwik, SBI Pay, etc.
---
Home Loan

Home Loan at all-time low rates starting at 6.65%. Cashback of up to ₹ 1,000.

Apply Now

Personal Loan

Instant Personal Loan starting at 10.25% with Cashback of up to ₹ 1,000 .

Check Offers

Gold Loan

Instant Gold Loan starting at 9.50% with Cashback of up to ₹ 500

Apply Now

Loan Against Property

Best Loan Against Property Offers starting @ 7.20%. Cashback of up to ₹ 1,000*.

Apply Now

Business Loan

Collateral Free Business Loan Rates starting at 14.00% with Overdraft facility.

Apply Now

Fixed Deposit

AAA rated FDs with returns as high as 6.95%.

Invest Now
*Terms and conditions apply. Credit at sole discretion of lender, which is subject to credit appraisal, eligibility check, rates, charges and terms. Information displayed is indicative and collected from public sources.
MyLoanCare is an independent professional service provider and is not related to the government or government bodies or any regulator or any credit information bureau in any way. Information carried at this website is not and should not be construed as an offer or solicitation or invitation to borrow or lend. The Company does not undertake any liability with respect to the correctness of the content, information and calculations. Information is subject to change without notice. By submitting your query or using any tools or calculators, you authorize MyLoanCare to share your information with lender(s), consent for such lender(s) to access your credit information report and contact you regarding your query overriding your number being in National Do Not Call Registry. This is a free service and no charges are payable by the borrower to MyLoanCare. The Company may receive remuneration from lenders for services provided to them.
Read More
Read Less

Please wait while your information is being processed...