Cancelled Cheque
Uses of Cancelled Cheque
Last Updated 23rd May 2022
Opening a current account or a savings account at a bank.
Getting a Demat account for holding shares electronically.
Availing the facility of Electronic Clearance Service.
Applying for loans at banks and NBFCs.
Purchasing an insurance policy.
Withdrawing money from Employee Provident Fund.
Opting for EMI payment mode.
Completing the KYC process.
Apply for Savings Account
Sorry! You have exceeded your daily OTP limit. Please retry after 24 hours.
Points to Note:
MyLoanCare does not charge any fees for processing your application. Never pay any cash to anyone for your application.
Never share your OTP with anyone.
Please Re-confirm Your Number
What is a Cancelled Cheque?
A cheque is among the easiest instruments of transferring capital from one account to another. The procedure of issuing a cheque only involves filling out the cheque and handing it over. Cheques are no longer merely a means of transferring numbers. A cancelled cheque can be of great use. The concept is no more complicated than the term itself. A cancelled cheque refers to a cheque that has been cancelled.
All that you need to turn a cheque into a cancelled cheque are two lines and the word 'cancelled' positioned across the cheque. A cheque with the stated elements can not be used to transfer any amount. However, it acts as an important KYC document. Now that the answer to what is cancelled cheque, let us explore various aspects of the phenomenon.
Savings Account Interest Rates
Zero Balance Savings Account
When do we require a Cancelled Cheque?
A cancelled cheque is required for the below mentioned financial events:
Completing KYC: While investing in the stock market, mutual funds or any other market-linked investment instrument, a cancelled cheque falls under the list of required documents. Since the cancelled cheque proves that you are an account holder in a bank, and it contains your banking credentials, the financial institutions seek this document.
Availing Electronic Clearance Services: Electronic Clearance Service or ESC provides you with the facility of paperless debit, credit or any other fund transfer from one account to another. To avail easy fund transfer facility, you will need to activate ESC on your bank account and to do so the bank will ask for a cancelled cheque.
Demat Account: Demat accounts allow holding shares in electronic form. Along with the KYC document, a cancelled cheque is a compulsory requirement for opening a Demat account.
EPF withdrawal: If you want to withdraw money from your EPF, you have to submit the withdrawal form and a cancelled cheque to the Provident Fund Organization. Salaried individuals can submit the same to their employers as well. This step is to verify the withdrawal request and the one making the request.
EMI: During any financial emergencies, you can borrow loans from banks or non-banking financial companies and payback in equated monthly instalments or EMIs. The respective bank or non-banking financial companies will require a cancelled cheque from your end before finalizing the EMI payments.
Insurance: While purchasing any insurance policy, many insurance providers can ask for a cancelled cheque as a mandatory requirement.
Cancelled Cheque Sample
A cancelled cheque contains the same elements as a standard cheque. Below are the elements of a cancelled cheque:
Name of the bank
Name of the branch
Name of the account holder
Account number
MICR
However, if you have a look at the cancelled cheque images, the difference will be noticeable. Also, the word 'cancelled' will be written across the cheque between two parallel lines.
Cancelled Cheque Leaf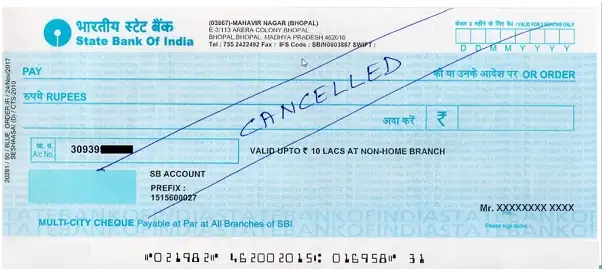 Issuing a Cancelled Cheque
The question, why do you need to issue a cancelled cheque is as common as what is cancelled cheque. The cancelled cheque is generally issued as a KYC document or a bank document. It provides all your banking details without leaving any scope of misuse of the cheque. However, once a cheque has been cancelled, it cannot be used for any kind of transaction.
However it is important to always be aware of fraudulent activities. When you are issuing a cancelled cheque leaf, make sure to write the word 'cancelled' clearly across the cheque leaf. Furthermore, present the cancelled cheque only when a trustworthy authority asks for it.
How to write a Cancelled Cheque?
Go along with the following steps to write a cancelled cheque leaf.
Separate the cheque leaf that you want to cancel from your cheque book.
Draw two parallel lines across the cheque.
Write the word 'cancelled' between the parallel lines.
Do not write anything else or sign the check.
Make sure any of the two lines or the word 'cancelled' do not cover any important detail such as the name of the account holder, account number, IFSC code and so on.
FAQs
✅

What is a Cancelled Cheque image?

A cancelled cheque image refers to the picture of a cancelled cheque. You have to draw two parallel lines and write the word 'cancelled' across a cheque leaf to create a cancelled cheque. No transaction can be done with a cancelled cheque. A cancelled cheque is accepted as a KYC document at many financial institutions.
✅

Why is a Cancelled Cheque required?

A cancelled cheque is required to complete the Know Your Customer or KYC as it carries the banking details of an individual. A cancelled cheque is generally required for the following.
For completing KYC.
For availing the Electronic Clearance Services for fund transfer.
For withdrawing money from EPF account.
For opening a Demat account at any stockbroker.
For purchasing insurance policies.
For deciding EMI payments.
✅

Should Cancelled Cheque be signed?

No, you should not sign a cancelled cheque leaf for the following two reasons.
Signature is not required. The cheque already contains the required banking details.
The signature can be used for fraudulent activities that can put you in financial and legal trouble.
If any authority or institution requires your signature on any documents, they will ask you to sign the document itself and not the cancelled cheque.
✅

Can you Uncancel a Cancelled check?

No, you can not uncancel a cancelled cheque. You have to write 'cancelled' and draw two parallel lines across the cheque with a pen to cancel it. You can not erase the pen marks and hence, you can not uncancel a cancelled cheque. No individual or institution will accept a cheque that has been cancelled.
✅

Can you cancel a Cheque online?

While some banks have recently started offering the facility of stopping a cheque payment online via their e-portals, there is no online method for cancelling a cheque leaf. You have to follow the required steps and use either a black pen or a blue one to cancel a cheque leaf.
✅

How do you cancel a check to someone?

You can cancel a cheque by drawing two parallel lines and writing the word 'cancelled' over a cheque. However, to cancel a cheque payment to someone, you must contact your bank. Either talk to your bank or submit a written request at the bank. You can opt for the online process as well, provided your bank offers the online facility of preventing a cheque payment.
✅

How can I cancel the HDFC Cheque?

You can cancel your HDFC cheque in the following three methods.
Via net banking: Land on the website of HDFC bank and login using your credentials. Once logged in, tap on the option of 'Stop Payment of Cheque' located under the Request Menu tab. Provide the required details and verify the request.
Via phone banking: Validate the four-digit TIN or the telephone identification number and go along with the given instructions.
Via visiting an HDFC branch: Go to the local HDFC branch and make an application for stopping the cheque payment.
✅

Can we block cheque?

Yes, you can block a cheque. If you do so, the transaction via the cheque will be stopped. You can approach your respective bank to block any cheque. You can go online and take the option of stopping a cheque payment as well. For that, you have to visit the e-portal of your respective bank.
---
Home Loan

Home Loan at all-time low rates starting at 6.50%. Cashback of up to ₹ 1,000

Apply Now

Personal Loan

Instant Personal Loan starting at 10.25% with Cashback of up to ₹ 1,000.

Check Offers

Gold Loan

Instant Gold Loan starting at 9.00% with Cashback of up to ₹ 500

Apply Now

Loan Against Property

Best Loan Against Property Offers starting @ 6.90%. Cashback of up to ₹ 1,000*.

Apply Now

Business Loan

Collateral Free Business Loan Rates starting at 14.00% with Overdraft facility.

Apply Now

Fixed Deposit

AAA rated FDs with returns as high as 7.05%.

Invest Now
*Terms and conditions apply. Credit at sole discretion of lender, which is subject to credit appraisal, eligibility check, rates, charges and terms. Information displayed is indicative and collected from public sources.
MyLoanCare is an independent professional service provider and is not related to the government or government bodies or any regulator or any credit information bureau in any way. Information carried at this website is not and should not be construed as an offer or solicitation or invitation to borrow or lend. The Company does not undertake any liability with respect to the correctness of the content, information and calculations. Information is subject to change without notice. By submitting your query or using any tools or calculators, you authorize MyLoanCare to share your information with lender(s), consent for such lender(s) to access your credit information report and contact you regarding your query overriding your number being in National Do Not Call Registry. This is a free service and no charges are payable by the borrower to MyLoanCare. The Company may receive remuneration from lenders for services provided to them.
Read More
Read Less

Please wait while your information is being processed...