PPF
Last Updated 02nd Dec 2020
PPF Account
PPF full form is Public Provident Fund.
The amount invested, interest earned, and the amount one gets after the PPF maturity is tax-free.
An individual can invest a minimum Rs. 500 and a maximum amount of Rs. 1,50,000 annually in PPF account.
The interest rates on PPF are changed quarterly. Currently, the interest rate on PPF is 7.10%, last updated on 1st October, 2020.
An individual can open the PPF account at nationalized banks, private banks, and post offices.
PPF has a lock-in period of 15 years. Individuals can further extend the tenure in a group of 5 years.
Calculate PPF Maturity Amount @ 7.10%
PPF (Public Provident Fund)
Public Provident Fund or PPF is a saving-cum-tax-saving instrument introduced by the Ministry of Finance's National saving Institute. The instrument serves the purpose of mobilizing the saving by providing reasonable interest coupled with tax benefits. It allows an individual to build a retirement corpus while saving on taxes.
What is a PPF Account?
PPF account is a long term investment product with a minimum tenure of 15 years and an option to extend the account in a group of five years. An individual can invest a minimum amount of Rs. 500 and a maximum of Rs. 1,50,000 in a financial year. The attractive interest rate combined with safety and tax benefits makes it a viable product to bank on.
How to open a PPF Account?
Individuals can open a PPF account at:
Post Offices
Nationalized Banks
Private Banks
In a few banks, customers are also provided with an option to access the PPF online using net banking.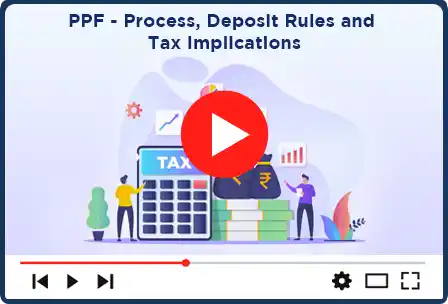 Documents required for PPF Account
Documents required for opening a PPF account are as follows:
PPF account opening form
Identity Proof
Proof of Residence
Photograph of the account holder
Signature Proof
Benefits of opening PPF account
Benefits of opening PPF online and offline are as follow:
Tax Exemption: One of the most prominent benefits of the Public Provident Fund is, it falls under the category of exempt-exempt-exempt tax status. Exempt-exempt-exempt here implies that the amount invested upto Rs. 1,50,000 is deductible under Section 80 of the Income Tax Act. The interest earned is non-taxable and the amount one gets after maturity is also exempted from tax. Thus, it becomes an investment vehicle like no other.
Small Savings and Reasonable Return: PPF allows an individual with a lot of flexibility with investment options. An individual can make a PPF investment of minimum Rs. 500 and a maximum amount of Rs. 1,50,000 annually. It offers an interest rate of 7.10% compounded annually.
Safety of Funds: The PPF investment is governed by the Government Savings Banks Act, 1873. The amount invested in the PPF is credited to the National Small Savings Fund, which is maintained and utilized by the Government of India. The government also pays the interest on the Public Provident Fund. Thus it becomes a risk-free and safe instrument.
PPF Loans and Partial Withdrawal: The Public Provident Fund provides individuals to make use of the idle funds in the account by allowing them to take a loan. Further, it also allows the option of partial withdrawals from the 7th financial year i.e on completing six years.
Flexibility of Tenure: PPF enables an individual to either withdraw the entire amount after 15 years or further extend the tenure in a group of 5 years. This flexibility allows individuals to choose the tenure according to their desires.
Eligibility for PPF
Indian residents above the age of 18 years can open the PPF account
PPF accounts can be opened by the residents above 18 years on behalf of the minor.
Non- Resident Indians who had opened a PPF account when they were Indians residents can operate the account until 15 years without the extension option.
PPF Login and Registration Process
You can follow the following process for the login and registration process:
You should have an account with the bank you are willing to open the PPF account.
Log in using Net Banking Portal.
Click in the option that allows you to 'Open a PPF Account.'
Choose the 'self account' option if you want to open a PPF account for yourselves or choose the option' minor account', if you are opening it on behalf of a minor.
Provide relevant information, such as nominee details, bank details, etc.
Check details like your PAN that is visible on the screen.
After verifying the details, enter the total amount that you wish to deposit.
You will be provided with an option to set up standing instructions that enable the bank to deduct the amount at fixed intervals or in a lump sum.
Then, you will receive an OTP on your registered mobile number.
After the completion of the verification process, your PPF account will get started.
PPF Balance Check
Public Provident Fund can be opened by anyone. It is a safe investment option for long term benefits with a decent return. However, to take maximum benefit possible from the account, you should keep a close eye on the account balance and the next investment amount you should make. The various ways by which individuals can check their PPF amount are as follow:
PPF Balance Online
Individuals can check the PPF balance and other relevant information by log in internet banking credentials. This is a simple process and one can access it 24*7.
PPF Passbook
PPF passbook is a passbook provided by the banks to the individuals while opening an account. It contains information like PPF account number, account balance, transactions in your PPF accounts and other relevant details. An individual can check the PPF balance and the transactions by updating their PPF passbook offline at the bank.
Post Office PPF Balance Offline
Individuals who opened a post office PPF account are also provided with this option to check their balance and other relevant information. They will have to visit the post office itself to get access to it.
List of Banks where you can open a PPF Account
List of banks offering PPF account opening facility are:
Central Bank of India
Axis Bank
State Bank of India
HDFC Bank
ICICI Bank
Bank of India
Bank of Baroda
Bank of Maharashtra
Canara Bank
Indian Bank
IDBI Bank
Indian Overseas Bank
Punjab National Bank
Punjab and Sind Bank
Union Bank of India
UCO Bank
Minimum and Maximum Contribution under the PPF Scheme
Individuals have to contribute to PPF each year so that the account remains active. Under the PPF Scheme, an individual has to deposit a PPF minimum amount of Rs. 500, and the PPF maximum deposit must not exceed Rs. 1,50,000 annually.
PPF Interest Rate
The interest rate earned on public provident funds is fixed by the government every quarter. The interest on PPF is calculated on the minimum balance between the 5th to the final day of every month. Currently, the interest rate offered is 7.10% per annum, last updated on 01 October 2020.
PPF Tax Benefits
PPF contributions upto 1,50,000 are eligible for tax exemptions under Section 80C of the Income Tax Act, 1961. Earlier, the tax exemption limit was set at 1 lakh, but now there is no tax on the maturity amount.
Premature Closure of a PPF
Individuals are allowed for early disclosure only after the completion of 5 financial years. They can withdraw up to half of the balance in the public provident fund scheme after completion of five years from the end of the year in which the initial amount was made. Single partial withdrawal is allowed in each fiscal.
Individuals can still opt for premature closure in case the account holder, his/her partner, or offspring are suffering from a serious ailment or for a child's higher education. Premature closure comes with an interest rate penalty of 1%.
Attachment of a PPF Account
The Central Government fully guarantees the amount under the PPF scheme. The amount in the Public Provident Fund account is not subject to attachment under any order or decree of the court. However, Income Tax & other Government authorities are authorized to attach the account for recovering tax dues.
FAQs
What is a PPF account and its benefits?
PPF or Public provident fund is a tax saving scheme provided by the government of India. It is tax-exempt, offers a reasonable interest rate, and is risk-free.
Which bank is best for the PPF account?
Most banks are equally good as they provide smooth account opening, online fund transfer and other facilities, example BOB or SBI PPF. You can consider the bank in which you already have a savings account.
What is the current interest rate of SBI PPF?
Current interest rate on SBI PPF account is 7.10%.
Can PPF be withdrawn?
Yes, PPF can be withdrawn fully after the end of the lock-in period of 15 years. An individual can also withdraw prematurely, up to a maximum of 50% of the amount that is in the account at the end of the 4th year.
Is PPF Scheme better than LIC?
It differs on an individual's requirement. Few major differences are LIC is insurance, and PPF Scheme is investment. LIC offers flexible tenure, whereas there is no such tenure in PPF. PPF is tax-exempt, whereas LIC is eligible for tax deductions.
Is PPF a good investment?
Yes, PPF provides multiple reasons for being an excellent investment; safety of funds, tax-exempt, and reasonable interest rates to name a few.
Can we extend PPF after 15 years?
Yes, an individual can extend their PPF account but that extension must be in a group of 5 years.
Is it mandatory to have a physical witness to claim for PPF?
No, as per the department of Post Offices in the case of deceased claim cases the presence of witnesses is not required physically if the individual can produce a self-attested photocopy of Identity/Address proof of the witnesses containing a signature of the witness concerned along with the other claim documents.