Personal Loan Apply Online
Online Personal Loan, Oct 2021
Last Updated 18th Oct 2021
| Features | Personal Loan |
| --- | --- |
| Age | 18 to 65 years, some banks may offer an age limit till 76 years for pensioners |
| Occupation | Salaried and Self-employed professionals |
| Credit Score | 750+ is ideal. Some banks may offer with a score of 650 and above |
| Minimum Income | ₹ 25,000 per month |
Applicants can apply for personal loans through online and offline methods to meet urgent financial requirements such as weddings, medical emergencies, home renovation, etc.
The lowest personal interest rates start from 10.25%.

Check Best Offers

The processing fee is charged upto 2% of the maximum loan amount.
To avail of a personal loan, a borrower is required to submit KYC and income proof documents.
Apply for Personal Loan @ 10.25%*
Get upto ₹ 1,000* Cashback
Sorry! You have exceeded your daily OTP limit. Please retry after 24 hours.
Points to Note:
MyLoanCare does not charge any fees for processing your application. Never pay any cash to anyone for your application.
Never share your OTP with anyone.
Please Re-confirm Your Number
How to Apply for a Personal Loan Online?
Applicants can apply for a personal loan online through the bank's website or online marketplace. However, to get the best rates on a personal loan, you must calculate your loan EMI and eligibility before making a detailed comparison of offers and schemes of leading banks and NBFCs in India.
Here is a step-by-step procedure to apply for a personal loan through MyLoanCare.
Visit MyLoanCare or download the app and fill in your personal and loan requirement details like name, number, income, residence, existing loan and other details.
After submitting the details, you will get multiple options to compare rates and charges based on your details.
After that, a MyLoanCare representative will contact you to confirm your details and discuss your loan requirements. He/she will suggest the right banks and loan offers based on your eligibility and explain the complete personal loan process and documents required.
If you are eligible and interested, our representative will fix an appointment with the bank for document pick-up and further loan process. You can also upload your documents online at MyLoanCare's website. A bank's representative will contact you and will initiate a verification process.
After verifying your documents and based on your credit history and eligibility, the bank will decide to sanction or reject your loan. If sanctioned, you will receive a sanction letter from the bank mentioning the key loan terms, including interest rate, processing fees, tenure, prepayment charges.
Finally, the sanctioned loan amount will be disbursed to your bank account.
Lowest EMI Per Lakh
₹ 1,832 for 72 Months
Lowest EMI Per Lakh
₹ 2,137 for 60 Months
Why Apply for a Personal Loan Online through MyLoanCare?
Following are the reasons for applying through MyLoanCare:-
Applying for a personal loan online saves both time and efforts.
Compare the personal loan rates of leading lenders and get a loan at the best rates based on your eligibility.
Free on-call assistance for the process of a personal loan application, eligibility, documents required etc.
Bank Neutral Advice and excellent pre and post-sales service.
Applying through MyLoanCare gives you the option of choosing the best deal offered by different lenders without making multiple applications. You also avoid a hard inquiry on your credit report that can negatively impact your credit score.
What are the Benefits of applying for a Personal Loan Online?
You can apply for an online personal loan application anytime and anywhere at the comfort of your house instantly in a few minutes. Along with that, lenders approve online personal loan applications within a few hours if you have a good credit history. A list of reasons as to why one should apply for a Personal loan online are listed below:
Compare personal loan rates: You can quickly determine the best bank for a personal loan by comparing personal loan interest rates and other charges like processing fees, prepayment fees etc., if you apply for a personal loan online.
Checking personal loan eligibility: With online Personal Loan eligibility tools, you can determine the loan amount and tenure based on your income level. Further, it is also easy to calculate Personal Loan EMI using Online Personal Loan EMI calculator.
Does not affect your credit score: Applying for a personal loan directly with the banks may affect your credit score. However, if you apply for a personal loan through the online marketplace, you can compare the various institutions' personal loan rates without hurting your credit score.
Minimal documentation: If you apply for a personal loan online, you have to fulfil minimal paperwork and can submit documents online, thus saving both your time and efforts. Therefore, the entire process from applying for a loan to sanctioning a loan is quick and convenient.
Tracking your Personal Loan account: It is easy to track your Personal Loan account by installing a mobile application on your phone. You can know account balance, information about the previous transaction or any other information about your personal loan account by sitting in the comfort of your house.
List of Top Personal Loan Providers in India
What are the Documents Required for an Online Personal Loan Application?
To get a personal loan online, you must submit the application form along with the following documents.
Identity proof: PAN Card/ Aadhaar Card/ Voter ID/ Passport/ Driving License/ Govt issued card
Address proof: Passport, Driving License, Election ID card, Electricity/ Telephone/ Mobile bill/ bank statement (not more than 3 months old)
Income proof: Salary Slip/ Bank Account Statement/ Form 16. In the case of self-employed Previous Year ITR/ P&L Statement and Balance Sheet/ Bank Account Statement also need to be submitted.
Business proof: PAN , sales tax/ excise/ VAT/ service tax registration, Copy of partnership deed, Trade license, certificate of practice, registration certificate issued by RBI, SEBI
A Complete Step by Step Guide on how to avail a personal loan
Explained below are the simple steps for availing of a personal loan.
Check Eligibility and Calculate EMI
Before applying for an online personal loan, applicants must check their loan amount eligibility and calculate the monthly EMI.Personal loan eligibility is measured based on age, monthly income, credit score, current obligations. Financial experts advise shortlisting those banks that offer the maximum loan amount after checking the EMI and eligibility.
Keep your documents ready
Keep your previous months' bank statements and other KYC documents. If there are any errors in your, get them corrected by contacting your bank.
Decide on Personal Interest Rate Type
There are two main types of interest rates applicable. Choose between

Fixed interest rates: The interest rates and the personal loan EMI remains the same throughout the tenure
Floating interest rates: The interest rates and EMI do not remain the same as the rates are not fixed. They may rise or fall as per the market fluctuations. The rates are linked to external benchmarks of banks, such as the RBI repo rate.
You can calculate personal loan interest using two methods, Flat rate and reducing rate methods:

Flat Rate Method: In this method, the rate is calculated on the original amount throughout the loan term. For a personal loan of ₹ 10 Lakh for 5 years, you will pay interest on the whole ₹ 10 Lakh amount for the complete tenure.
Reducing rate method: In this method, the interest rate is calculated on the outstanding amount, reducing with time. The principal component paid during the monthly EMI is not chargeable for interest calculation; thus, the outstanding balance reduces with time. The interest is charged only on the remaining principal amount. As per this method, the interest amount reduces with time.

Compare the Shortlisted Banks
You can compare personal loan interests offered by all banks and NBFCs at online marketplace such as MyLoanCare. Not only the interest rates, but you can also check the processing fee, foreclosure charges and other associated charges of the loan in a consolidated way. Reduce your options to 2-3 lenders or shortlist your lender bank or NBFC by comparing all the rates and other charges.
Choose the bank or NBFC based on their service
You should consider services and transparency factors as well while shortlisting the bank. Factors such as turnaround time, doorstep services, transparent loan process. Besides, understanding the developments happening in the banking sector. Lastly, check the reviews of existing clients of the banks on interest rates, services (pre and post-sale) and transparency to shortlist the lender bank.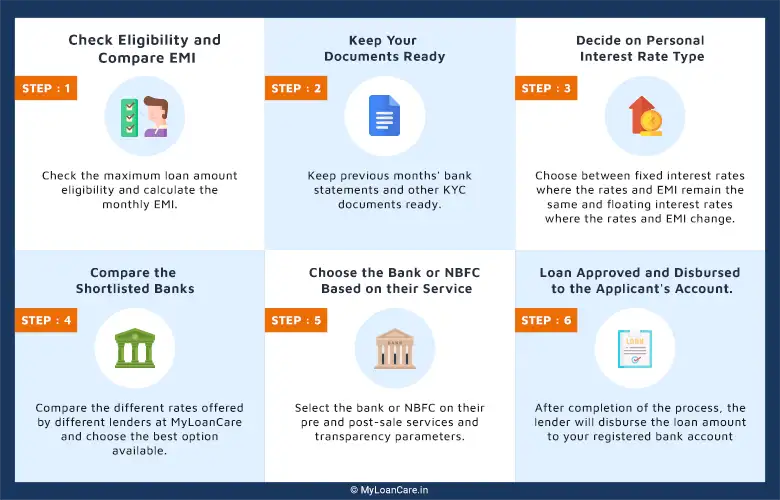 FAQs
✅

How can I apply for a loan through the online method?

Applicants can apply for a personal loan online through the specific bank website or an online marketplace like MyLoanCare. Borrowers can also apply through mobile banking by downloading the bank's mobile application at the play store.
✅

How long does the Online Personal loan application take to get approved?

It usually takes 1-7 days for approval of your loan application. However, some banks may approve your loan in a few hours if you have an excellent credit history.
✅

How to get a personal loan online?

Applicants can apply for a personal loan online through the bank website or online marketplace like MyLoanCare by submitting a personal loan application along with required documents.
✅

What do banks look at when approving a personal loan?

Banks check personal loan eligibility based on credit score, income, the organisation you are working with, profession etc., before approving your loan online.
✅

Which is the best app to Apply Personal Loan Online?

Some of the best personal loan applications to apply for a personal loan online are the Indiabulls Dhani app, Money tap. Besides banks like SBI, HDFC, Axis Bank also have their online loan app.
✅

Why should you take a personal loan Online?

A personal loan is an unsecured loan that can be availed without any collateral, and also, there is no end-usage restriction. If you apply for a personal loan through an online medium, you can quickly get the loan with minimal documents at the best interest rates.
✅

Do I need to provide any security while applying for an Online Personal loan?

No, you dont have to pledge any security as a personal loan is an unsecured loan.
✅

How do I get a personal loan instantly?

Instant personal loan applications such as Cashe, Kredit Bee, Cashbean, Early Salary etc., provide a personal loan instantly in a few hours with minimal income and identity proof documents. However, banks like HDFC and ICICI also provide the instant paperless personal loan within a few hours of application if you have an excellent credit history.
✅

Is a personal loan available for holiday or travel purposes?

Yes, you can get a personal loan to meet individual financial needs, such as a holiday or travel. Some banks have exclusive personal loan products for a holiday and trip.
✅

What are the purposes a personal loan can be used?

There are no restrictions on the end-use of a personal loan. You can use a personal loan for urgent finance requirements for individual or business needs such as weddings, travel, medical emergencies, home renovation, educational needs, or paying credit card dues.
MyLoanCare Assurance
Free Service and
Quality Response
Digital Doorstep Services
---
Home Loan

Home Loan at all-time low rates starting at 6.50%. Cashback of up to ₹ 1,000

Apply Now

Personal Loan

Instant Personal Loan starting at 10.25% with Cashback of up to ₹ 1,000.

Check Offers

Gold Loan

Instant Gold Loan starting at 9.00% with Cashback of up to ₹ 500

Apply Now

Loan Against Property

Best Loan Against Property Offers starting @ 6.90%. Cashback of up to ₹ 1,000*.

Apply Now

Business Loan

Collateral Free Business Loan Rates starting at 14.00% with Overdraft facility.

Apply Now

Fixed Deposit

AAA rated FDs with returns as high as 6.95%.

Invest Now
Personal Loan News - Oct 2021
2021-10-14 : Zavron Finserv Launches Instant Personal Loan Application


Zavron Finserv- a non-banking financial institution- has introduced an instant personal loan application. This App will help customers to take loans instantly within few minutes that too from their mobile phone. A loan for a minimum of Rs 10,000 and a maximum of Rs 2 lakh is available.

2021-10-13 : Early Salary Introduces Dussehra Offers


Early Salary has announced the Dussehra offer on personal loans by 50% off on processing fees. The interest rate charged by the instant mobile application is Rs. 9 per day.

2021-10-12 : Axis Bank Has Launched Open API For Customers


Axis Bank unveils open APIs (Application Programming Interface), these APIs will help retail and corporate customers/ partners to use banking services integrated across partner platforms. This banking portal has retail as well as corporate products like loans, accounts, deposits, payments, trade, collections and bills.

2021-10-11 : Punjab National Bank Introduces 6S Campaign


Punjab National Bank (PNB) has launched the 6S Campaign. The campaign consists of schemes like Swabhiman, Samruddhi, Sampark and Shikhar, Sankalp and Swagat. The objective of the campaign is to spread awareness about the development of financial services and accelerate credit growth, improve penetration of social security schemes and drive digital banking push.

2021-10-07 : Bank of Baroda Decreases Personal Loan Rates


Bank of Baroda has decreased personal loan rates by 25 points to 9.75%. Earlier the personal loan started at 10.00%.
*Terms and conditions apply. Credit at sole discretion of lender, which is subject to credit appraisal, eligibility check, rates, charges and terms. Information displayed is indicative and collected from public sources.
MyLoanCare is an independent professional service provider and is not related to the government or government bodies or any regulator or any credit information bureau in any way. Information carried at this website is not and should not be construed as an offer or solicitation or invitation to borrow or lend. The Company does not undertake any liability with respect to the correctness of the content, information and calculations. Information is subject to change without notice. By submitting your query or using any tools or calculators, you authorize MyLoanCare to share your information with lender(s), consent for such lender(s) to access your credit information report and contact you regarding your query overriding your number being in National Do Not Call Registry. This is a free service and no charges are payable by the borrower to MyLoanCare. The Company may receive remuneration from lenders for services provided to them.
Read More
Read Less

Please wait while your information is being processed...