Personal Loan Interest Rates - HDFC, SBI, Bajaj, ICICI Bank, All Banks
Last Updated 28th Jul 2017
Lowest Personal Loan Interest Rates in India 2017
Interest rates starting @10.99%*
Compare and get best personal loan offers from various banks at one place
Apply for personal loan online and avail attractive cashback upto Rs. 2,500
These are relatively short-term loans and the tenure ranges from 1 to 5 years
Option of part payment and nil foreclosure charges available
Check your loan eligibility at MyLoanCare Personal Loan Eligibility Calculator
No collateral or guarantor is required
Apply Personal Loan @ 10.99%*
Compare Offers
and
Apply Loan Online
Get CashBack Upto
Rs.2,500
Assisted Digital Service
Personal Loan Interest Rates Comparison, Lowest EMI Jul 2017, Best rates
Bank
Personal Loan Interest Rates*
Lowest EMI per lakh for Max Tenure
HDFC Bank (4.2/5.0)

359 Users

10.99% - 20.00%
Rs. 2,174 for 60 months
Explore More Apply Now
ICICI Bank (4.2/5.0)

57 Users

10.99% - 22.00%
Rs. 2,174 for 60 months
Explore More Apply Now
Bajaj Finserv (3.7/5.0)

64 Users

11.99% - 15.50%
Rs. 2,224 for 60 months
Explore More Apply Now
Citibank (4.2/5.0)

133 Users

11.29% - 16.49%
Rs. 2,189 for 60 months
Explore More Apply Now
IDFC Bank (4.3/5.0)

23 Users

11.00% - 19.50%
Rs. 2,174 for 60 months
Explore More Apply Now
IndusInd Bank (4/5.0)

42 Users

11.99% - 23.00%
Rs. 2,224 for 60 months
Explore More Apply Now
Axis Bank (4.1/5.0)

60 Users

11.25% - 24.00%
Rs. 2,187 for 60 months
Explore More Apply Now
Tata Capital (4.5/5.0)

1 Users

11.99% - 18.00%
Rs. 2,224 for 60 months
Explore More Apply Now
SBI (3.4/5.0)

4 Users

12.50% - 16.60%
Rs. 2,658 for 48 months
Explore More Apply Now
Fullerton India (2.7/5.0)

4 Users

14.00% - 34.00%
Rs. 2,733 for 48 months
Explore More Apply Now
Kotak Bank (3.3/5.0)

11 Users

11.50% - 24.00%
Rs. 2,199 for 60 months
Explore More Apply Now
Standard Chartered Bank (4.2/5.0)

13 Users

11.49% - 20.00%
Rs. 2,199 for 60 months
Explore More Apply Now
Union Bank of India (3.3/5.0)

1 Users

14.40% - 14.40%
Rs. 2,348 for 60 months
Explore More Apply Now
RBL Bank (3.5/5.0)

2 Users

13.99% - 16.00%
Rs. 2,326 for 60 months
Explore More Apply Now
Vijaya Bank
12.50% - 13.50%
Rs. 2,250 for 60 months
Explore More Apply Now
PNB
12.25% - 15.25%
Rs. 2,237 for 60 months
Explore More Apply Now
Karur Vysya Bank
13.90% - 16.40%
Rs. 3,413 for 36 months
Explore More Apply Now
Syndicate Bank
14.20% - 14.20%
Rs. 2,337 for 60 months
Explore More Apply Now
Indian Overseas Bank
12.70% - 15.25%
Rs. 2,260 for 60 months
Explore More Apply Now
Andhra Bank
13.05% - 14.30%
Rs. 2,278 for 60 months
Explore More Apply Now
Bank of Baroda
11.60% - 16.60%
Rs. 3,302 for 36 months
Explore More Apply Now
Bank of Maharashtra
15.10% - 15.10%
Rs. 3,471 for 36 months
Explore More Apply Now
Canara Bank
13.65% - 13.65%
Rs. 2,715 for 48 months
Explore More Apply Now
Corporation Bank
12.75% - 13.75%
Rs. 3,357 for 36 months
Explore More Apply Now
Dena Bank
13.00% - 14.00%
Rs. 3,369 for 36 months
Explore More Apply Now
Federal Bank
13.32% - 15.12%
Rs. 2,699 for 48 months
Explore More Apply Now
IDBI Bank
13.20% - 13.75%
Rs. 2,286 for 60 months
Explore More Apply Now
Allahabad Bank
13.10% - 13.10%
Rs. 2,280 for 60 months
Explore More Apply Now
Indian Bank
14.35% - 14.85%
Rs. 3,435 for 36 months
Explore More Apply Now
Yes Bank
11.99% - 20.00%
Rs. 2,224 for 60 months
Explore More Apply Now
---
Personal Loan Eligibility Check
You may be eligible for personal loan in India from one or more banks if you meet the following eligibility conditions:
Eligibility Criteria for Personal Loan
Minimum and Maximum Age

Note: However, many banks require minimum age of 23 years
Loan Amount

Upto Rs. 50 lakhs. Most banks restrict maximum eligibility to Rs. 25 lakhs


Note: Some banks also restrict the maximum eligibility at 10 – 22 times net monthly income
Net Monthly Income

Min. Rs. 15,000 (For Semi & Rural ) and 20,000 (For Metro)


Note: Some banks specify higher minimum income requirement for people staying on rent
Employment Type

Salaried customers have more choices
Interest rates are typically in the range of 11.49% to 18.00% per annum
Personal loans to self employed professionals and businessmen are classified as Business Loan

Minimum Work Experience

3 years of total work experience
Tenure from the current company should not be less than 6 – 12 months
Business tenure should of 5 years & ITR required for at least 3 years (For Self Employed only)

CIBIL Score for Personal Loan

700 & more credit history

Note: Most banks avoid giving loans if you have low credit score
Lowest EMI for Personal Loan
Personal Loan EMI is the amount that you pay every month to the bank or financial institution in order to repay your loan. EMI is composed of both principal amount and interest component. Interest component on your EMI is higher in early months and reduced with each EMI. EMI Calculator helps you to calculate your monthly EMI at desired interest rate for a particular tenure.
EMI depends upon loan amount, interest rate and loan tenure
Loan amount – If you apply for a high loan amount, then your EMI will be high
Interest rate - Higher interest rate on your loan leads to high amount of EMI
Loan tenure – EMI on personal loan reduces in case of high loan tenure
Comparison of Personal Loan Interest Rates in India
Personal Loan Processing fees – Most banks charges minimum processing fees of Rs. 999 to upto 2%. To get lowest fee, personal loan comparison, offers and cashback applying online through MyLoanCare.
Insurance premium - Since these are unsecured loans, it is advisable to take an insurance policy when availing a loan. However, the premium varies from bank to bank depending upon the risk coverage under various policies. So, check the loan sanction letter carefully to know the coverage and premium.
Personal Loan prepayment and foreclosure – Nobody wants to keep paying interest on a loan when you have surplus money available to repay it. When you want to repay your loan partially before time, it is called part prepayment. In case you decide to pay the entire loan amount before time, it is called foreclosure. Banks typically levy prepayment or foreclosure charges in such situations and these can range from nil to eve upto 5%. So, check carefully if the low interest rate personal loan you are getting comes with high prepayment or foreclosure charges. Note that some loans cannot be repaid before time.
Do's and Don'ts while taking Personal Loan
To get best and lowest personal loan interest rates online, read the do's and don'ts mentioned below.
| Do's | Don'ts |
| --- | --- |
| Check best discount and offers for salaried customers – Always check current offers and loan interest rates offered to employees of large reputed companies | Do not apply for loan amount more than what you are eligible for – Applying for an amount higher than your eligibility may lead to rejection of your loan application |
| Compare personal loan rates based on loan amount – Some banks offer lowest interest rate for personal loan at higher loan amount | Do not apply with multiple banks for your personal needs – Simultaneous loan applications gets recorded in your CIBIL report and can hurt your chances of getting a loan |
| Discount for tenures – Banks may offer lower rates on personal loan for certain tenure | Your salary bank may not offer the cheapest personal loan – Various banks keep offering attractive schemes to acquire premium customers. Hence, salary bank may not be the best option |
Checklist for Personal Loan
Identity proof
Residence address and ownership proof
Income proof
Photo identity proof
Bank continuity proof
Bank statement
1 passport size photograph
Latest ITR
CIBIL Score and report
Investment proof if you have any Fixed Deposit, Shares, Fixed Assets, etc
Documents Required for Personal Loan
Documents ID
Individuals
Firms, Partnerships
Signed Application Form
Required
Identity Proof
PAN card, Passport, Driving License, Aadhar Card, Voter id, Govt issued i-card
Certificate and Proof of Business Existence
PAN , sales tax/ excise/ VAT/ service tax registration, Copy of partnership deed, Trade license, certificate of practice, registration certificate issued by RBI, SEBI
Address Proof
Passport, Driving License, Election ID card, Electricity/ Telephone/ Mobile bill/ bank statement (not more than 3 months old)
Bank statement, utility bill, Registry copy, lease or rent agreement, TAN allotment letter
Age Proof
PAN card, Passport, Driving License, Voter id card, Birth certificate, Employee ID card (only for PSU/ Government employees), School/ college leaving certificate
Income Proof
Last 2 years Form 16, last 6 months salary slip, last 6 months' bank account statement showing salary credit
Last 2 years ITR, last 6 months bank account statement
Maximum Annual Percentage Rate (APR)
11.39% to 22.4%
Representative example of the total cost of the loan, including all applicable fees

Here is an illustration of the total cost of the loan:

Total amount borrowed: Rs. 100,000
Time period: 12 months to 60 months
Interest Rate: 10.99% to 22%
Processing Fee payable to: Upto Rs. 2,000
Fee payable to MyLoanCare: NIL
Total Monthly Cost – From Rs. 2,174 for a months Rs. 100,000 loan at 10.99% (lowest rate, longest time period) to Rs. 9,359 for a 12 months Rs. 100,000 loan at 22% (highest rate, shortest time period). This is inclusive of principal repayment.
Annual Percentage Rate (APR) of charge including all applicable fees: 11.39% to 22.4%
Total cost payable over loan tenure: Rs. 14,313 for 12 months loan to Rs. 32,424 for 60 months loan
Frequently Asked Questions on Personal Loan
Why do I need Personal loan?
Personal loans are usually taken to meet short term needs. Generally the purpose of this loan is to pay off credit card debts, family vacation, wedding, medical emergency, etc. Personal loan rates are mostly fixed and higher than other loan types. So, loan should be taken only in case of emergencies. Also, you should have a plan that you can make all your repayments on time. If you have a low CIBIL score, then you should not apply in multiple banks for loan as each rejection will drop your CIBIL score.
How can I apply for personal loan?
You can apply in several ways. You can directly visit the bank branch and meet the sales person, contact a loan agent or apply online at any bank or NBFC's website. You can also compare personal loan best interest rates of all banks online at MyLoanCare and apply for personal loan.
What is the minimum and maximum tenure of personal loan?
These are generally taken for a short period of time. Generally, the loan tenure is between 12 months to 60 months.
What are the charges for personal loan?
Apart from rate of interest, there are two types of charges being charged by the banks.
Personal loan processing fee: This is charged when you apply for the loan. The processing fee charged is 2 – 3% of the loan amount and could be reduced if you can bargain.
Personal loan preclosure fee: This is charged when you close your loan before the completion of loan tenure. Prepayment penalty charged upto 5% of the loan amount.
Is CIBIL Score for personal loan important?
Personal loan CIBIL score is very important. Good CIBIL score indicates good repayment record and hence banks can offer you higher loan amount at low rate of interest. Bad CIBIL Score will result in either loan at higher interest rate or rejecting the loan application. So, make all your payments on time and maintain your CIBIL in order to get best personal loan rates.
Do I need to open a bank account to service my personal loan?
Yes, you need to have at least one functional bank account in your name. It is even better if you have an account with the same bank from which you would like to get a loan.
Can I apply for personal loan jointly with my spouse?
Yes, you can apply jointly with a co-applicant (either be your spouse or your parents). This helps you to increase your eligibility and you can also avail for a higher amount of loan as your co-applicant's income also gets added to your income and that total is taken into consideration for calculating the loan amount you will be eligible for.
Does it affect my co-applicant if I default in personal loan?
Yes, if you fail to pay the loan on time then it will also affect your co-applicant as default in loan will affect his/her CIBIL rating as well.
What are the main factors that affect interest rate of personal loan?
These are unsecured loans so it has higher rate of interest. Personal loan lowest interest rate depends upon factors like loan amount, company category and your net income. High income and good company profile can lend you high loan amount at low interest rate. Personal loan interest rate for government employee and defence personnel may varies from private salaried employees.
Can I do balance transfer on personal loan?
Yes, if you are getting higher rate of interest and paying higher EMI than other banks, then you can opt for personal loan balance transfer and reduce your monthly burden.
Can I get top up on personal loan?
Yes, you can get top up loan but terms and conditions vary from bank to bank.
How can I prevent rejection of my loan application?
Banks or NBFCs give loan to those borrowers about whom they are sure that he/she can repay the loan. You need to know few details if you don't want your application to get rejected:
Job stability is important. You need to be stable in your current job as too many job changes can impact negative at the time of loan approval
You should not be having many loans running at one time. Banks can reject your application if you are already paying too many EMI's at same time.
Don't give you landline number for tele-verification if you know that nobody else is there at home when you are at work. A typing mistake in apartment number can also put negative impact on lenders.
Keep a good track record of credit card or loan repayment. Make all your payments on time. Delay in payments can create doubt in the mind of lender and can also lead to rejection of your application.
Banks or lenders keep on adding these small things and reject your loan application.
What should I do if my personal loan application gets rejected by bank?
Some possible reasons why your application gets rejected are already running multiple loans and hence a bank may be in doubt about your repayment ability of a new loan.
In this case, if you have a spouse who is also working, you can add her as a co-applicant to boost the combined salary levels.
Clear your old debts first so that your leverage levels come down.
One more thing you can do is balance transfer of your existing loans so that the rate of interest on loans can come down and additional loan can be availed.
Can I make payment of loan amount when I am outside India?
Yes, you can make payments outside India through netbanking facility provided by banks.
Why MyLoanCare???
Nowadays, banks give various offers on Personal Loan to give the best rates to individuals. To get Personal Loan with lowest interest rate and lowest EMI, compare new rates and offers of all banks at MyLoanCare. You can do rates comparison, check your eligibility, apply online and get the cheapest rate on Personal Loan. MyLoanCare helps you throughout the loan process from the day you apply to the time you get complete disbursement. You can even track your loan status after getting registered with us. MyLoanCare make it easy for you to get hassle free Personal Loan with ultimate cashback and refer and earn benefits. So, apply for Personal Loan today and enjoy the benefits.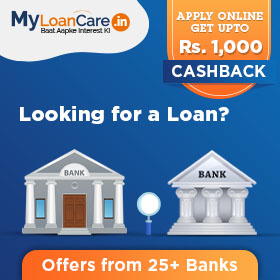 ---