Personal Loan for Government Employees
Last Updated 24th Jun 2017
Personal loan interest rate for government employee starts @12.50%
Special offers available for government employees of India
Nil processing fees on personal loan for defence personnel
Low personal loan rates for employees of public sector banks
Check best personal loan offers available for your profile
Apply personal loan online and get cashback upto Rs. 2,500 from MyLoanCare
Apply Personal Loan @ 10.99%*
Compare Offers
and
Apply Loan Online
Get CashBack Upto
Rs.2,500
Assisted Digital Service
Compare personal loan interest rates for government employee
| | HDFC Bank Rates, Processing Fee | ICICI Bank Rates, Processing Fee |
| --- | --- | --- |
| Maharatna | 12.50% , 1.25% | 12.50% , 1.25% |
| Navratna | 12.50% , 1.50% | 12.50% , 1.50% |
| PSU Banks | 13.25% - 15.80%, 1.50% | 13.25% - 15.75%, 1.49% |
| Central Govt. Employees | 13.99% - 14.25%, 1.75% | 13.99% - 16.49%, 2.00% |
| Railways | 13.99% - 15.00%, 1.50% | 13.99% - 16.49%, 2.00% |
| State Govt. Employees | 13.99% - 14.25%, 1.75% | 13.99% - 16.49%, 2.00% |
| Defence | 14.72% , NIL Processing Fee | 14.99% , NIL Processing Fee |
---
Government Employees Personal Loan Eligibility
Minimum age of the applicant should be 21 years and maximum 65 years.
Government salaried employees with minimum income of Rs. 20,000 per month are eligible for personal loan. Income eligibility may vary depending upon your profile.
Bank gives personal loan to those applicants who are at least 6 months experienced in their current job with a total experience of 3 years although it may vary bank to bank.
CIBIL score matters as personal loans are unsecured loans. CIBIL score should be 700 or more than that with a good credit history which is equally important to get eligible for personal loan.
Documents Required for Public Sector Personal Loan
Signed application form
Age proof - Passport, PAN Card, Birth Certificate, Employee ID Card
Identity proof - PAN Card, Aadhar Card, Driving License
Address proof – Passport, Voter ID Card, Aadhar Card, Utility bills (not more than 3 months old)
Income proof – Form 16 of last 2 years, salary slips of last 6 months and last 6 months bank statement
Illustration
Maximum Annual Percentage Rate (APR)
12.9% to 16.89%
Representative example of the total cost of the loan, including all applicable fees
Here is an illustration of the total cost of the loan:

Total amount borrowed: Rs. 100,000
Time period: 12 months to 60 months
Interest Rate: 12.50 % to 16.49%
Processing Fee payable to: Upto Rs. 2,000
Fee payable to MyLoanCare: NIL
Total Monthly Cost – From Rs. 2,250 for 60 months Rs. 100,000 loan at 12.50% (lowest rate, longest time period) to Rs. 9,096 for a 12 months Rs. 100,000 loan at 16.49% (highest rate, shortest time period). This is inclusive of principal repayment.
Annual Percentage Rate (APR) of charge including all applicable fees: 12.9% to 16.89%
Total cost payable over loan tenure: Rs. 11,155 for 12 months loan to Rs. 36,987 for 60 months loan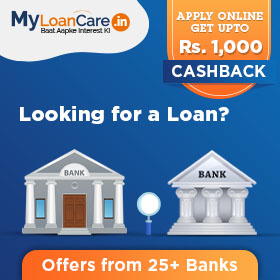 ---
2017-06-24 :

Fintech lender ZestMoney to tie up with RBL to extend loans for online purchase

Fintech lender ZestMoney which has recently tied up with DCB Bank is now looking to join hands with RBL Bank to extend loans for online purchase. The idea is in line with RBI's move of encouraging banks to partner with fintech firms for providing loans including personal and business loans to the retail and small businesses and also to those online buyers who do not have access to credit.

2017-06-19 :

SBI ties up with Tirumala Milk Products for providing loans to dairy farmers

State Bank of India (SBI) has entered into a tie up with Tirumala Milk Products, a South based company to provide loans to dairy farmers. Under the scheme, SBI will offer loans to farmers and dairy societies for improvising their infrastructure including the purchase of automatic milk collection system, transport vehicles, construction of shed and bulk chilling unit.

2017-06-10 :

EDII ties up with YES Bank for startup lending

Entrepreneurship Development Institute of India (EDII) has tied up with YES Bank to lend to startups supported by EDII. Under this initiative, the bank will provide a loan of Rs. 50 lakh to EDII supported startup, Green Ideology, under the CGTMSE programme (Credit Guarantee Fund Trust for Micro and Small Enterprises). With the funding support from YES Bank, the startup is planning to increase its width and depth in products and categories.

2017-06-03 :

RBI initiates prompt corrective actions against Dena Bank over bad loans

Reserve Bank of India (RBI) has initiated a prompt corrective action (PCA) against Dena Bank after evaluating its high non-performing assets (NPAs) and negative return on assets (RoAs). The action taken by RBI will help in improving the financial health of the bank by reducing its stressed assets and bad loans.

2017-06-03 :

SBI funds 100 MW rooftop solar projects under World Bank programme

State Bank of India (SBI) has announced financing of 100 MW rooftop solar projects worth Rs. 400 crores for private developers under a World Bank programme. With this program, SBI is making efforts to expand the market for rooftop solar power by way of low cost financing.
*Terms and conditions apply. Credit at sole discretion of lender subject to credit appraisal, eligibility check, rates, charges and terms. Information displayed is indicative and from collected from public sources. MyLoanCare is an independent professional service provider and is not related to the government or government bodies or any regulator or any credit information bureau in any way. Information carried at this website is not and should not be construed as an offer or solicitation or invitation to borrow or lend. The Company does not undertake any liability with respect to the correctness of the content, information and calculations. Information is subject to change without notice. By submitting your query or using any tools or calculators, you authorize MyLoanCare to share your information with lender(s), consent for such lender(s) to access your credit information report and contact you regarding your query overriding your number being in National Do Not Call Registry. This is a free service and no charges are payable by the borrower to MyLoanCare. The Company may receive remuneration from lenders for services provided to them.