Personal Loan for Government Employees
Last Updated 20th Oct 2017
Personal loan interest rate for government employee starts @10.99%
Special offers available for government employees of India
Nil processing fees on personal loan for defence personnel
Low personal loan rates for employees of public sector banks
Check best personal loan offers available for your profile
Apply personal loan online and get cashback upto Rs. 2,500 from MyLoanCare
Apply Personal Loan @ 10.99%*
Compare personal loan interest rates for government employee
| | HDFC Bank Rates, Processing Fee | ICICI Bank Rates, Processing Fee |
| --- | --- | --- |
| Maharatna | 10.99% - 13.49%, 1.25% | 11.29% , 1.50% |
| Navratna | 10.99% - 13.49%, 1.25% | 11.50% , 1.50% |
| PSU Banks | 13.25% - 15.80%, 1.50% | 13.25% - 15.75%, 1.49% |
| Central Govt. Employees | 14.75% - 16.75%, 2.00% | 10.99% - 15.99%, 1.75% |
| Railways | 14.25% - 16.50%, 1.50% | 10.99% - 15.99%, 1.75% |
| State Govt. Employees | 14.75% - 16.75%, 2.00% | 10.99% - 15.99%, 1.75% |
| Defence | 14.72% , NIL Processing Fee | 14.49% - 14.75%, NIL Processing Fee |
Government Employees Personal Loan Eligibility
Minimum age of the applicant should be 21 years and maximum 65 years.
Government salaried employees with minimum income of Rs. 20,000 per month are eligible for personal loan. Income eligibility may vary depending upon your profile.
Bank gives personal loan to those applicants who are at least 6 months experienced in their current job with a total experience of 3 years although it may vary bank to bank.
CIBIL score matters as personal loans are unsecured loans. CIBIL score should be 700 or more than that with a good credit history which is equally important to get eligible for personal loan.
Documents Required for Public Sector Personal Loan
Signed application form
Age proof - Passport, PAN Card, Birth Certificate, Employee ID Card
Identity proof - PAN Card, Aadhar Card, Driving License
Address proof – Passport, Voter ID Card, Aadhar Card, Utility bills (not more than 3 months old)
Income proof – Form 16 of last 2 years, salary slips of last 6 months and last 6 months bank statement
Illustration
Maximum Annual Percentage Rate (APR)
11.39% to 17.15%
Representative example of the total cost of the loan, including all applicable fees
Here is an illustration of the total cost of the loan:

Total amount borrowed: Rs. 100,000
Time period: 12 months to 60 months
Interest Rate: 10.99 % to 16.75%
Processing Fee payable to: Upto Rs. 2,000
Fee payable to MyLoanCare: NIL
Total Monthly Cost – From Rs. 2,174 for 60 months Rs. 100,000 loan at 10.99% (lowest rate, longest time period) to Rs. 9,109 for a 12 months Rs. 100,000 loan at 16.75% (highest rate, shortest time period). This is inclusive of principal repayment.
Annual Percentage Rate (APR) of charge including all applicable fees: 11.39% to 17.15%
Total cost payable over loan tenure: Rs. 11,303 for 12 months loan to Rs. 32,424 for 60 months loan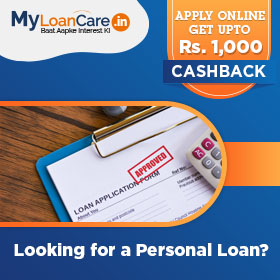 ---