PAN Card Form
PAN Card Application Form
Last Updated 31st Oct 2020
Different PAN application forms are to be used for Indian applicants and non-Indian applicants.
Form 49A is for Indian Applicants and form 49AA for non-Indian applicants.
Forms can be downloaded from the PAN UTIITSL website.
e-KYC, e-Sign and Digital Signature are available for online form fill up.
Form has to be sent to the NSDL office with self-attested documents.
Apply Loan Online at MyLoanCare
PAN Application Form
PAN is required for availing many services and especially for tax-related transactions. Owning a PAN card is essential not only for Indian citizens but for foreign individuals or entities operating in the country. For getting a PAN, you have to submit the PAN card application form together with the required documents. The form and other documents for the PAN application procedure for Indian individuals and foreigners are not the same.
Any fake or incorrect details in the PAN card can lead to rejection of your application or misinformation in your PAN card. One should opt for PAN card correction in such events. PAN correction form will have to be submitted coupled with the required documents for correcting any details in the PAN card. 
PAN Card Status on UTI/NSDL
New PAN Card Forms
Different PAN card form is availablefor the Indian and non-Indian individuals and entities. Below goes a detailed overview of the forms.
PAN Application Form
Description
Download link
49A
Form for

Indian citizens
Incorporated and Unincorporated entities in India
Indian companies

https://www.tin-nsdl.com/downloads/pan/download/Form_49A.PDF
49AA
Form for

Foreign citizens
Incorporated and Unincorporated entities outside India

https://www.tin-nsdl.com/downloads/pan/download/Form_49AA.PDF
Point to be remembered is that the PAN card application form 49A is to be used for both new PAN cards and PAN card correction. The procedures and charges for new PAN and PAN correction are different. For any of the two purposes, download the PAN card form pdf using the given link.
Procedure for Filling Online PAN Card Form 49A / Form 49AA
PAN card form 49A and 49AA both are operated under 114 section of Income Tax Rules, 1962. One must fill in the application form with correct details and sign the self-declaration at the end of the forms. The components of the forms are more or less the same. However, there are a few differences between the form for individuals and the form for entities or companies.
Coming to filling a new PAN card form, there are three online procedures, which are listed below.
e-KYC: In the e-KYC method, the detail required for PAN is generated from the Aadhaar card of the applicant, and the PAN card will be delivered to the same address as mentioned in the Aadhaar. Applicants using the e-KYC method is not required to send the PAN application together with documents to the office of NSDL.
e-Sign: e-Sign is basically an electronic signature service. Aadhaar cardholders can avail this feature to sign any document electronically. e-Sign can be used for PAN applications as well. After filling up the form, the applicant must post self-attested documents to the office address of NSDL.
Digital Signature: The digital signature is added recently to the new PAN card form for individuals. However, individuals holding valid Digital Signature Certificates can only enjoy this feature. Same as the e-sign method, the documents must be self-attested and mailed to the NSDL office.
Steps to download PAN Card Online
Accessing PAN card application forms has been made easy by platforms like TIN of NSDL and UTIITSL. Follow these few steps and download the form without much effort.
Go to the official website of PAN UTIITSL or paste this URL in another https://www.pan.utiitsl.com/panonline_ipg/forms/pan.html/preForm.
Enter the required details and select the 'PAN CARD Mode' from the given two options.
Tap on 'Submit' and the e-PAN will be mailed to your registered email ID.
Open the mail and download the PAN card form pdf.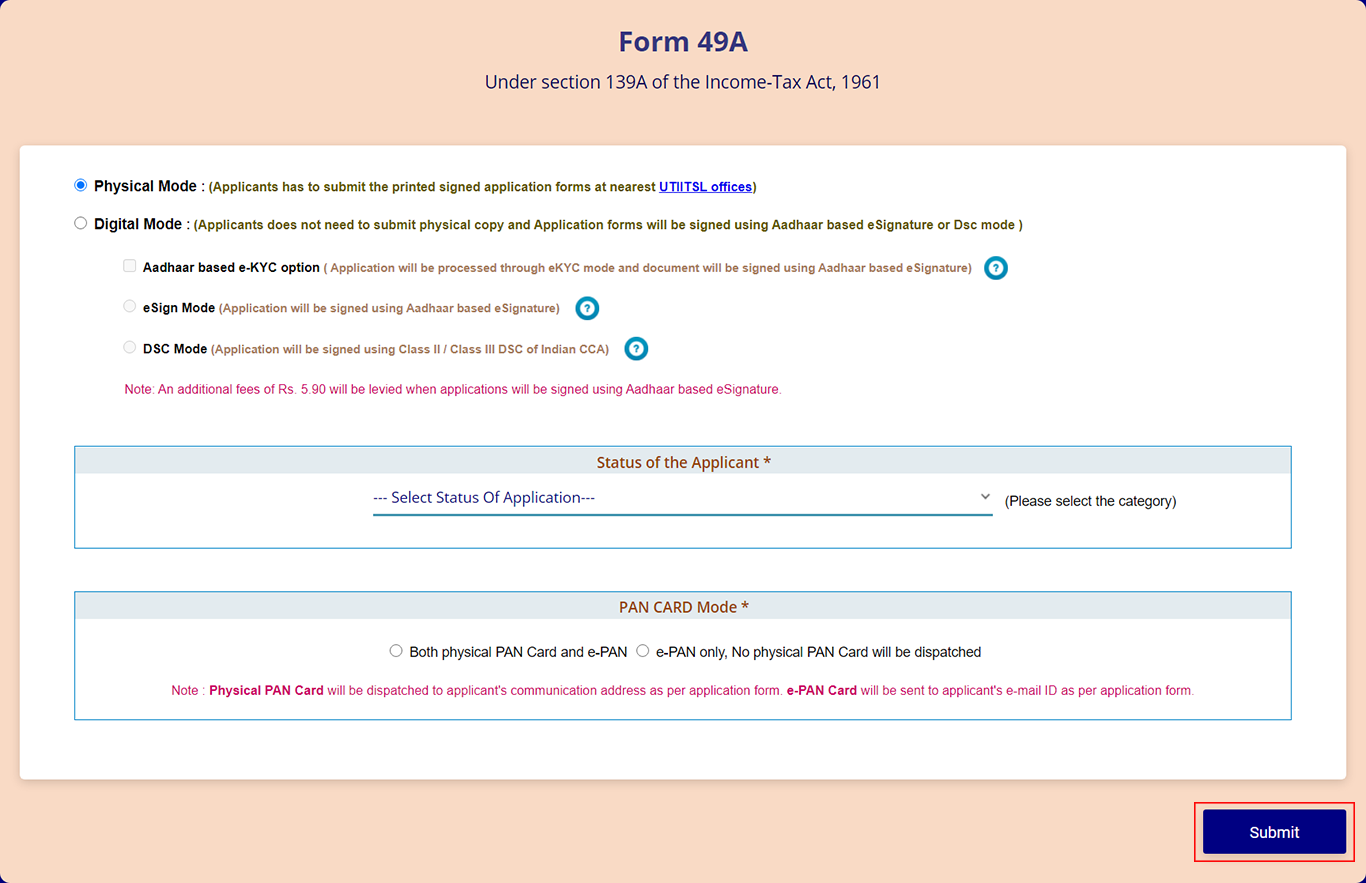 Remember, the hardcopy of the PAN card will be delivered to your contact address.
For Physical submission mode
After providing all the information online, applicants are required to collect the form and submit it coupled with other requirements. Below is the procedure for the physical submission mode.
Select 'Individual' as the category.
Fill up the form with correct information.
Make the payment using the online payment gateways.
After the successful payment, the duly filled form and the acknowledgment slip will be mailed to your Email ID.
Download the form and the slip from your mail.
Check the form and sign it.
Post the form along with two affixed photocopies to the NSDL office.
Tips to Fill PAN Card Application Form (Form 49A /Form 49AA)
While filling up a new PAN card form or a PAN correction form keep this list of Do's and Don'ts in your mind to avoid any mistakes.
Do's
Don'ts

Write or type all details in block letters.
Attach photocopy in 3.5 cm * 2.5 cm size.
Enter correct and valid details.
Sign inside the given box.
Use black ink.

Attach photocopy or documents by stapling or pinning.
Make a mess or overwrite.
Apply for more than one PAN card.
Know More About PAN
FAQs
✅

What is an application form?

An application form is a form that one is required to fill up and submit while applying for something. One must fill up form 49A or 49AA based on their communication address while applying for PAN.
✅

What is Pan Card Form 49a?

PAN Card Form 49a is required while applying for new PAN card or PAN correction. Indian citizens, companies, incorporated and unincorporated entities in India are required to submit form 49a for making the PAN card application.
✅

Where can I get a PAN card application form?

You can get a PAN card application form on the online portal of PAN UTIITSL (https://www.pan.utiitsl.com/panonline_ipg/forms/pan.html/preForm). Enter the required data and receive the PAN card application form via your Email ID. You can opt to get a hard copy of the application form to your Aadhaar registered address as well.
✅

How can I apply for a pan card?
Go to the website of NSDL or UTIITSL.
Access the form and make the payment.
Submit the details and receive the acknowledgment slip.
Send the slip with required documents to the NSDL office.
✅

Is PAN card free of cost?

No, PAN card is not free of cost. Applicants must pay the following fees.
₹ 39 + GST (18%) for Indian applicants.
₹ 864 + GST (18%) for non-Indian applicants.
✅

Can I get a PAN card in 2 days?

Yes, you can get a PAN card in two days. Generally, PAN cards are delivered within 15 to 20 working days. However, now you can apply for the PAN card on the NSDL website and receive it within two working days.
---
2020-06-25 :

PAN card, Aadhaar card linking deadline extended to March 2021


The income tax department again extended the deadline for linking of PAN card and Aadhaar card. The deadline for the PAN Aadhar linking is extended to 31st March 2021. The decision was taken in the wake of COVID 19 outbreak.

2020-05-28 :

Free instant PAN card facility through Aadhaar launched.


Finance Minister launched the facility for instant allotment of PAN card using Aadhaar-based e-KYC. The facility is available for all those Permanent Account Number applicants who possess a valid Aadhaar number and have a mobile number registered with Aadhaar. Further, the allotment process is paperless, and an electronic PAN (e-PAN) is issued to the applicants free of cost.
*Terms and conditions apply. Credit at sole discretion of lender subject to credit appraisal, eligibility check, rates, charges and terms. Information displayed is indicative and from collected from public sources.
MyLoanCare is an independent professional service provider and is not related to the government or government bodies or any regulator or any credit information bureau in any way. Information carried at this website is not and should not be construed as an offer or solicitation or invitation to borrow or lend. The Company does not undertake any liability with respect to the correctness of the content, information and calculations. Information is subject to change without notice. By submitting your query or using any tools or calculators, you authorize MyLoanCare to share your information with lender(s), consent for such lender(s) to access your credit information report and contact you regarding your query overriding your number being in National Do Not Call Registry. This is a free service and no charges are payable by the borrower to MyLoanCare. The Company may receive remuneration from lenders for services provided to them.
Read More
Read Less