PAN Card
PAN India Overview
Last Updated 16th Apr 2021
| | |
| --- | --- |
| PAN | Permanent Account Number |
| Issued By | Income Tax Department |
| Valid for | Lifetime |
| PAN Card Apply | Online and Offline |
| PAN Card Application Online | NSDL Official Website |
| PAN Card Fees | ₹ 93 + GST |
| PAN- Aadhaar Linking Deadline | 30th June, 2021 |
Apply Loan Online at MyLoanCare
PAN
PAN stands for Permanent Account Number. A PAN number is a ten-digit number in alphabets and numerical, or in 'alphanumeric' terms, that is allocated by the income tax department to all the taxpayers, and is unique with each individual. A PAN number helps the authorities keep track of the financial activities of any individual, as PAN is integral to all forms of payments. A PAN number is allotted through a laminated card, which is called a PAN card. A PAN card contains information like PAN number, Name, DOB, and address.
PAN Card Status on UTI/NSDL
Online PAN Card Application
To get a PAN card, taxpayers can enrol themselves online. A PAN card can be made online through the following steps:
Go to the official website of NSDL or UTIISL.
On the website, look out for PAN card form or Form 49 and fill out the personal details.
After filling the details, upload the required documents.
Pay the online processing fee, which is ₹ 93.
After the successful completion of the form, the PAN card is delivered to the submitted address within 15 days.
PAN Card Eligibility
As per the clauses in the Income Tax Act, Indian residents under the following categories are eligible for a PAN Card registration:
People who pay tax or who are liable to pay tax to the IT Department.
Businessmen or self-employed professionals who earn an annual turnover of ₹ 5 Lakh or above.
People who carry imports or exports activities.
Registered Trusts, organisations and associations.
Types of PAN Card
Types of PAN cards vary based on the taxpayer for whom it is made. Various types of PAN card are listed as follows:
PAN card for Individual taxpayers
PAN Card for a Company or organization
PAN cards for partnership firms or business units
PAN cards for Trusts and cooperative societies
PAN Card Documents
In order to enrol for a PAN card, there are certain documents required, irrespective of whether the application is made online or offline. These include: Address or Identity proofs such as Voter ID card, Passport, Aadhaar Card, or Driving License.
Additional documents:
PAN application for companies requires Registration Certificate by the Registrar of the companies along with Identity and address proofs.
PAN application of Partnership firms: a partnership deed is required along with identity and address proofs.
PAN application for cooperative societies requires a certificate of registration along with identity and address proofs.
How to update/edit PAN details?
You can edit or update PAN card details in certain situations if there is any wrong information on the card or to update changes like change in address. You can update the details by visiting the online portal and following the below-mentioned steps:
PAN Card Correction Online
PAN Card details can be updated online through the following means:
Visit the NSDL website.
Choose the option 'Changes or Correction in the existing PAN card' option under the 'Application Type' button.
Fill in the PAN card correction form.
Similar to a new PAN card form, the correction of PAN details require the submission of documents such as Identity and Address proofs.
Do's and Don'ts for Filling up PAN Card Correction Form
You have to keep following things in mind while filling up the PAN card correction form:
Ensure that the details are filled in capital letters.
Do not skip any column where mandatory information is required.
Enter a functioning and active mobile number that can keep you updated with messages and calls.
Cross verify all details before the final submission of the form.
Do not add salutations ahead of names, such as Mr, Mrs, Miss or Dr.
Enter the correct address, so that the PAN card is updated appropriately.
Make sure that the documents are self-attested and relevant to what is asked.
Lost PAN Card
At times, a PAN card is lost or is misplaced. However, it is not something to worry about. In case of a PAN card lost, one can get a duplicate PAN card online. To apply for a duplicate PAN card, you just need to visit the official website and fill the PAN card form 49-A. After the successful completion and payment of fee, a duplicate PAN card is delivered within 45 days.
Tracking PAN Applications and Transactions
The Government has now enabled tracking of financial transactions through PAN numbers. This has been done through the Income Tax Business Application (ITBA) software. Applications and transactions can be traced on the PAN card official website or NDSL website by choosing the 'Transaction status' page and entering the transaction number and other details.
Structure of PAN Card
A PAN card contains important information such as name, father's name, date of birth, address, signature, photograph, and PAN number. However, there is a particular format followed in allotment of a PAN number. The PAN card number is a ten-digit alphanumeric figure; thus, it contains both numbers and alphabets. The first three letters of the ten-digit are alphabets; the fourth letter represents the category under which the taxpayer is categorized. For instance, the letter P is allocated to individual taxpayers, F to firms, C to companies, and L to the local authority. Further, the fifth letter is the initial of the card holder's surname. Out of the remaining five letters, the first four are numerics, while the last letter is an alphabet.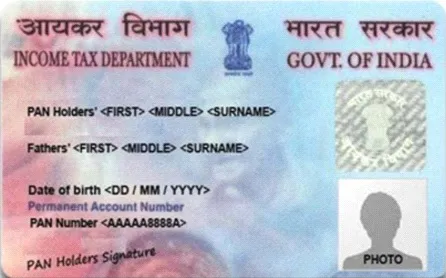 PAN Card for e-KYC (Know Your Customer)
KYC is 'Know Your Customer.' Recently, the e-KYC process has become a mandate for various operations related to finances such as banking. This is because the e-KYC process is quick, economical, safe, and pocket-friendly. However, to add more to the authenticity of KYC, and to obtain all information regarding the identity and address of people, linking PAN with Aadhaar Card has been made compulsory for the e-KYC process. At present, you cannot function in the banking system unless you hold a KYC, and you cannot get a KYC done unless your PAN is linked to your Aadhar. Thus, in a way, e-KYC, PAN, and Aadhar have been integrated systematically to obtain the required information of people.
Know More About PAN Card
PAN Card Loan
PAN Card is one of the essential documents that serve as an identification proof for conducting financial transactions. Most of the lenders, including banks & non-banking financial institutions, require you to submit PAN Card to avail any loan such as personal loan, home loan, loan against property or gold loan. On the contrary, not having a PAN Card may make it challenging to avail loans, mainly if you apply for a loan online as you would require to upload multiple documents, thus making the process more cumbersome.
FAQs
✅

What is the cost of a PAN Card?

The cost of applying for a PAN Card is ₹ 93 for Indian transactions. However, bank payment charges and GST are applied to this transaction.
✅

Why do you need a PAN Card?

A PAN card is your taxable identity. It is an important document required for incurring financial transactions and keeping track of one's financial activities. Also, it is required for the sale and purchase of address and to receive income and fees on professional services.
✅

How long is the PAN card valid?

A PAN number, once allotted, is a unique identifier for a taxpayer that remains valid until a lifetime.
✅

Can PAN Cards be made online?

Yes, PAN cards can be made online, through the official NDSL website or UTIITSL website by filling in the online PAN card application form and paying the processing fee.
✅

What are the fees for correction in a PAN card?

A PAN card fee for correction or for issuing a new card is ₹ 93, along with GST.
✅

How can I change my name in a PAN card?

In order to change details in a PAN card, you can visit the online portal for PAN card and select the 'Changes or Correction in the existing PAN card' option under the 'Application Type' button. PAN card name change or address change can be done easily through the online portal. You can even change the name in the PAN card as per Aadhar.
✅

How can I correct my PAN card?

A PAN card update online can be done through the 'Update PAN/Aadhar Details' option on the e-portal of the Income-tax department or through the official website of NSDL.
✅

How can I check my PAN card?

You can check your PAN card on income tax e-portal, under the section 'Know Your PAN'.
✅

What is a PAN card in India?

A PAN card is a unique identification mark allotted by the IT department to all taxpayers in India. A PAN card displays the PAN number, a ten-digit alphanumeric code that helps the authorities keep a record of the financial activities of an individual across all platforms. In India, PAN is an important identity proof.
---
2021-04-01 : PAN Aadhar linking deadline extended till June 2021


The government has extended the deadline for linking the aadhaar to PAN by another three months to June 30, 2021. The earlier deadline was March 31, 2021. This is the ninth time that the deadline has been extended for individuals to link their PAN with Aadhaar.

2021-03-31 : PAN-Aadhar linking deadline tomorrow


The last date for linking the PAN to Aadhaar is tomorrow - March 31, 2021. In case of failure, the PAN cards will get inoperative starting April 1. This will affect customers as they will not be allowed to carry out transactions wherever quoting of PAN is mandatory. Such customers may also face a penalty of Rs 1,000 as per the Finance Bill, 2021.

2021-02-25 : PAN and Aadhaar card linking deadline around the corner


The IT Department has set 31st March 2021 as the Aadhaar PAN Linking deadline. Failing to do this will lead to PAN card becoming inoperative, provided there is no extension in PAN Aadhaar Linking the last date.

2020-06-25 : PAN card, Aadhaar card linking deadline extended to March 2021


The income tax department again extended the deadline for linking of PAN card and Aadhaar card. The deadline for the PAN Aadhar linking is extended to 31st March 2021. The decision was taken in the wake of COVID 19 outbreak.

2020-05-28 : Free instant PAN card facility through Aadhaar launched.


Finance Minister launched the facility for instant allotment of PAN card using Aadhaar-based e-KYC. The facility is available for all those Permanent Account Number applicants who possess a valid Aadhaar number and have a mobile number registered with Aadhaar. Further, the allotment process is paperless, and an electronic PAN (e-PAN) is issued to the applicants free of cost.
*Terms and conditions apply. Credit at sole discretion of lender subject to credit appraisal, eligibility check, rates, charges and terms. Information displayed is indicative and from collected from public sources.
MyLoanCare is an independent professional service provider and is not related to the government or government bodies or any regulator or any credit information bureau in any way. Information carried at this website is not and should not be construed as an offer or solicitation or invitation to borrow or lend. The Company does not undertake any liability with respect to the correctness of the content, information and calculations. Information is subject to change without notice. By submitting your query or using any tools or calculators, you authorize MyLoanCare to share your information with lender(s), consent for such lender(s) to access your credit information report and contact you regarding your query overriding your number being in National Do Not Call Registry. This is a free service and no charges are payable by the borrower to MyLoanCare. The Company may receive remuneration from lenders for services provided to them.
Read More
Read Less

Please wait while your information is being processed...