Loan Against Property Interest Rates - SBI, HDFC, ICICI, Axis, Indiabulls, PNB, All Banks
Last Updated 28th Jul 2017
Loan Against Property Interest Rates in India
Compare and get lowest loan against property interest rate @ 8.50%*
Best loan offers available for both salaried and self employed individuals
Avail maximum loan upto 75% of current market value of property as loan
Apply for loan against property online and avail attractive cashback upto Rs. 5,000
Maximum loan tenure ranges for a longer period of 18 years along with overdraft facility
Check your loan eligibility at Loan Against Property Eligibility Calculator
Get the option of Nil prepayment charges on floating rate loan for individuals
Apply Loan Against Property @ 8.50%*
Compare Offers
and
Apply Loan Online
Get CashBack Upto
Rs.5,000
Assisted Digital Service
Loan Against PropertyInterest Rates Comparison, Lowest EMI Jul 2017, Best rates
Bank
Loan Against Property Interest Rates*
Lowest EMI per lakh for Max Tenure
SBI (3.3/5.0)

1 Users

9.85% - 10.80%
Floating rate linked to 1 Year MCLR - 9.15%
Rs. 867 for 30 Years
Processing Fee: 1.00%
Max Rs. 50,000
Explore More Apply Now
HDFC (4.1/5.0)

2 Users

10.00% - 12.00%
Floating rate linked to PLR - 8.70%
Rs. 878 for 30 Years
Processing Fee: 1.25%
Max Rs. 10,000
Explore More Apply Now
ICICI Bank (3.3/5.0)

9 Users

10.25%
Floating rate linked to 1 Year MCLR - 9.15%
Rs. 896 for 30 Years
Processing Fee: 0.50%
Min Rs. 5,000 - Max Rs. 10,000
Explore More Apply Now
Axis Bank (4/5.0)

1 Users

9.75%
Floating rate linked to 6 Month MCLR - 9.30%
Rs. 859 for 30 Years
Processing Fee: 0.25%

Explore More Apply Now
Citibank (3.6/5.0)

9 Users

%
Floating rate linked to 3 Month MCLR - 9.00%
for 25 Years
Processing Fee: 0.25%

Explore More Apply Now
PNB Housing Finance (3.4/5.0)

4 Users

9.75% - 10.00%
Floating rate linked to PLR - 8.70%
Rs. 859 for 30 Years
Processing Fee: 2.00%

Explore More Apply Now
Standard Chartered Bank (3.8/5.0)

1 Users

9.50% - 9.80%
Floating rate linked to 3 Month MCLR - 9.35%
Rs. 932 for 20 Years
Processing Fee: 1.00%
Min Rs. 10,000
Explore More Apply Now
DBS Bank
9.50% - 9.70%
Floating rate linked to 3 Month MCLR - 9.05%
Rs. 932 for 20 Years
Processing Fee: 0.50%
Max Rs. 10,000
Explore More Apply Now
HSBC Bank
10.10%
Floating rate linked to 1 Year MCLR - 8.40%
Rs. 916 for 25 Years
Processing Fee: 1.00%
Min Rs. 10,000
Explore More Apply Now
DHFL (3.3/5.0)

1 Users

12.00%
Floating rate linked to PLR - 8.70%
Rs. 1,029 for 30 Years
Processing Fee: 2.00%
Min Rs. 15,000
Explore More Apply Now
Dena Bank (3/5.0)

1 Users

10.25%
Floating rate linked to 1 Year MCLR - 9.60%
Rs. 926 for 25 Years
Processing Fee: 1.00%

Explore More Apply Now
SBBJ (2.8/5.0)

1 Users

11.65%
Floating rate linked to 1 Year MCLR - 9.55%
Rs. 1,415 for 10 Years
Processing Fee: 1.15%

Explore More Apply Now
City Union Bank
14.75% - 16.25%
Floating rate linked to 6 Month MCLR - 9.90%
Rs. 1,383 for 15 Years

Explore More Apply Now
United Bank of India
11.30%
Floating rate linked to 1 Year MCLR - 9.45%
Rs. 975 for 30 Years
Processing Fee: 1.00%

Explore More Apply Now
Bank of India
10.50%
Floating rate linked to 1 Year MCLR - 9.40%
Rs. 915 for 30 Years
Processing Fee: 1.00%
Min Rs. 5,000 - Max Rs. 50,000
Explore More Apply Now
Tamilnad Mercantile Bank (2.3/5.0)

1 Users

16.05%
Floating rate linked to 1 Year MCLR - 10.30%
Rs. 1,349 for 30 Years
Processing Fee: 1.00%

Explore More Apply Now
Indiabulls
10.50% - 12.00%
Floating rate linked to PLR - 8.70%
Rs. 915 for 30 Years
Processing Fee: 1.00%
Min Rs. 5,000
Explore More Apply Now
State Bank of Patiala
14.20%
Floating rate linked to 1 Year MCLR - 9.65%
Rs. 1,201 for 30 Years
Processing Fee: 2.02%
Max Rs. 50,933
Explore More Apply Now
RBL Bank
12.80% - 13.05%
Floating rate linked to 1 Year MCLR - 10.60%
Rs. 1,113 for 25 Years
Processing Fee: 1.25%
Min Rs. 7,500
Explore More Apply Now
Lakshmi Vilas Bank
12.00%
Floating rate linked to 1 Year MCLR - 10.30%
Rs. 1,101 for 20 Years
Processing Fee: 1.20%

Explore More Apply Now
HDFC Bank
10.75% - 12.25%
Floating rate linked to 1 Year MCLR - 9.20%
Rs. 1,449 for 9 Years
Processing Fee: 1.00%
Min Rs. 7,500
Explore More Apply Now
Karnataka Bank
13.20%
Floating rate linked to 1 Year MCLR - 9.20%
Rs. 1,122 for 30 Years

Explore More Apply Now
Indian Bank
13.80%
Floating rate linked to 1 Year MCLR - 9.45%
Rs. 1,229 for 20 Years
Processing Fee: 1.17%

Explore More Apply Now
Federal Bank
11.65% - 14.90%
Floating rate linked to 1 Year MCLR - 9.54%
Rs. 1,002 for 30 Years
Processing Fee: 0.50%
Min Rs. 3,000 - Max Rs. 7,500
Explore More Apply Now
Dhan Laxmi Bank
11.88% - 14.35%
Floating rate linked to 1 Year MCLR - 10.45%
Rs. 1,093 for 20 Years
Processing Fee: 1.50%
Min Rs. 10,000
Explore More Apply Now
Nainital Bank
14.75%
Floating rate linked to 1 Year MCLR - 9.30%
Rs. 1,598 for 10 Years
Processing Fee: 0.50%

Explore More Apply Now
IndusInd Bank (2.6/5.0)

2 Users

10.25% - 14.00%
Floating rate linked to 1 Year MCLR - 10.00%
Rs. 1,090 for 15 Years
Processing Fee: 2.00%

Explore More Apply Now
Central Bank of India
11.00%
Floating rate linked to 1 Year MCLR - 9.60%
Rs. 952 for 30 Years
Processing Fee: 0.50%
Max Rs. 20,000
Explore More Apply Now
Union Bank of India
12.20%
Floating rate linked to 1 Year MCLR - 9.50%
Rs. 1,044 for 30 Years
Processing Fee: 0.50%

Explore More Apply Now
Andhra Bank
12.40% - 12.85%
Floating rate linked to 1 Year MCLR - 9.60%
Rs. 1,060 for 30 Years

Explore More Apply Now
Syndicate Bank
11.50%
Floating rate linked to 1 Year MCLR - 9.65%
Rs. 990 for 30 Years
Processing Fee: 0.50%
Min Rs. 500
Explore More Apply Now
State Bank of Mysore
11.75%
Floating rate linked to 1 Year MCLR - 9.50%
Rs. 1,009 for 30 Years
Processing Fee: 1.25%

Explore More Apply Now
PNB
10.10% - 14.35%
Floating rate linked to 1 Year MCLR - 9.40%
Rs. 885 for 30 Years
Processing Fee: 0.90%
Max Rs. 45,000
Explore More Apply Now
Punjab and Sind Bank
11.00%
Floating rate linked to 1 Year MCLR - 9.65%
Rs. 952 for 30 Years
Processing Fee: 1.00%
Min Rs. 2,000 - Max Rs. 50,000
Explore More Apply Now
Kotak Bank (2.7/5.0)

4 Users

10.00% - 14.00%
Floating rate linked to 1 Year MCLR - 9.65%
Rs. 965 for 20 Years
Processing Fee: 1.00%

Explore More Apply Now
Jammu And Kashmir Bank
12.20%
Floating rate linked to 1 Year MCLR - 9.45%
Rs. 1,213 for 15 Years
Processing Fee: 0.20%

Explore More Apply Now
IDBI Bank (3.5/5.0)

1 Users

9.90% - 10.40%
Floating rate linked to 6 Month MCLR - 9.40%
Rs. 870 for 30 Years
Processing Fee: 1.00%

Explore More Apply Now
Edelweiss
12.00% - 12.75%
Floating rate linked to PLR - 8.70%
Rs. 1,053 for 25 Years
Processing Fee: 1.00%

Explore More Apply Now
Development Credit Bank
10.50% - 15.00%
Floating rate linked to 1 Year MCLR - 10.52%
Rs. 998 for 20 Years
Processing Fee: 1.00%

Explore More Apply Now
Corporation Bank
11.20% - 13.20%
Floating rate linked to 1 Year MCLR - 9.55%
Rs. 967 for 30 Years
Processing Fee: 1.00%

Explore More Apply Now
State Bank of Hyderabad
12.20%
Floating rate linked to 1 Year MCLR - 9.65%
Rs. 1,446 for 10 Years
Processing Fee: 1.10%

Explore More Apply Now
Vijaya Bank
11.90%
Floating rate linked to 1 Year MCLR - 9.45%
Rs. 1,021 for 30 Years
Processing Fee: 0.55%

Explore More Apply Now
Canara Bank (2.5/5.0)

1 Users

11.45%
Floating rate linked to 1 Year MCLR - 9.45%
Rs. 986 for 30 Years
Processing Fee: 1.00%
Min Rs. 5,000 - Max Rs. 50,000
Explore More Apply Now
UCO Bank (2.8/5.0)

1 Users

10.75% - 11.75%
Floating rate linked to 1 Year MCLR - 9.55%
Rs. 933 for 30 Years
Processing Fee: 1.00%

Explore More Apply Now
Allahabad Bank
14.10%
Floating rate linked to 1 Year MCLR - 9.60%
Rs. 1,251 for 20 Years
Processing Fee: 1.22%
Min Rs. 3,057 - Max Rs. 91,715
Explore More Apply Now
State Bank of Travancore
11.95%
Floating rate linked to 1 Year MCLR - 9.85%
Rs. 1,025 for 30 Years
Processing Fee: 1.00%
Max Rs. 50,000
Explore More Apply Now
South Indian Bank
13.60%
Floating rate linked to 1 Year MCLR - 10.00%
Rs. 1,153 for 30 Years
Processing Fee: 0.50%

Explore More Apply Now
OBC
10.70%
Floating rate linked to 1 Year MCLR - 9.60%
Rs. 959 for 25 Years
Processing Fee: 0.50%

Explore More Apply Now
Karur Vysya Bank (3.8/5.0)

1 Users

11.50%
Floating rate linked to 1 Year MCLR - 10.05%
Rs. 1,016 for 25 Years
Processing Fee: 0.50%

Explore More Apply Now
Indian Overseas Bank
12.15%
Floating rate linked to 1 Year MCLR - 9.70%
Rs. 1,040 for 30 Years
Processing Fee: 0.62%
Min Rs. 890 - Max Rs. 8,900
Explore More Apply Now
---
Loan Against Property
Compare Loan Against Property Rates
Loan Against Property processing fees – Most banks charges minimum processing fees of Rs. 10,000 to upto 2% on property loan. To get lowest fee, comparison of Loan Against Property rates, offers and cashback applying online through MyLoanCare.
Loan Against Property prepayment and foreclosure – Nobody wants to keep paying interest on a loan when you have surplus money available to repay it. When you want to repay your loan partially before time, it is called part prepayment. In case you decide to pay the entire loan amount before time, it is called foreclosure. Banks typically levy prepayment or foreclosure charges in such situations and these can range from nil to eve upto 5%. So, check carefully if the low rate of interest you are getting comes with high prepayment or foreclosure charges. Note that some Loan Against Property cannot be repaid before time.
Lowest Loan Against Property Rates Online
How to get and apply online?
Offer based on loan amount – You may be surprised to know that in some cases rate of interest on say, a Rs. 15 lakh loan, may be lower than that on a Rs. 14 lakh Loan Against Property. This is due to different pricing grids of banks and discounts for higher loan amounts that are offered from time to time.
Discount for tenures – Banks may offer lower rates on Loan Against Property for certain tenure and it may be useful to check these carefully.
Best Loan Against Property
How to get best loan against property interest rates?
Do not fall for marketing gimmicks – It is common for loan agents and DSA's to lure customers by quoting a lower rate of interest knowing very well that the final rate will be higher. Always check with authorized representatives and get the rates in writing before giving your documents for processing.
Do not apply with multiple banks – Remember that every mortgage loan application is recorded in your CIBIL report. Too many loan applications at the same time can hurt your chances of getting a loan and even lead to an increase in rate of interest. Multiple applications signal desperation to get loan on the part of the customer.
Your salary bank may not offer the cheapest loan – In case you are salaried and you may have got "pre-approved Loan Against Property" offer from your bank by email. Typically these may not be the lowest interest rate offers in the market. Always check and compare offers of all leading banks online before applying.
Do not apply for loan amount more than what you are eligible for – Use online loan against property eligibility calculator to estimate how much loan amount you are likely to be eligible for. Apply for a loan amount that is either less than or upto that to get the best rate of interest. Applying for an amount higher than your eligibility may lead to rejection of your loan application.
Loan Against Property apply online
Documents for Loan Against Property Application
Signed Application Form
Identity Proof (PAN) of Borrower and Co-borrower(s)
Residential Address Proof of Borrower and Co-borrower(s)
Last 3 Years Form 16
Latest 6 months salary slip for salaried
Last 6 months bank statement
Last 3 years ITR
Typically Accepted Proofs
Individuals
Firms, Partnerships
Identity Proof
PAN card, Passport, Driving License, Aadhar Card, Voter id, Govt issued i-card
Certificate and Proof of Business Existence
PAN , sales tax/ excise/ VAT/ service tax registration, Copy of partnership deed, Trade license, certificate of practice, registration certificate issued by RBI, SEBI
Address Proof
Passport, Driving License, Election ID card, Electricity/ Telephone/ Mobile bill/ bank statement
Bank statement, utility bill, Registry copy, lease or rent agreement, TAN allotment letter
Age Proof
PAN card, Passport, Driving License, Voter id card, Birth certificate, Employee ID card (only for PSU/ Government employees), School/ college leaving certificate
Property Documents Required for Loan Against Property
Salaried
Self Employed
Registered Sale Deed/ Conveyance/ Lease Deed
✔
✔
Past Sale Deeds Chain (each transaction in respect of this property since first allotment)
✔
✔
Latest House Tax Return/ Receipt
✔
✔
Approved Building Plan from Municipal Corporation
Case To Case
Additional Documents for Loan Takeover / Transfer
| | Salaried | Self Employed |
| --- | --- | --- |
| Loan statement (loan track) and list of property documents (LOD) in possession of existing lender | ✔ | ✔ |
| Last 12 months' statement of bank account from which loan EMI is paid | ✔ | ✔ |
Loan Against Property Interest rates in India
Frequently Asked Questions
What purpose can one use loan against property funds for?
To fund business and working capital needs of individuals, partnerships, private companies and SME's
To purchase new property by pledging existing property
As lower cost alternative to personal use and uses such as marriages, education, vacation, home renovation, medical emergency
What are the benefits of availing LAP instead of other loans?
As loan against property is secured against property, banks offer lower rate of interest compared to unsecured business loans or personal loans
Loan tenure can be upto 18 years leading to lower EMI compared to unsecured loans where loan tenure can only be upto 5 years
No additional collateral or guarantee is required
Loan can be taken in name of company/ firm even if the property is owned in individual name of partners/ directors
Is prepayment penalty or foreclosure charge payable on loan against property from banks/ NBFC/ Housing Finance Company (HFC)?
You can now prepay property loans without any penalty or charges if:
Your loan is at a floating rate of interest and not a fixed rate
The loan is in the name of one or more individual borrowers and not corporate or business entities (such as a firm, partnership, AOP, company)
For loans from banks and NBFC's, refer to RBI circulars RBI/2013-14/ 582/ DBOD. Dir.BC.No. 110 /13.03.00/2013-14 dated May 7, 2014 and RBI/2014-15/121/ DNBS(PD).CC.No.399/03.10.42 /2014-15 dated July 14, 2014.
For loans from Housing Finance Companies, refer to NHB circulars NHB(ND)-DRS-Policy-Circular-63-14-15 dated Aug 14, 2014 and NHB-ND-DRS-Policy-Circular-No-66-2014-15 dated Sep 03, 2014.
For more details, contact MyLoanCare at 0124 426 4004 or care@myloancare.in in case you need any assistance or clarification on this subject.
Why MyLoanCare???
Nowadays, banks give various offers on Loan Against Property to give the best rates to individuals. To get Loan Against Property with lowest interest rate and lowest EMI, compare new rates and offers of all banks at MyLoanCare. You can do rates comparison, check your eligibility, apply online and get the cheapest rate on Loan Against Property. MyLoanCare helps you throughout the loan process from the day you apply to the time you get complete disbursement. You can even track your loan status after getting registered with us. MyLoanCare make it easy for you to get hassle free Loan Against Property with ultimate cashback and refer and earn benefits. So, apply for Loan Against Property today and enjoy the benefits.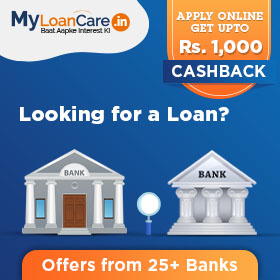 ---