Insurance
Insurance Overview
Last Updated 15th Aug 2020
6th August 2020 – RBI keeps Repo Rate unchanged at 4%
Insurance is a mutual agreement between the insured and insurer to protect against financial losses.
The legal contract between an insured and insurance company is known as an insurance policy.
There are various types of insurance policies for life insurance, health insurance, car insurance and home insurance.
If you take online insurance, you can save your time and costs.
Get tax benefits on life and health insurance under section 80C and 80D.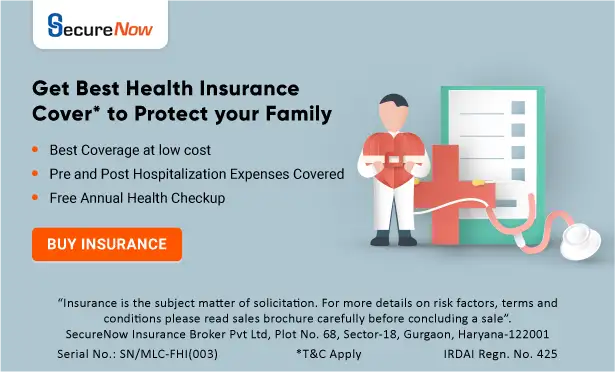 Types of Insurance available in India
There are different types of insurance available in India. Some of the common coverage are listed below:
Life insurance: Life insurance is the insurance taken to protect against the uncertainties of life, such as any damage to the policyholder and their family. In case of such losses, life insurance companies protect against the financial losses in return of the premiums paid by the policyholders. The insured person has to pay the premium one time, monthly or annual to claim the maturity amount if the policy matures before his death or the beneficiaries can claim the amount if the insured person dies during the term. The policyholders can also take special packages such as coverage for death, maturity coverage and get certain tax benefits.
Health insurance: The insurance cover, which is bought for the medical expenses of the policyholders or their family members, is known as health insurance. Health insurance can cover specific ailments or general health expenses like some accident, illness etc. incurred during hospitalisation depending upon the policy taken. You can claim tax benefit on health insurance under section 80D of Income Tax Act.
Car insurance: Car insurance is a crucial policy cover taken with the purchase of a new car. It safeguards the owner of the car from uncertainties such as any natural disaster, claims to the third party or any other damage to the car.
Home insurance: To protect your house against events such as accidents like fire, any natural calamity like earthquake, floods or lightning you can take home insurance.
Education insurance: Education insurance policy can be taken for your children to save a lump-sum amount of money when they reach a certain age. You can get education insurance to pay for the expenses for the higher studies of your child.
Why you may need an insurance?
While life is full of uncertain events and circumstances, you may need insurance to protect you and your family against the financial losses and may work in the following circumstances:
Your family; wife, children or ageing parents are financially dependent on you.
If you have a high- risk job, then life insurance can be taken to safeguard your life.
If you have started a new venture or a new life, you may require insurance for life.
Insurance cover is beneficial for senior citizens who wish to safeguard the future of them and their family.
You can also take an insurance policy to take a loan against insurance.
Online Insurance
The market of insurance in India consists of 24 life insurance businesses and 33 non-life insurers and is regarded as one of the largest insurance markets globally. With the relaxation of investment caps in the insurance industry along with the measures to boost the growth of insurance companies by the government, it is expected that the sector will penetrate to a more extensive section.
Also, along with the awareness about the need for protection of life and property, there has been tremendous growth in the young population which has set the road of online insurance in India.
How can one take online insurance?
The process of taking online insurance has made insurance easier and less time-consuming. People do not need to visit banks or insurance companies but can instead take insurance for their life and property at a click of the mouse. They will have a complete hand in choosing the best insurance policies. Individuals can research, learn or compare the insurance companies online and can also reach them online. The best part is all transaction processes, filing of application forms, or checking the status update of the insurance can also be done online.
Benefits of taking an Online Insurance
Here are some other benefits of taking online insurance cover:
Premiums on online insurance: Unlike conventional mode of taking insurance which involves the cost of distribution, infrastructural costs and additional costs related to overhead, there are no such costs involved with online insurance. Thus, if you take online insurance, these savings are passed to you in the form of low premiums of the insurance.
Flexibility: If you are buying insurance online, there is greater flexibility in terms of applying for protection to researching and comparing various insurance products to choosing the ideal insurance company to pay the insurance premiums.
Engaging: The process of buying insurance online protects you from cumbersome formalities such as photocopying of documents, couriering the documents or seeking various certificates. You can instead now fill the application form, submit the documents, pay the insurance premiums online with an interactive and engaging user interface.
Comparison: You can get access to information about the insurance products of various insurance companies online. With the easy availability of data, you can compare all the existing products and buy them at your own time. You don't need to buy the policy in a hurry and can take time to review the insurance company.
Online Reviews: You can also get information regarding reviews, suggestions and opinions regarding various products to make the best decision.

However, all the information provided in the forms must be correct and unbiased; otherwise, it could lead to the rejection of taking a claim.
Tax Benefits on Insurance
Along with the other benefits of insurance, you can also get income tax benefits.
Under Section 80C, a tax benefit of upto ₹ 1.50 Lakh can be claimed on life insurance premium.
Under Section 80D, you can claim tax benefit on medical insurance premium of upto ₹ 25,000 for you and your family and ₹ 25,000 for your parents.
This deduction can be claimed at the time of filing income tax return.
FAQs
✅

Are there some tax benefits on taking insurance?

Yes, under Sec 80C and Sec 80 D you can claim tax benefit up to ₹ 1.50 Lakh and upto ₹ 1 Lakh on life insurance and health insurance premiums. Further, under Section 10(10D), you are exempted from paying taxes on the amount received from a life insurance provider.
✅

What is insurable interest?

The financial interest of the insured against which insurance is taken is known as insurable interest. The insurable interest of the insured can be in the life of himself, his family, business or the property against uncertainties such as deaths, losses etc.
✅

Can you take insurance if you don't have an insurable interest?

No, to get insurance, you must own that asset and have some insurable interest. A person only protects the life of an individual or property from uncertainties only if he has some financial interest in them.
✅

Should insured take correct measures to minimize the loss of insured product?

Yes, as per the insurance policies, the insured person will receive the insurance amount if he takes necessary steps to prevent the loss. In case the insurance provider came to know that the essential steps were not taken to mitigate the damage, he would not be able to claim any loss as per the policy of 'negligence'.
✅

What are the three major components of insurance?

The three significant components of insurance are premium, policy limit and deductible. A premium is an amount that the insured pays every month for the insurance. The maximum amount that the insurer pays in case of loss or damage is known as the policy limit. Deductibles are the specific amount that the insured pays for the loss before the claim.
✅

What is the meaning of deductibles?

A deductible is one of the components of insurance policy, and it is the amount which the policyholder pays out of his pocket before the insurer pays the damage against the loss is known as deductibles.
✅

Can a minor be the nominee of an insurance policy?

The person who receives the benefit of insurance policy is known as a nominee, and a minor can be a nominee if they have a legal guardian in the form of an appointee. Thus, you can take an insurance policy if your child is minor.
---
2020-08-03 :

Canara Bank launches Corona Kavach Policy


Canara Bank launched the Corona kavach Policy. The policy is aimed at providing the insurance cover to individuals for COVID-19 pandemic related to health expenses. The scheme can be purchased on an individual basis and family floater basis and the minimum sum insured is Rs. 5000 and maximum is Rs. 5 lakh.

2020-07-29 :

Survey revealed health insurance will become a necessity in the post-COVID era


A survey by Max Bupa Health Insurance has revealed the growing importance among the people for health insurance. According to the survey, before the outbreak of coronavirus pandemic in India only 10 per cent of people were interested in buying health insurance to cover new age diseases, but now 71% people consider health insurance as a necessity to fight an unforeseen pandemic.

2020-07-07 :

Irdai removes ₹5 lakh cap on the sum insured for Arogya Sanjeevani policies


Insurance Regulatory and Development Authority of India (Irdai) has allowed all general and health insurance companies to increase the sum insured on the standard health insurance product beyond ₹5 lakh. The move was taken keeping in mind the COVID 19 pandemic.

2020-06-25 :

Tax-saving investments for FY2019-20 allowed till 31st July


In the wake of the coronavirus outbreak in the country, The government extended the time to complete the tax-saving exercise for FY2019-20 till 31st July, 2020. The earlier deadline was 30th June, 2020. Further, The deadline extension applies to investments and expenses like LIC, PPF, NSC 80D and mediclaim.

2018-09-25 :

Ayushman Bharat registered 1000 patients within 24 hours


World's biggest health care programme, Ayushman Bharat or Modi care has registered 1000 patients within 24 hours mainly based in Jharkhand and Haryana. This scheme is also known as Pradhan Mantri Jan Arogya Yojana (PMJAY). It aims to provide health insurance cover to nearly 50 crore Indians and provide 5 lakh annually to the beneficiary family.
*Terms and conditions apply. Credit at sole discretion of lender subject to credit appraisal, eligibility check, rates, charges and terms. Information displayed is indicative and from collected from public sources.
MyLoanCare is an independent professional service provider and is not related to the government or government bodies or any regulator or any credit information bureau in any way. Information carried at this website is not and should not be construed as an offer or solicitation or invitation to borrow or lend. The Company does not undertake any liability with respect to the correctness of the content, information and calculations. Information is subject to change without notice. By submitting your query or using any tools or calculators, you authorize MyLoanCare to share your information with lender(s), consent for such lender(s) to access your credit information report and contact you regarding your query overriding your number being in National Do Not Call Registry. This is a free service and no charges are payable by the borrower to MyLoanCare. The Company may receive remuneration from lenders for services provided to them.
Read More
Read Less

Please wait while your information is being processed...