Budget FY19-20 Highlights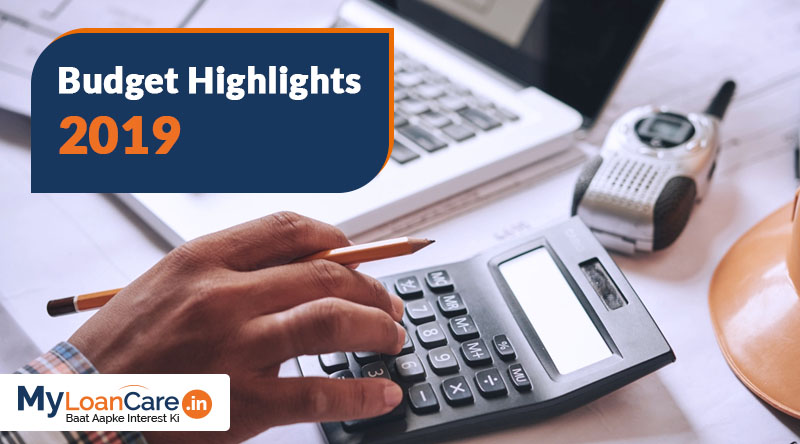 Individual Tax
No Income tax for individuals with Annual Taxable Income of upto Rs. 5 lakh. No change in Income Tax Slabs.
Surcharge increased by 3% for individuals with Income of Rs. 2-5 crores and by 7% for income more than Rs. 5 crores.
Aadhaar card can now be used interchangeably for PAN card. Thus, you no longer need PAN to file income tax returns.
Additional deduction of Rs. 1.5 lakhs for interest on home loan availed for purchase of Affordable houses of up to Rs. 45 lakh till March 2020.
Income tax deduction of Rs. 1.5 lakhs for interest on loan taken to buy an electric vehicle.
Pre-filled ITR for Individuals.
IT scrutiny to be made simpler with a digital-unmanned system where the identity of the IT officer and taxpayer remains anonymous.
Immediate Aadhaar card for NRIs with an Indian passport, no waiting period of 180 days.
Income Tax Exemption limit on withdrawal from National Pension System to 60% from 40%.
Other Key Points
The annual turnover limit for corporate tax of 25% increased to Rs. 400 crores.
TDS of 2% on cash withdrawal of more than Rs. 1 crore in a year from a bank account to discourage business payments in cash.
GST on electronic vehicles proposed to reduce from 12% to 5%.
Capital gain arising from the sale of house for investment in start-up is exempted till March 2021.
Under PM Karam Yogi Maan Dhan Scheme, pension benefit to 3 crore retail traders who have annual revenue less than Rs. 1.5 crores.
For every rural family except for those who are unwilling, will have electricity and clean cooking facility by 2022.
Excise Duty on fuel hiked by Re. 1.
Custom duty on Gold increased by 2.5%.
One woman in every Self-Help Group will get Rs. 1 lakh for business under the MUDRA scheme.
TV channel introduced for start-up to promote start-ups, help raise funds, tax planning, growth opportunities, etc.
Current budget did not explicitly highlight all points mentioned during the Interim Budget. Thus, further confirmation is awaited.
Interim Budget Key Points
Individual Tax
Income Tax Exemption Limit from Rs. 2.5 lakh to Rs. 5 lakh for all tax payers. The exemption limit of Rs. 5 lakh combined with deductions on savings available under Sector 80 will mean that people earning Rs 6.5 lakh may not be required to pay any Income Tax.
Standard Deduction for salaried tax payers increased from Rs. 40,000 to Rs. 50,000.
Rent exempted from TDS increased to Rs. 2.4 lakh from Rs. 1.8 lakh.
TDS exemption on interest on post office and bank deposits raised from Rs. 10,000 to Rs. 40,000.
Gratuity limit increased from Rs. 10 Lakh to Rs. 30 lakh.
Exemption on Capital Gains Tax under Section 54 of up to Rs. 2 crore on residential property can now be claimed for investment of proceeds in 2 residential properties once in a lifetime.
IT returns and refunds to be processed within 24 hours.
IT scrutiny to be made simpler with digital-unmanned system where the identity of the IT officer and tax payer remains anonymous.
MSME Units
Launch of 59 minute loan portal to enable easy access to credit for MSMEs for loans of up to Rs. 1 crore.
GST registered MSMEs get a 2% interest subvention for loans up to Rs. 1 crore. The loan option will now be available on the GST portal itself.
Home Buyers
Government to forward a proposal to GST council to reduce GST on residential property transactions.
Farm Sector
Annual assured Income of Rs. 6000 for small and marginal farmers with upto 2 hectares of land holding. Applicable retrospectively from Dec 1, 2018, payable in three installments.
Unorganised Sector
New Pension Scheme of Rs. 3000 per month for people earning upto Rs. 15,000 per month starting from the age of 60. Government to contribute an equal amount to contribution.
Real Estate Sector
Notional Rent on unsold inventory of developers exempted from tax for 2 years changed from 1 year earlier.