Pradhan Mantri Awas Yojana 2022
PM Awas Yojana 2021 - 2022
Last Updated 19th Jan 2022
Income Groups
Economically Weaker Section (EWS)
Low Income Group (LIG)
Medium Income Group (MIG)
Maximum Home Loan Amount
₹ 6 Lakh
Interest Subsidy
3% to 6.50%
Eligible Interest Subsidy Amount
₹ 2.30 Lakh to ₹ 2.67 Lakh
Eligible Carpet Area
30 sq. m. to 200 sq. m.
Maximum Annual Income
Upto ₹ 18 Lakh
Interest subsidy and carpet area eligibility depends on the income group of the borrower.
Income group for a borrower changes based on his/her income.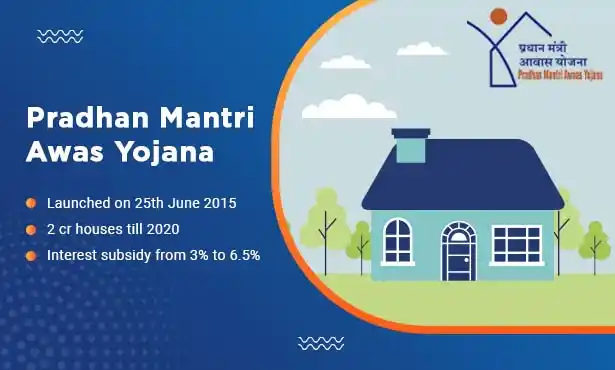 Pradhanmantri Aawas Yojana
Pradhan Mantri Awas Yojana was launched on 1 June 2015 to provide affordable housing to the urban poor. Under this scheme, a Credit Linked Subsidy Scheme (CLSS) is offered to eligible beneficiaries such as Economically Weaker Section (EWS), Low Income Group (LIG) and Medium Income Group (MIG). The benefit of the Credit Linked Subsidy Scheme is upfront on the principal outstanding on a home loan for construction of house/ acquisition of the house, including the repurchase of house.
Lowest EMI Per Lakh
₹ 642 for 30 Years
Lowest EMI Per Lakh
₹ 645 for 30 Years
PM Awas Yojana Features & Benefits
The main features and benefits of PM Housing scheme are mentioned as follows:
Interest rate as per PMAY scheme is provided at a subsidized rate of 6.50% p.a. if beneficiaries opt for a housing loan for a tenure of up to 20 years.
The interest subsidy will be provided for Middle Income Group (MIG) on housing loans for the acquisition/construction of houses (including repurchase).
For the Economically Weaker Section (EWS)/Lower Income Group(LIG), the interest rate subsidy will be provided on home loans for construction or acquisition of the house. Interest subsidy will also be provided on home loans taken for adding rooms, kitchens, etc. to existing dwellings.
Under the pradhanmantri aavas yojna, all the urban areas have been covered in India that includes 4041 statutory towns with the priority given to 500 Class I cities.
Eco-friendly and sustainable technologies will be used for construction.
For senior citizens and differently-abled, allocation of the ground floor will be preferred.
PM Awas Yojana 2021 (PMAY) Scheme Details
The essential PMAY Scheme Details are mentioned in the table below:
| | EWS | LIG | MIG I | MIG II |
| --- | --- | --- | --- | --- |
| PMAY Income Criteria | Up to ₹ 3 Lakh | ₹ 3 Lakh - ₹ 6 Lakh | ₹ 6 Lakh - ₹ 12 Lakh | ₹ 12 Lakh - ₹ 18 Lakh |
| Interest Subsidy | 6.50% | 6.50% | 4.00% | 3.00% |
| Maximum Home Loan Amount | ₹ 6 Lakh | ₹ 6 Lakh | ₹ 9 Lakh | ₹ 12 Lakh |
| Maximum Interest Subsidy amount | ₹ 2.67 Lakh | ₹ 2.67 Lakh | ₹ 2.35 Lakh | ₹ 2.30 Lakh |
| PMAY Carpet area (Max) | 30 sq. m. | 60 sq. m. | 160 sq. m. | 200 sq. m. |
Please note that tenure of home loan is up to 20 years and the net present value is evaluated at a discounted rate of 9% of the interest subsidy.
PMAY Beneficiary
The PMAY beneficiary comprises all the adult family members with an income, including husband, wife and unmarried children. The beneficiary can apply for the PMAY scheme as per their income qualification under the four categories of the urban or rural scheme.
The four categories defined under this scheme are:
Economically Weaker Section (EWS)
Lower Income Group (LIG)
Middle Income Group I (MIG I)
Middle Income Group-II (MIG II)
Pradhan Mantri Awas Yojana Eligibility
You can apply for a Pradhan Mantri Awas Yojana if you have not availed of any other government scheme and are first time borrowers. To be eligible for the PMAY CLSS scheme, you must not possess any pucca house or another house. The government has further specified the income bracket and other eligibility criteria for different groups. You cannot avail of PMAY benefits on the already built house. Also, the construction/extension for which the PMAY home loan is availed must be completed within a span of 36 months from the date of the disbursement. In case a couple applies for PMAY either a joint ownership or single subsidy can be availed.
Documents Required for PM Awas Yojana
To apply under the Pradhanmantri Aawas Yojana, you will require the following list of documents:
Proof of Business existence and address
Identity proof: Aadhaar Card, Voter ID card, Passport, etc.
Address proof: Voter ID card, Aadhaar card, Passport, ration card, utility bill, etc.
Income proof: Salary slip/Form 16 for salaried; financial documents for self-employed, and bank account statement, ITR files for previous years for both.
Property documents: Copy of allotment letter, copy of the agreement to sell, developer payment receipt, etc.
Different Schemes Under PMAY Scheme
Pradhan Mantri Awas Yojana Gramin
PMAY-G scheme aims to provide affordable housing facilities in all the rural areas in India except Delhi and Chandigarh. The scheme is targeted to all underprivileged regions of the country including groups such as Scheduled Castes and scheduled tribes, Non-SC/ST, minorities under BPL, homeless and kutcha house residents to purchase or construct affordable pucca houses.
PMAYU - Pradhan Mantri Awas Yojana Urban
The Pradhan Mantri Awas Yojana Urban aims to provide interest subsidy benefits in approximately 4,330 locations in the country in coordination with various local development authorities of the selected cities and towns. The Pradhan Mantri Awas Yojana Urban caters to the housing requirements of the urban poor, including people living in slums with inadequate infrastructure and poor sanitation facilities. If you are eligible, you can apply for PMAY-U via the Pradhan Mantri Awas Yojana online portal.
Indira Gandhi Awas Yojana (IAY)
Indira Gandhi Awas Yojana (IAY), which was relaunched as Pradhan Mantri Awas Yojana (Gramin/Rural) in 2016, is an Indian Government-sponsored housing program that aims to build affordable housing for all by 2022. Gram Sabhas prepare the beneficiary list under the IAY scheme using the data from Socio-Economy and Caste Census or SESC.
Components of the Pradhan Mantri Awas Yojana Schemes 2021
The four significant components of Pardhanmantri Awas Yojna are described as follows:
In-Situ Redevelopment: Under this component, the government provides urban spaces to slum dwellers by utilising the slum land under the In-situ redevelopment of slum spaces.
Central Assistance: The government offers the central assistance of Rs 1.50 lakh by providing financial support to the families of economically weaker sections to construct a new house or upgrade the existing home.
Affordable Housing: With the affordable-in house partnership of the public and private sector, the government provides assistance for the affordable housing projects.
Credit Linked Subsidy Scheme (CLSS): Under the Pradhan Mantri Awas Yojana, the government provides a credit-linked subsidy scheme for the construction of houses at a lower rate of interest depending on the income level and other eligibility criteria.
Pradhan Mantri Awas Yojana for Home Loan
You can avail of a home loan under Pradhan Mantri Awas Yojana Home Loan from the selected PLI or Primary Lending Institution registered with a Central Nodal Agency. However, to avail of the affordable housing benefits and subsidized interest rates of CLSS, you must be first-time home owners.The interest rate on such home loans is much lower than the regular cost offered to other home loan borrowers. The government has not extended the PMAY subsidy scheme for the MIG I & II category. The PMAY deadline for each category, is mentioned below:
| Category | PM Awas Yojana Last Date |
| --- | --- |
| EWS & LIG | 31st March 2022 |
| MIG I & MIG II | 31st March 2021 |
FAQs
✅

How to Apply for the PM Awas Yojana Online?

You can apply for PMAY online by visiting the official website of PMAY. The process begins with AADHAR Verification by entering the 12-digit Aadhaar number under the 'Citizen Assessment' option. After verification, fill in all personal details in the application form and click the 'save' button. On successful application, you will be allotted a system generated application number, that can be used for future reference.
✅

How to claim PMAY subsidy?

You can claim PMAY subsidy by buying a home that is suitable to your income, and that meets the carpet area requirements set under the scheme. Further, to claim subsidy, you need to apply as a first time home loan borrower, either individually or as joint applicant with your spouse. Your annual family income must not be more than ₹18 Lakhs, and none in the family shoould owns a pucca house registered under his or her name. Based on this criteria, you can apply for the home loan on the PMAY portal or with a bank under the PMAY scheme. The PMAY claim benefits will be reflected in the subsidized home loan EMIs and interest rates.
✅

Is PMAY applicable for resale flats also?

PMAY is applicable for resale flats also, however, the loan availed by you should be dated after May 2016. Further, you must not hold any previous home under your name and must be a new home loan applicant.
✅

Is PMAY scheme applicable for Home loan balance transfer also?

A home loan balance transfer allows you to shift to a lower interest rate on the outstanding balance amount by switching lenders. However, in the case of PMAY, this provision is applicable only if you who availed a loan after May 2016.
✅

How to check your name in PMAY 2022 Beneficiary List?

You can check your name in PMAY list 2022 Beneficiary List by following these steps: Step 1 : Visit the official website - pmaymis.gov.in. Step 2 : Click on 'Search Beneficiary' Step 3 : Enter Aadhaar number Step 4 : Click 'Show'
✅

Is Pradhan Mantri Yojana available to existing home loan borrowers?

You can avail the PMAY subsidy only if you are a first time home loan borrower and do not own a pucca house registered under your name. Thereby, if you are an existing home loan owner, you can not avail the benefits of PMAY subsidy. You can however, avail the balance transfer facility to reduce the burden of your existing home loan.
✅

What is the PM Awas Yojana last date?

The last date to submit your application for Pradhan Mantri Aavas Yojana is 31st March 2022 for EWS and LIG category.
✅

How to edit your details after submitting application for PMAY?

You can visit the official website of Pradhan Mantri Awas Yojana and enter your application reference number along with Aadhaar details. Click on the 'Edit' option. Do the changes and submit them again.
✅

How can I check my PMAY Gramin list?

You can check the PMAY Gramin List, using the registration number received on registering under pMAY G. Visit the PMAY-Gramin official website. Enter the registration number. If your registration number is present on the list, you can find other details.
✅

What are the three phases of Pradhan Mantri Awas Yojana?

Phase 1 : 100 cities will be covered in selected states and UTs from April 2015 to March 2017. Phase 2 : 200 additional cities will be covered from April 2017 to March 2019. Phase 3 : Remaining cities will be covered from April 2019 to March 2022.
✅

What are the Functions & Technology Sub-Mission of PMAY Scheme?

The Functions and Technology Sub-Mission of PMAY Scheme covers the following:
Planning to Develop Environment-Friendly Houses
Better Habitat Designing & Planning of the Buildings
Best Construction Practices
Arranging the Most Innovative Technologies
Picking the Most Suitable Materials
✅

How does PM Awas Yojana work through the borrower's bank?

After you submit the application, the bank will claim the subsidy benefits from the National Housing Bank, provided you are eligible for PM Awas Yojana Scheme. The NHB will then investigate whether anyone is making multiple applications under the scheme. Once confirmed, the subsidy amount will be given to the applicant's bank. And then, the money will be transferred to the loan account.
✅

How can I apply for PM Awas Yojana 2021?

You can apply for the PM Awas Yojana 2021 either on the pmay online portal or by contacting the banks or NBFCs that offer PMAY home loans. However, before applying ensure that you are eligible for the PMAY subsidy scheme. For this you can use, MyLoanCare PMAY subsidy calculator
---
Home Loan

Home Loan at all-time low rates starting at 6.50%. Cashback of up to ₹ 1,000

Apply Now

Personal Loan

Instant Personal Loan starting at 10.25% with Cashback of up to ₹ 1,000.

Check Offers

Gold Loan

Instant Gold Loan starting at 9.00% with Cashback of up to ₹ 500

Apply Now

Loan Against Property

Best Loan Against Property Offers starting @ 6.90%. Cashback of up to ₹ 1,000*.

Apply Now

Business Loan

Collateral Free Business Loan Rates starting at 14.00% with Overdraft facility.

Apply Now

Fixed Deposit

AAA rated FDs with returns as high as 7.05%.

Invest Now
*Terms and conditions apply. Credit at sole discretion of lender, which is subject to credit appraisal, eligibility check, rates, charges and terms. Information displayed is indicative and collected from public sources.
MyLoanCare is an independent professional service provider and is not related to the government or government bodies or any regulator or any credit information bureau in any way. Information carried at this website is not and should not be construed as an offer or solicitation or invitation to borrow or lend. The Company does not undertake any liability with respect to the correctness of the content, information and calculations. Information is subject to change without notice. By submitting your query or using any tools or calculators, you authorize MyLoanCare to share your information with lender(s), consent for such lender(s) to access your credit information report and contact you regarding your query overriding your number being in National Do Not Call Registry. This is a free service and no charges are payable by the borrower to MyLoanCare. The Company may receive remuneration from lenders for services provided to them.
Read More
Read Less

Please wait while your information is being processed...