Home Loan Apply Online
Home Loan Online
Last Updated 14th Apr 2021
| Features | Home Loan |
| --- | --- |
| Age | 18 Years - 70 Years |
| Loan Amount | ₹ 1,00,000 - ₹ 15,00,00,000 |
| Tenure | 1 Year- 30 Years |
A home loan is a secured loan that is availed for either buy a new property, expansion or renovation of the house.
A home loan can be applied by visiting a bank branch or online.
Get the loan at the lowest home loan rates online at 6.65%.
Watch Tips to get Best Home Loan in India
Apply for Home Loan @ 6.65%*
Get upto ₹ 1,000* Cashback
Points to Note:
MyLoanCare does not charge any fees for processing your application. Never pay any cash to anyone for your application.
Never share your OTP with anyone.
Please Re-confirm Your Number
How to Apply for Home Loan Online?
Nowadays, there are plenty of options available to apply for a home loan online. You can apply either on the website of the bank or NBFC; otherwise, you can also apply through any online loan marketplace. However, make sure you have assessed your eligibility and conducted thorough research on various rates provided by banks to ascertain, which bank or NBFC would be the best option for you. In case you are finding such assessment hard then you can also apply for home loan at MyLoanCare.in by following these simple steps:
You can fill the form appearing at the start of this page by scrolling up. Make sure to fill your personal details like name, pin code, monthly income, and required loan amount correctly.
After filling all the required details, click on 'Get OTP'. An OTP will be sent on the number you entered in the form. Enter the received OTP and click on 'Submit'.
Now, in the next page, you will be required to give more details regarding your property and the existing financial situation like an ongoing loan, existing EMI, area of the property, type of property, etc. You need to enter all the required details to get customized options of best deals available as per your requirement.
After filling all the details, click on 'Get Offers'. Now, you can check details of each offer shown to you and also apply for it right there if you want.
After that a MyLoanCare representative will contact you to confirm your details and discuss your loan requirements. He/she will suggest the right banks and loan offers to you based on your eligibility and also explain the complete home loan process and documents required.
If you are eligible and interested, our representative will fix an appointment with the bank for document pick-up and further loan process. A bank's representative will contact you and will initiate a verification process.
After verification of your documents and property and based on your credit history and eligibility, the bank will decide to sanction or reject your loan. If sanctioned, you will receive a sanction letter from the bank mentioning the key loan terms, including interest rate, processing fees, tenure, prepayment charges.
Finally, the sanctioned loan amount will be disbursed to your bank account. The loan amount can be disbursed in one go or in multiple instalments on the basis of your requirement.
Home Loan Eligibility Calculator
Why Apply for a Home Loan Online through MyLoanCare?
Following are the reasons for applying through MyLoanCare:-
Compare home loan rates online at MyLoanCare to save time and efforts by visiting websites of different lenders.
Free on-call assistance for the process of a home loan application, eligibility, documents required etc.
Bank Neutral Advice and excellent pre and post-sales service.
By applying online at MyLoanCare, avoid hard inquiry which might have a negative impact on your credit score.
Why should you apply for a Home Loan Online?
Applying for a home loan online is convenient and significantly easier than visiting the branch and filling the application form. Besides, you also get to take advantage of various other features which are available only online. Some notable advantages of applying for a home loan online are:
Comparison of Rates: While applying for the loan online, you can easily compare the interest rates provided by various banks and NBFCs along with processing and any other charges charged by them.
Home Loan EMI Calculator: You can also use the EMI calculator for a home loan to assess how much EMI you would have to pay on the offer of your choice, and what is the maximum EMI you can afford based on the available offers.
Eligibility Check: While applying for a home loan online, you can easily assess whether you are eligible for the loan or not based on the eligibility criterion of different banks and NBFCs.
No Effect on Credit Score: When you apply to a bank directly, your credit history is pulled by the lender to assess your creditworthiness and that pull is termed as 'hard pull', and it causes a nominal drop on your credit score. The side effect of this is felt when you apply for a home loan with multiple lenders in a short span of time as it is hard to know the exact eligibility criteria from the outside. However, you can save yourself from such a situation by applying for a home loan online on a loan marketplace platform.
Doorstep Documents Collection: Many online loan marketplace offers doorstep collection of documents along with some banks and NBFCs. It means you would not have to make multiple visits to the branch to get your loan sanctioned.
Free Assistance: If you apply online through a marketplace platform, you will also get free assistance at every step of your home loan journey until it is disbursed.
What are the Benefits and Features of Home Loan?
Some key benefits and features of Home Loan are:
Tax Savings: It is one of the most important benefits of availing a home loan. Under Section 80C you get a maximum ₹ 1.50 Lakh of limit to claim a deduction for home loan principal amount paid in a financial year. Under Section 24(b) you can claim up to ₹ 2 Lakh as a deduction for the interest on the home loan paid in a financial year.
Affordable: Most people cannot arrange the complete amount required to buy or construct a house. The home loan provides them with an affordable alternative to realize their dream and also not put too much pressure on their financials. The long tenure of home loan is a great contributor in this regard.
Low-Interest Rate: Compared to other loan types, the interest rates on home loans are the lowest. This again makes the option of availing home loans more viable and smart.
No Prepayment Charges: As per the directives of RBI no bank or NBFC can charge a fee if you choose to prepay your home loan from your own funds.
Balance Transfer: After availing a home loan from one lender if later on, if you discover that some other lender is offering much lower interest rates than your current lender then you can choose to transfer your home loan to another lender as well.
Top Home Loan Providers
| Bank | Home Loan Rate | Processing Fee |
| --- | --- | --- |
| SBI | 6.95% | Min ₹ 10,000 |
| HDFC | 6.70% | 0.50%, Min ₹ 3,000, Max ₹ 10,000 |
| Citibank | 6.65% | NIL |
| Bank of Baroda | 6.75% | Min ₹ 7,500 |
| ICICI Bank | 6.70% | 0.25%, Max ₹ 5,000 |
| Axis Bank | 6.75% | 0.20% , Min ₹ 2,500, Max ₹ 25,000 |
| PNB Housing Finance | 7.35% | 0.50%, Min ₹ 10,000 |
| LIC Housing Finance | 6.90% | Min |
| Bajaj Home Finance | 6.85% | 0.35% |
| Bajaj Finserv | 6.85% | 0.35% |
| Sundaram Home Finance | 6.90% | Max ₹ 3,000 |
| Kotak Bank | 6.65% | Max ₹ 10,000 |
| Yes Bank | 8.95% | 1.00%, Max ₹ 15,000 |
| Syndicate Bank | 6.90% | 0.13% , Min ₹ 500, Max ₹ 5,000 |
| IDFC First Bank | 8.50% | Min ₹ 5,000, Max ₹ 5,000 |
What are the Documents Required for Home Loan?
In the case of home loan documentation part is important, thus make sure you have all the following documents ready with you before applying for the loan.
Identity Proof: Aadhaar Card/PAN card/Passport/Driving License/Voter ID/Government Issued card.
Address Proof: Election ID card/Passport/Driving License/Electricity/ Telephone/ Mobile bill/ bank statement (not more than 3 months old).
Age Proof: PAN card/Birth Certificate/Employee ID card/Driving License/Voter ID/College leaving certificate.
Income Proof: For Salaried - Form 16, last 6 months bank statement, latest 6 months salary slip. For Self Employed - Last 2 years ITR, and latest 6 months bank statement.
Property Documents: Conveyance deed, Sales deed, Allotment letter, Possession letter, Latest property tax receipt, Copy of approved plan for construction loan/ extension.
Key Points to Remember Before Applying a Home Loan Online
Before you decide to apply a home loan online remember these points:-
Check Eligibility and Calculate EMI : Checking eligibility criteria is one of the important factors which one should check before applying for a home loan online. The eligibility criteria for every lender varies. Also, calculate the EMI which is to be paid every month.
Keep your documents ready :When you apply for a home loan online you will be required to submit documents like identity proof, address proof, income proof and property documents which will be pledged as a security. Keeping documents ready will help you save time.
Decide on Home Loan Interest Rate Type : There are two main types of interest rates applicable. Choose between the two :-

Fixed interest rates : The interest rates and the home loan EMI remains the same throughout the tenure
Floating interest rates : The interest rates and EMI do not remain the same as the rates are not fixed. They may rise or fall as per the market fluctuations. The rates are linked to external benchmarks of banks, such as the RBI repo rate.

Compare the Banks : Once you are done with the above given steps then you can compare the banks at online marketplace such as MyLoanCare. Compare the interest rate, processing fees and other charges. Now shortlist 2-3 lenders after a comparison.
Choose the bank or NBFC based on their service : Now you should choose a lender, the decision should not be based only on interest rate or processing fees but also on the customer service provided by a bank.
Submit the Loan Application Form and Documents : Go to a lenders website and then fill the application form and upload the required documents on the portal.
Documents verification : Once documents are submitted, the lender will do a document verification. A legal and verification team also evaluates the property. Under this process documents like title deeds, NOCs and ownership papers are verified and the technical team evaluates the physical condition of a property.
Loan Disbursal : This is one of the crucial stages where a lender decides whether a loan has to be sanctioned to a borrower or not. If a verification team is not satisfied by the documents then there are chances that the borrower's home loan application can be turned off.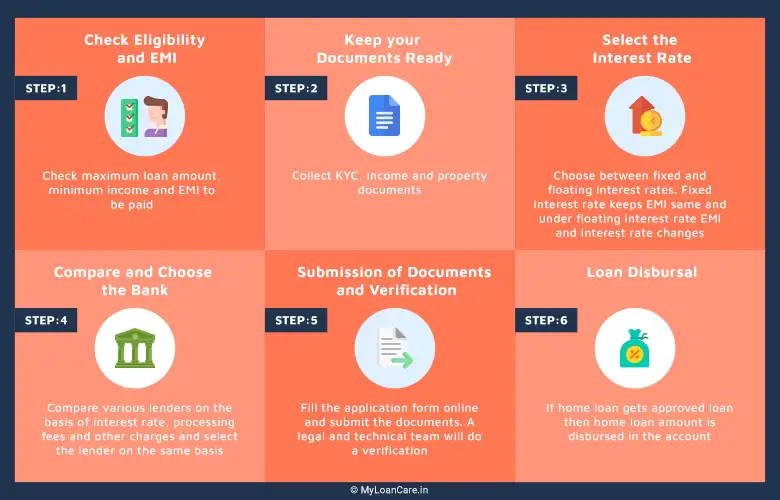 FAQs
✅

Why should you take a Home loan?

The home loan is a secured credit against the residential property you want to buy or construct. You can use a home loan to buy your dream house and repay it while taking the benefit of tax saving on a home loan.
✅

Which bank is best for a home loan?

SBI offer home loan at an affordable interest rate of 6.95% and can be considered as best option for home loan.
✅

Do I need to provide any security to apply for a Home loan?

Yes, the property you buy or intend to construct from a home loan is taken as security by the bank.
✅

How can I get a Home loan instantly?

You can apply for a pre-approved home loan in which you are sanctioned an amount based on your income level and later on when you decide your property you can then get the loan instantly.
✅

What is the tax benefit on a home loan?

As per Section 80C of Income Tax Act, 1961, you can get up to ₹ 1.50 Lakh as the deduction for repayment of home loan principal amount. Similarly, under Section 24(b) you can get a deduction up to ₹ 2 Lakh for payment of home loan interest in a financial year.
✅

What is the minimum salary for a home loan?

To avail home loan minimum net monthly income required is ₹ 25,000 or more.
---
Home Loan News - Apr 2021
2021-04-13 : Bank credit rise 5.56%; deposits 11.4% in FY21


RBI reported that the Bank credit which includes retail loans like home, personal, business, car, two-wheeler, education and doctor loan along with business and mudra loans grew 5.56% to Rs 109.51 lakh crore in the financial year ending March 31, 2021. Further, the deposits include fixed and recurring deposits and rose 11.4% to Rs 151.13 lakh crore.

2021-04-13 : Housing finance companies likely to witness a growth of 8-10% in FY22


ICRA reported that with the increase in housing loan demand in the last quarter the HFCs are likely to witness a growth rate of 6%-8% during the year and 8%-10% in FY2021-22.

2021-04-13 : Kotak Mahindra Bank kept its home loan rate unchanged at 6.65%


Even as some of the banks have hiked their home loan interest rate, Kotak Mahindra Bank has kept the home loan rate unchanged at 6.65%. The interest rate is applicable for both the home loan and balance transfer product. The bank is aiming to increase its share in the housing loan market.

2021-04-13 : Bandhan Bank's collection efficiency ratio at 96% in Q4


Bandhan Bank reported an overall collection efficiency of 96% for the quarter ending March 2021. Total advances which include retail loans like home, personal, business, car, two-wheeler education and doctor loan along with business and mudra loans grew by 21% at ₹87,054 crores. Deposits which includes fixed and recurring deposits grew by 37% at ₹77,972 crores. Further, CASA deposits increased by 61 per cent at ₹33,827 crores.

2021-04-07 : IIFL Home Finance signs co-lending agreement with Standard Chartered Bank


IIFL Home Finance and Standard Chartered Bank have entered into a co-lending arrangement for extending credit. Under this agreement, IIFL Home Finance and the Standard Chartered Bank will co-originate these loans and the IIFL Home Finance will service the customers through the entire loan life-cycle including sourcing, documentation, collection and loan servicing.
*Terms and conditions apply. Credit at sole discretion of lender subject to credit appraisal, eligibility check, rates, charges and terms. Information displayed is indicative and from collected from public sources.
MyLoanCare is an independent professional service provider and is not related to the government or government bodies or any regulator or any credit information bureau in any way. Information carried at this website is not and should not be construed as an offer or solicitation or invitation to borrow or lend. The Company does not undertake any liability with respect to the correctness of the content, information and calculations. Information is subject to change without notice. By submitting your query or using any tools or calculators, you authorize MyLoanCare to share your information with lender(s), consent for such lender(s) to access your credit information report and contact you regarding your query overriding your number being in National Do Not Call Registry. This is a free service and no charges are payable by the borrower to MyLoanCare. The Company may receive remuneration from lenders for services provided to them.
Read More
Read Less

Please wait while your information is being processed...
Free Corona Health Insurance from Oriental Insurance for a Sum Assured of
₹
1 lakh, which typically costs about
₹
550
Valid for 6.5 months from date of issuance
Includes home care treatment, pre and post hospitalization expenses
15 days waiting period
Hassle-free claims
Policy will be delivered within 5 working days of submitting the form
SecureNow Insurance Broker is the intermediary providing insurance services.
IRDAI Reg No.: 425
*T&C Apply