Home Loan
Housing Loan Jul 2021
Last Updated 29th Jul 2021
Home Loan is a secured loan taken to purchase a residential property or for home renovation, repairs or improvement.
Housing loans allow you to purchase a house on loan in affordable EMIs because of the current low rates starting 6.65% and long tenure of up to 30 years.
The Income Tax Act allows tax benefits on home loans, under section 80 C, thus making it further affordable.
Banks fund up to 85% of the property value.
It is increasingly easier to get a home loan with pre-approved home loans or digital home loan sanction facility, where the banks give in-principle approval on your home loan application instantly based on e-documents. The final sanction and disbursement is done after income and property paper verification.
Apply for Home Loan @ 6.65%*
Get upto ₹ 1,000* Cashback
Points to Note:
MyLoanCare does not charge any fees for processing your application. Never pay any cash to anyone for your application.
Never share your OTP with anyone.
Please Re-confirm Your Number
Compare Best Home Loan Offers in India
Home Loan in India
A home loan is a credit facility provided by banks, housing finance companies and NBFCs that allows you to buy or construct a home by keeping the house as collateral. Most of the banks finance loans up to the maximum limit of 90% of the property's value, wherein the funds are provided by mortgaging the underlying house as security.
Lowest EMI Per Lakh
₹ 645 for 30 Years
Lowest EMI Per Lakh
₹ 649 for 30 Years
Features and Benefits of Home Loan
Some common features and benefits of home loans that make it a go-to option, are listed as follows:
Multi-Purpose
Housing loans are multi-purpose loans available for buying a new residential flat or building, constructing a new house on a plot, home renovation or for extending your current house.
Long Tenure
Since the loan amount required to buy a home is a large amount the tenure to repay that loan is upto 30 years. This allows you to choose an affordable EMI and ensure that your monthly budgets are not under any kind of pressure.
High Loan Financing
Banks fund 75% to 90% of your property's market value as home loan. The remaining amount to be paid by you as down payment at the time of availing housing loan.
Prepayment and Foreclosure
Home loans offer the facility of foreclosing or prepayment of a loan, wherein you can pay more than the EMI or prepay the loan. As per the Reserve Bank of India, banks and NBFCs cannot charge any fee or penalty on prepayment or foreclosure of a floating rate home loan.
Tax Benefits on Housing Loan
The housing loan has attractive tax benefits associated with it. A deduction of up to ₹ 1.50 Lakh is available under Section 80C for repayment of the principal amount. Further, a deduction of up to ₹ 2 Lakh is available for the interest amount accrued in a financial year on home loan under Section 24.

In addition to the above mentioned, as per the regulations under budget of 2019-20, tax benefits can be availed on home loan as per Section 80EEA. Under this section, an additional deduction on interest of the housing loan is provided if the housing loan is availed between 1st April 2019 to 31st March 2020, and the stamp duty value of the property is ₹ 45 Lakh or less. However, in the Budget 2020-21, the time limit of the loan was extended from 31st March 2020 to 31st March 2021. The benefit has now been extended until 31 March 2022.
Tax Benefits on Second Home
In case you have availed a housing loan to buy a second house, the entire interest amount accrued on that loan for a financial year is available for deduction without any ceiling limit under Section 24B.
Affordable Rates and EMI
Housing loans are affordable as the interest you pay on home loan is very low starting @ 6.65% and repayment can be done in easy affordable EMIs.
Ability to Balance Transfer your Home Loan
If you are not satisfied by the rates, charges or terms and conditions of your home loan then the banks and NBFCs also provide the facility of transferring your home loan to another lender, which is known as balance transfer. Balance transfer helps in reducing the interest burden.
Home Loan Top Up
Top Up loan is the additional loan amount offered over and above the existing home loan amount. Top up loan amount can be used for buying furniture, to construct, extend, or renovate your residential property.
PMAY
The Pradhan Mantri Awas Yojana is a Credit Linked Subsidy Scheme introduced by the Central Government. The scheme was designed with an aim to provide 'Housing For All' to the Economically Weaker Section (EWS), Low Income Group (LIG), Middle Income Group-I (MIG-I), and Middle-Income Group-II (MIG-II) of the society by the end of the year 2022. Under PMAY, eligible applicants will be provided with a home loan interest subsidy on purchase, construction,extension or improvement of their home.
Types of Home Loan
It is often believed that a home loan is only available for buying a new property or for construction. There are various types of home loan available catering to a variety of requirements. These are as follows:
Home Purchase:The most common house loan type is the loan that is availed to buy a residential property, it can be a house or a flat. The maximum financing available for it is up to 90% of the property's value.
Home Improvement Loan: If you already own a house but don't have enough funds to renovate it, then Home Improvement Loan is best suited for you. It includes works like repair, painting the walls, rewiring, waterproofing, etc.
Home Extension Loan: You can also avail of a loan for expanding or extending your current house. Some lenders have curated a separate loan product for this purpose, while some of them include this purpose as part of their home improvement loan product.
Home Construction Loan: Housing loan is also available for those who want to construct their own house. Although there are certain aspects which you need to keep in mind in this case, they are:

The land or the plot on which the house is to be constructed should have been bought within a year.
If you do not include the cost of the plot in the loan amount, then only the cost of construction would be estimated.
A rough estimate of the cost has to be made for the cost that will be incurred in construction.

Loan for Land Purchase: Banks and NBFCs also provide loans for buying a plot on which an individual is looking to construct their own house. Usually, the maximum financing for plot loans is done up to 70-80% of the value of the land.The interest rates on plot loans are higher than the regular home loan rates.
Home Loan for NRI: Home loan is also available for non-resident Indians who want to buy their own house in India. The structure of this loan is similar to a regular housing loan. However, the documentation part is comparatively lengthy.
Joint Home Loan: This type of loan is taken with a co-applicant to increase the eligibility of the loan. You can add an earning member of your family like parents, spouse or children as a co-applicant. Banks allow a maximum of six co-applicants for a joint home loan.
Affordable Housing Loan: Modi Government launched PMAY scheme in 2015 to provide affordable housing to the urban poor by 2022. Under this scheme, applicants are eligible for interest subsidy if they take a loan to buy or construct a house.
Home Loan Top-Up: After a certain period of time, you can also opt for a top-up loan on your home loan. A top-up is an additional loan amount that is borrowed in between the home loan tenure for varied purposes like, home renovation, meeting an emergency, etc.
Home loan Balance Transfer: A home loan balance transfer is the facility provided by Banks and Non-Banking Financial Institutions to pay the outstanding balance of your home loan to another institution. With a home loan balance transfer, you can repay the home loan at a lower interest rate and also avail other additional benefits like top-up home loans. However, before availing a home loan balance transfer, you must compare the interest rates and other charges of different lending institutions to ensure that the total costs of balance transfer do not exceed the present cost of the home loan.
Steps to Avail Home Loan in India?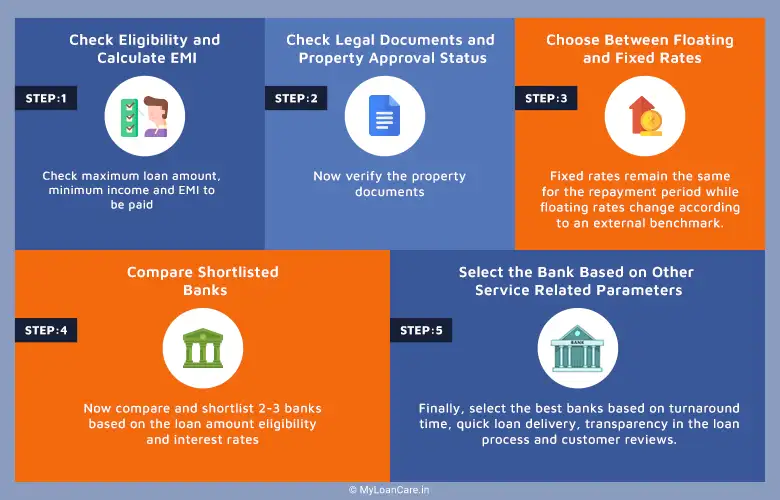 Step by step home loan procedure is explained below:
Step 1 : Check Eligibility and Calculate EMI
Check your loan amount eligibility and calculate monthly home loan using home loan eligibility and home loan EMI calculator.
Step 2 : Check Legal Documents and Property Approval Status
Ensure that the property registration documents are accurate To ensure the authenticity of the documents, shortlist the banks who give loans on your selected property.
Step 3 : Decide on Home Loan Interest Rate Type
Most of the banks offer home loans at either floating or fixed interest rates. As per the fixed interest rates on home loans, the interest rate remains constant during the loan tenure. On the other hand, as per the floating home loan rate changes in response to changes in the external benchmark.
Step 4 : Compare Shortlisted Banks
You can compare home loan interest rates of all banks and NBFCs at an online marketplace like MyLoanCare.in. Along with rates, you can also check processing fee, prepayment charges and any other associated cost on loan. Compare all the rates and charges to shortlist the banks further and reduce the options to 2-3 banks.
Step 5 : Select the Bank Based on Other Service Related Parameters
Finally, as you decide to take the loan, consider other services and related transparency parameters of the chosen banks. Some of these factors are turnaround time, quick loan delivery, doorstep services, transparency in the loan process. Lastly, read reviews of existing customers of banks on their services, interest rates and transparency to make your decision to borrow from a bank.
Top Home Loan Schemes
The top home loan schemes are mentioned below:
SBI Privilege Home Loan:It is a home loan scheme that is exclusively designed for government employees. Individuals who are employees of Central or State Government which includes PSBs, PSUs of Central Government and other individuals with pensionable service are eligible to apply for this home loan. SBI Privilege Home Loan offers competitive interest rates starting at 6.70% and Maximum ₹ 10,000 processing fee.
LIC Home Loan for Pensioners: LIC Home Loan for Pensioners is a housing scheme tailor-made for the homebuyers who are retired from PSU insurers, PSUs, Nationalized Banks, Central Govt. & State Govt. and drawing pension under Defined Benefit Pension Schemes (DBPS) and have a minimum age of 65 years. Under this scheme spouses must be the joint-applicant further, children are also allowed to be co-applicant to increase the home loan amount eligibility. The lowest interest rates on LIC Home Loan for Pensioners is 6.70%
IIFL Swaraj Home Loan: This home loan caters to the requirement of the home loan buyers who may or may not have the formal income documentation. Thus, it frees home loan buyers of the requirement to show income proof. The interest rate on IIFL Swaraj Home Loan starts from 8.50%.
SBI Bridge Home Loan: It is a home loan product designed with an aim to help people who want to upgrade or renovate their home. This home loan has a maximum tenure of 2 years and the lowest interest rate on this home loan is 6.70%.
HDFC Reach Home loan: HDFC Reach Home loan is a home loan aimed to help customers who do not have sufficient income documents. Under this home loan product customer can get a home loan even without the income document. Customers can avail this loan product loan for purchase or construction of your home, purchase of a shop/office to run your business or for purchasing a plot of land. The interest rate on HDFC Reach Home Loan starts from 6.70%.
Required Documents for Home Loan
To avail a home you would require to submit the following list of documents.
Application Form - Signed Application form with photo
Identity Proof - PAN card, Passport, Driving License, Aadhaar Card, Voter id, Govt issued i-card.
Address Proof - Any residence proof like Passport, Driving License, Election ID card, Electricity/ Telephone/ Mobile bill/ Bank statement (not more than 3 months old) etc.
Income Proof - Salary slip, bank statement of 6 months, Form 16
Documents Related to Property: Past title chain - Conveyance deed, Sales deed, Allotment letter, Possession letter, Latest property tax receipt, Copy of approved plan for construction/ extension.
Home Loan EMI Calculator
Home Loan EMI Calculator is an online tool that helps you to calculate the EMI based on factors such as loan amount, housing loan interest rate and tenure. With the help of an EMI calculator, you can also check the total interests you need to pay on your Home Loan. To calculate EMI, enter the details like required loan amount, interest rate and loan tenure, and you can know about Home Loan EMI without any error and free of cost.
Home Loan Eligibility Criteria
Before availing a home loan, borrowers must check home Loan eligibility based on specific parameters like age, net income, existing obligations, property type. The eligibility for a housing loan is listed in the table below:
| Parameters | Eligibility criteria |
| --- | --- |
| Eligible Age | 18-70 years |
| Net Monthly Income | ₹ 25,000 or above |
| Employment History | Job continuity of 3 years and more |
| Work Experience | 2 years |
| CIBIL Score | 650 and above |
How to Get Instant Approval on Home Loan?
Many banks and NBFCs have an attractive housing loan product which is called instant home loan or pre-approved home loan product. It is provided by lenders to its existing customers. Under this scheme, the amount of home loan you are eligible for is calculated based on your income level, credit score, and FOIR. The sanction letter on such loans is valid for a period of up to 6 months. In this period, you can finalize a property and get the amount disbursed. The bank does a legal and technical evaluation of the property before giving a final approval and disbursing the loan. This pre-approved home loan offer allows buyers to take an instant decision to purchase a property without the need to worry about arranging funds. It also gives the home loan borrower an idea of how much loan they can get.
The steps to get a pre-approved home loan are very simple:
You can enquire in the bank with which you have your savings or salary account, whether they have such a product or not.
If Instant home loan is available, then you can apply for it right away through their website or by visiting the branch.
After you apply and submit the required documents, within a couple of days, you will be issued a pre-approved home loan sanction letter which details out the loan amount, interest rates, tenure, validity of the offer and other terms and conditions.
Home Loan Rejection
In order to reduce your chances of rejection of a home loan application, keep the following do's and don'ts in mind.
| Do's | Don't |
| --- | --- |
| Always pay your ongoing EMIs on time so that your credit score never drops. | Never apply for the home loan just for the sake of it. |
| Check your credit score regularly and apply only when it's at least above 650. | While filling your application form for the home loan, don't give wrong or incomplete information and it should match with your relevant documents. |
| Proper research is a must before you apply with any lender for a home loan. | Don't just blindly apply with the bank in which you have an existing account because of the previous relationship. |
| You should have stable employment before you opt for a home loan. | Do not default in your current EMIs or accumulate too much credit on your credit card. |
| Read the fine print of the document carefully before signing it. | Don't blindly sign any document before you have read all its terms and conditions. |
| Make sure you submit all the necessary documents along with your loan application. | Do not choose a random number for your tenure as it can cost you more in the long run. |
What to do if a Home Loan Application is Rejected?
To avoid any risk of rejection of home loan applications, you must check the eligibility criteria of different lending institutions. In case you did not check your eligibility and your application gets rejected follow these steps.
Firstly, it is essential to understand the reason for rejection. There are many reasons why your application would have been rejected. Some of these may be errors in the application form or a lower CIBIL Score.
If you have a poor CIBIL Score, you can add co-applicants to improve your Credit Score.
You can also make a larger down payment of the loan to increase your chances of approval.
Finally, if everything does not go well, you can apply for a home loan with another institution that offers home loans at easier terms and conditions.
Factors To Consider Before Taking Home Loan in India
A home loan is not merely borrowing, but also repaying the loan amount. Thereby, one must be thoughtful before availing this loan responsibility. It is important to consider the below-mentioned factors before availing a home loan:
Home Loan Charges: The prerequisite before availing a house loan is to make a comparison of the home loan interest rate and other charges such as processing fee, administrative fee, legal fee, among others. These charges vary across all lenders. Thereby ensure that you choose the lender as per your affordability.
Home Loan Eligibility: Before availing a home loan, you must keep a check on the eligibility factors. For this ensure that you just do not meet the general eligibility criteria, but also the one's specific to the concerned lender such as maintaining the credit score, income and occupation requirements.
Home Loan Type: A home loan is a broader concept that incorporates a number of other loans specific to the housing needs, such as home construction loan, home renovation loan, home extension loans, plot purchase and others.Thus, before availing a loan, it is better that you identify your housing loan requirement and proceed accordingly.
Property Verification: Before availing a home loan for purchasing a home, it is better that you ensure the authenticity of a property. Ensure that the concerned property is out of any dispute and has all ownerships issued resolved. Also, check that the property is appropriate as per your need in terms of size and location. 
Home Loan Documents: Submitting documents is an important aspect of the home loan process. Thereby, if you are planning to avail a home loan, start keeping a check on your home loan documents. This is brace default, or lack of any documents can lead to home loan rejection. In case you wish to apply for a home loan via the offline process, keep the required number of documents arranged, and for the online process, keep the documents handy for easy and hassle-free uploads.
Avail Home Loan in Your City
You can apply for a home loan in your city by any one of the below-mentioned ways:
By Visiting the nearest bank branch
By applying for the loan through the official website of the loan.
Before applying for the home loans you must determine the home loan amount you are eligible for, which is dependent upon the CIBIL and repayment capacity.
FAQs
✅

How can I apply home loan in my city?

Nowadays, people living in any part of the country can apply for a loan with all leading banks and NBFCs by walking in to the nearest bank or by applying online at the bank's website or other loans websites. Apart you can apply for a home loan via online marketplaces like MyLoanCare.
✅

Can I get a home loan without ITR?

Many banks have launched schemes to provide home loans without ITRs for borrowers who are self-employed and are looking to buy affordable houses. HDFC Reach is once such popular scheme which provides loans with lesser documentation, but charges a higher interest rate of 6.70%
✅

Which bank home loan is best?

Most top banks have similar eligibility criteria and interest rate, along with other terms and conditions. However, you can assess the features of various bank's home loans and decide which one is suitable for your needs better. Some of the best bank offering home loans at lowest rates are listed in the table below:


In addition to that, Sundaram Home Finance offer NIL processing fee on home loans and thereby are best banks for home loans on the basis of processing fee.
✅

How does the home loan work?

To get a home loan, you need to first apply for it and also pick the property you want to buy. When your home loan application gets accepted, then you can show that to the seller who will then get an appointment with the registrar. As the appointment gets fixed, you along with the seller and a bank representative go to the office for registering the property on your name. The property documents are handed to the bank right there, and within a day or two, the loan amount is disbursed as well.
✅

Can I get a 100% home loan?

No, the maximum funding allowed by RBI for a bank to extend on a home loan is 90% of the property's value. The limit may vary across all banks but may increase beyond 90% of the value of the property.
✅

Which bank gives the cheapest home loan?

Currently, the lowest interest rate on a home loan is offered by Kotak Bank, which is 6.65%.Other banks offering lower rates on home loan are, HSBC Bank, Kotak Bank, and Axis Bank.
✅

When should I apply for a home loan?

You can apply for a home loan when you have picked the property of your choice and also have the amount ready for the down payment, which can vary between 10-20% of the property's value. Before applying for a home loan, you must complete the below steps:
Estimate home loan EMI and decide on the loan amount and tenure.
Check the approval status of the property you want to purchase.
Select the floating or fixed rates.
✅

Which loan is best for buying a home?

If you are looking to buy a house, availing a home loan is the best option considering its lower rate of interest, long tenure, and no charges on prepayment.
✅

What is the minimum salary for a home loan?

The minimum salary required to apply for a home loan is ₹ 25,000. Banks offer discounted rates for borrowers with low income looking to buy affordable houses. In fact in the current situation, rate of interest is lower if the value of property one is looking to purchase is less than ₹ 30 lakh.
✅

Can we pay our home loan early?

Yes, every lender has to abide by RBI prepayment rules and provide an option of prepayment and foreclosure of a floating rate home loan without charging any fees or penalty. So, if you happen to get the required funds to pay your home loan early, you can certainly do so. However, if you have a fixed rate home loan, banks and lenders may include a clause in the home loan agreement explaining the various condition and charges for home loan prepayment and foreclosure.
✅

What kind of loan is a home loan?

A home loan is a credit option which helps in financing your housing needs. It is a secured loan offered for purchase, improvement or construction of a house. Currently, the home loan rates are in the range of 6.65% to 12.00%. Further, home loans can be availed for a period of 1 year to 30 years
✅

How long does it take to get a home loan?

The home loan usually gets disbursed in 15 to 30 days. However, the disbursement may delay if the documents you have submitted to the bank are not complete.
✅

Is insurance mandatory on a home loan?

No, there is no mandatory requirement to get insurance on the home loan. Opting for a home loan insurance depends on your condition and requirement. Home loan insurance covers a borrower`s outstanding loan liability to hedge the risk of loss in the case of any unforeseen circumstances.
✅

When do home loan EMIs start?

Equated monthly installment repayment of a home loan is the payment of principal as well as interest. This payment begins once the construction of the house is completed. Further, some banks and NBFCs also allow starting of full EMI payment while the credit amount is being disbursed in stages. Hence, it depends upon the terms and condition of the home loan.
✅

How to apply for a home loan?

Below mentioned are the steps to apply for a home loan:
Step 1: Visit MyLoanCare
Step 2: Fill in all the relevant details including the loan tenure, amount, monthly income among others.
Step 3: Click on 'Get Quote'.
Step 4: Enter the OTP
Step 5: You will see the list of the banks where you can get a home loan. Apply for the same.
Step 6: MyLoanCare representative will contact you and will ask for all the relevant documents.
Step 7: On successful completion of the verification process, the home loan amount will be disbursed.
✅

When does home loan repayment period start?

Starting of the repayment on your home loan period depends on the terms and conditions of the credit. For instance: The home loan repayment period can start after one year of the disbursement of the loan. Or, in other cases, the repayment process may also start after the very next month of the disbursement.
---
Home Loan

Home Loan at all-time low rates starting at 6.65%. Cashback of up to ₹ 1,000.

Apply Now

Personal Loan

Instant Personal Loan starting at 10.25% with Cashback of up to ₹ 1,000 .

Check Offers

Gold Loan

Instant Gold Loan starting at 9.50% with Cashback of up to ₹ 500

Apply Now

Loan Against Property

Best Loan Against Property Offers starting @ 7.20%. Cashback of up to ₹ 1,000*.

Apply Now

Business Loan

Collateral Free Business Loan Rates starting at 14.00% with Overdraft facility.

Apply Now

Fixed Deposit

AAA rated FDs with returns as high as 6.95%.

Invest Now
Home Loan News - Jul 2021
2021-07-16 : Amalgamation of Bank of Baroda, erstwhile Vijaya Bank and erstwhile Dena Bank


Bank of Baroda, on its website, stated that the IFSC codes of the erstwhile Vijaya Bank and Dena Bank were discontinued on March 1, 2021. Customers have been asked to apply for cheque books with the new MICR code at the earliest.

2021-07-16 : UBI update on change in IFSC code for merged banks - Andhra Bank and Corporation Bank


Union Bank of India (UBI) on Friday said the IFSC codes of the erstwhile e-Andhra Bank and e-Corporation Bank branches will change with effect from July 1, 2021. Customers of the erstwhile banks will have to get new cheque books with changed IFSC and MICR codes

2021-07-16 : Bandhan Bank total loans rise 8% to ₹80,128 crore in Q1, deposits up 28%


Bandhan Bank witnessed an 8% rise in its loans and advances to ₹80,128 crores in the June quarter this fiscal. The loans and advances during the same period of 2020 stood at ₹74,331 crore. Compared sequentially, it was down by 8% from ₹87,043 crores in the March quarter. Total deposits grew by 28% year-on-year to ₹77,336 crores, while the CASA (current account and savings account) deposits jumped by 48% to ₹33,197 crores in the first quarter of 2021-22.

2021-07-15 : Indian Bank merger with Allahabad Bank - Change in IFSC


The Indian Bank, which has merged with the Allahabad Bank, carried out a software migration over the weekend. As the merger got completed, new rules had been issued by the bank with regard to its services. Existing customers were asked on July 1 to get a new IFSC code to carry out online transactions smoothly.

2021-07-15 : OBC & UBI merged with PNB


After the merger of OBC and UBI with PNB in April 2020, PNB has now updated the IFSC codes of all the branches of PNB and UBI. New IFSC codes have come into effect from July 1, 2021.
*Terms and conditions apply. Credit at sole discretion of lender, which is subject to credit appraisal, eligibility check, rates, charges and terms. Information displayed is indicative and collected from public sources.
MyLoanCare is an independent professional service provider and is not related to the government or government bodies or any regulator or any credit information bureau in any way. Information carried at this website is not and should not be construed as an offer or solicitation or invitation to borrow or lend. The Company does not undertake any liability with respect to the correctness of the content, information and calculations. Information is subject to change without notice. By submitting your query or using any tools or calculators, you authorize MyLoanCare to share your information with lender(s), consent for such lender(s) to access your credit information report and contact you regarding your query overriding your number being in National Do Not Call Registry. This is a free service and no charges are payable by the borrower to MyLoanCare. The Company may receive remuneration from lenders for services provided to them.
Read More
Read Less

Please wait while your information is being processed...