IIFL Gold Loan Interest Rate
Last Updated 19th Nov 2016
IIFL Gold Loan Interest Rates Oct 2017
Gold Loan Interest Rate
Interest Rate
12.00%
Check Best Offers
Processing Fee
Nil
Loan Tenure
3 months to 11 months
Loan Amount
Rs. 3,000 and Rs. 1,000,000
Repayment Options
EMI Scheme
Prepayment Charges
Nil
Apply Gold Loan @ 10.50%*
---
IIFL Gold Loan
Gold Loans are loans availed by pledging your gold ornaments with a bank. IIFL gold loan can be taken for meeting urgent personal expenses like children education, marriage and other financial emergencies in the family as well as for business purposes. The gold mortgaged itself acts as a security to the loan. Taking a loan from IIFL has the following benefits:
Minimum loan of Rs.3000 available
Insurance of gold pledged
Gold loan interest rate of depends upon
Loan Amount: The amount of gold loan you can avail depends the weight of jewelry you can pledge with the bank. Generally, banks offer a jewel loan per gram of gold which differs by the purity of gold and loan to value ratio offered. Banks offer lower interest rates for higher amount. IIFL offers loan between Rs. 3,000 and Rs. 1,000,000 amount.
Relationship with the Bank: IIFL offers special rates, offers and charges to the existing account holders of the bank. Those who have made their payments on time in the past can get the benefit of low gold loan interest rate from IIFL. Bank offers jewel loan at rates of 12.00% to 12.00%.
Loan tenure: Many banks charge higher rate of interest for gold loans of lower tenure and lower interest rate for gold loans of higher tenure. IIFL offers gold loan with a tenure of 3 months to 11 months.
Loan to Value ratio: Maximum loan to value ratio on gold jewelry has been fixed at 75% by RBI. However, IIFL also offers loans at lower LTVs. Interest rate on loans with lower LTV will be lower compared to loans with higher LTV. Maximum LTV offered by IIFL is 75% calculated on net weight of gold in your jewelry.
Other Charges
In addition to interest rates, Gold loan IIFL also carry some other charges which include:
Processing fees – IIFL charges minimum processing fees Nil. To get lowest fee, gold loan interest rates comparison, offers and cashback applying online through MyLoanCare.
Prepayment and foreclosure – Banks typically levy prepayment or foreclosure charges i.e. Nil.
IIFL Gold Loan per gram
Your gold loan amount eligibility is measured in terms of gold loan rate per gram you will get on the basis of the weight and gold price of your jewelry adjusted for loan to value ratio.
Gold loan per gram is determined by multiplying the weight of gold by price of gold as adjusted for purity and LTV (loan to value) offered by IIFL. For a 22 carat gold jewelry of 10 gram and a maximum LTV of 75% you can get a gold loan per gram of Rs. 2,128 from IIFL
The table below gives the key loan parameters of Gold Loan IIFL
| | |
| --- | --- |
| Age | Any individual with an age of 18 years and above |
| Profession | Salaried, self-employed professionals and businessmen. Gold loans are available for agriculture and non-agriculture purposes |
| Loan Amount | Rs. 3,000 to Rs. 1,000,000 |
| LTV | Upto 75% of gold. Some schemes are offered at lower LTVs as well |
| Quality of gold | Gold ornaments should range in between 18 to 24 Carats |
| Type of gold accepted as security | Gold ornaments with 18 carat purity and bank's special minted coins upto 50 grams weight |
| Gold Price | Average gold price of 22 carat gold of past 30 days. Average price of 10 gm 22 carat gold for past 30 days is Rs. 28,378 |
Your loan eligibility calculated as gold loan per gram for IIFL is calculated based on the following parameters:
Quantity and quality of gold pledged: Gold loan per gram depends upon the weight and assessment of purity of the gold jewelers that is being pledged. Gold ornaments Carat-age should be in the range of 18 to 24 Carats. Both hallmarked jewelry and non-hallmarked jewelry can be used for availing jewelry loan.
Gold loan rate per gram: IIFL will value the jewelry based on price of 22 carat gold adjusted for purity. IIFL use thirty days average rates of 22 carat gold prices. You can also check today gold rate at MyLoanCare
Form of gold pledged: You can get loan from IIFL against jewellery or ornaments with a purity of 18 carats or more and specially minted gold coins with a weight of up to 50 grams. You will not be eligible for loan against gold bars, ETFs (exchange traded funds), specially minted coins of more than 50 grams and ladies mangal sutra.
Purpose for which loan is used: You can use the loan from IIFL for personal, business and agricultural purposes. However, IIFL does not allow to use gold loan for speculative purposes such as purchase of gold coins, jewels, land, and investment in stocks, futures and options.
IIFL gold loan per gram for 18 carat, 20 carat and 22 carat jewelry
The following table gives an approximate estimate of gold loan per gram IIFL will offer against gold jewelry of different purity levels at a maximum LTV of 75% and lower LTV of 65%.
| Gold Purity | Gold rate per gram- average of past 30 days | IIFL best Gold Loan per gram | IIFL lowest Gold Loan per gram |
| --- | --- | --- | --- |
| 22 carat | 28,378 | 2,128 | 1,845 |
| 20 carat | 25,798 | 1,935 | 1,677 |
| 18 carat | 23,218 | 1,741 | 1,509 |
The above table shows the method by which IIFL will calculate your per gram gold loan for gold of varying purity.
Gold loan per gram in IIFL offer for 22 carat jewelry will be between Rs. 1,845 to Rs. 2,128
IIFL gold loan per gram offer for 20 carat jewelry will be between Rs. 1,677 to Rs. 1,935
Gold loan per gram offer of IIFL for 18 carat jewelry will be between Rs. 1,509 to Rs. 1,741
IIFL Loan Calculator
Eligibility or gold loan per gram is completely dependent on the assessment of weight and purity of the gold jewelry that is being pledged. Once you approach a bank or a gold loan company, it will conduct a valuation of your gold jewelry and then apply a LTV of up to 75% of the calculated value of the jewelry to be pledged to arrive at the eligibility. The value of gold jewelry and the eligibility is calculated based the following steps:
Step 1: The bank or financial institution will test the level of gold purity and adjust the price of pledged gold in proportion of its purity.
Purity of gold is defined in carat, which means parts of gold. A 100 % pure gold is defined as 24 carat gold. So, 18 carat gold would mean an 18 carat of gold mixed with 6 carat of other metals.
The bank or gold company will adjust the value (price of gold) of jewellery for its purity. The price of 22 carat gold of last 30 days will be adjusted proportionately for the purity of gold pledged. For instance, the value/price of a 18 carat gold will be calculated by multiplying the average price of 22 carat gold for the last 30 days by multiplying it by 18/22.
Banks use 30 days average rates of 22 carat gold prices as directed by RBI. The rates used are as published daily by Bombay bullion's association.
Step2: Weight of gold jewellery is netted off for weight of stones and gems
The bank will measure the net weight of your gold jewellery by deducting the weight of the stones and gems that have been used in the gold jewellery. So, if you intend to use your diamond jewellery for pawn, the bank will deduct the weight of diamond from the total weight of the jewelry to calculate the net weight of gold in your jewelry.
Step 3: Bank will calculate the value of the jewellery as eligible for loan and apply a LTV to arrive at your gold loan amount eligibility
The bank will calculate the value of the jewellery to be pledged by multiplying the net weight of your gold jewellery as calculated in Step 2 above with the adjusted price of gold as calculated in Step 1 above. The bank will then apply a LTV to the calculated value of jewelry to calculate your eligibility. Banks are allowed to lend at a maximum LTV of 75%. However there are multiple schemes with LTVs between 60 - 75% on offer by leading loan providers. Higher the LTV, higher the interest rate charged.
IIFL Gold Loan EMI Calculator
Gold Loan EMI of IIFL is a fixed amount that you pay each month towards the repayment of your jewel loan. Lowest EMI offered by IIFL is Rs. 9,645 per lakh loan amount at lowest gold loan interest rate of 12.00%. Gold loan EMI of IIFL depends upon:
Rate of interest: Higher the interest rate, higher will be the EMI. For a 11 months gold loan from IIFL at interest rate of 12.00% per annum, EMI will be Rs. 9,645 per Rs. one lakh loan amount. At interest rate of 12.00% for the same loan, the EMI will be Rs. 9,645
Loan tenure: Longer the loan tenure, lesser your monthly EMI. At 12.00% per annum, the EMI would range from Rs. 34,002 to Rs. 9,645 for loan tenure ranging from 3 months to 11 months
Use EMI Calculator to calculate your interest on gold loan at different tenure
Gold Loan EMI for Rs. 1 Lakh loan amount at lowest 12.00% interest rate offered by IIFL for different tenures
| | 6 months | 11 months |
| --- | --- | --- |
| IIFL EMI for a loan amount Rs. 1 lakh at 12.00% | 17,255 | 9,645 |
| Total amount you pay back to the bank including principal and interest | 103,530 | 106,095 |
| Interest you have to pay over loan tenure | 3,530 | 6,095 |
As you can see in the above table that longer the loan tenure, lower is the EMI you pay on gold loan. However, your total interest outgo is significantly higher in case of long tenure loan. In the above example, if you take a Rs. 1,00,000 loan for a period of 11 months, the lowest EMI you will pay of Rs. 9,645. However, you pay an interest of Rs. 6,095 on a Rs. 1,00,000 loan.
In comparison, if you take a Rs. 1,00,000 loan from IIFL at the lowest interest rate for a period of 6 months, your monthly EMI will be as high as Rs. 17,255 and pay an interest of only Rs. 3,530 which is less than what you paid in a 11 months loan. Hence, you must choose your loan tenure wisely as longer tenure leads to high interest cost.
Documents Required for IIFL Gold Loan
The documentation process of IIFL is smooth. You need to submit one proof of identity and one proof of address to get a gold loan. The list of identity and address proofs are as follows:
Identity proof: PAN Card, Driving License, Passport, Voter's ID Card, Aadhar Card
Address proof: Voter's ID Card, Aadhar Card, Rent Agreement, Utility Bills, Bank Statement
Compare Gold Loan Interest Rates of IIFL with other banks
Frequently Asked Questions on IIFL Gold Loan
How much interest is charged by IIFL on gold loan?
IIFL gold loan interest rates today are 12.00% to 12.00%.
What is the lowest EMI per lakh on IIFL gold loan?
If you apply for loan against gold from IIFL, your lowest EMI per lakh will be Rs. 9,645.
What is the minimum and maximum tenure of IIFL jewel loan?
You can repay your jewel loan from IIFL in a flexible period of minimum 3 months to maximum 11 months.
How much gold loan amount I can borrow from IIFL?
IIFL offers you loan against gold if you need a minimum amount of Rs. 3,000 to a maximum amount of Rs. 1,000,000.
How much processing fee is charged by IIFL on jewel loan?
IIFL charges a processing fee on gold loan- Nil
Are there any prepayment charges on gold loan?
Yes, you can prepay your jewel loan. Applicable prepayment charges - Nil.
Is gold loan IIFL available online? Is there a IIFL gold loan online payment facility?
Yes, you can avail gold loan online in IIFL. Yes, the bank offers IIFL gold loan online payment facility.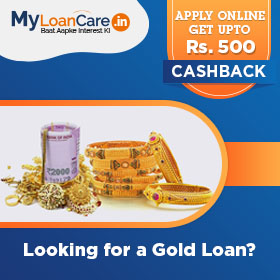 ---