Gold Loan Interest Rate - SBI, Muthoot, Manappuram, HDFC Bank, All Banks
Last Updated 20th Sep 2017
Lowest Gold Loan Interest Rates in India Sep 2017
Lowest gold loan rates starting at 10.50%
Loan with no income proof and CIBIL score checks
Apply online and get loan in few hours with only visit to the bank
Maximum loan tenure upto 4 years
Gold Loan per gram can range from Rs. 1,701 to Rs. 2,079 based on gold purity of 18 to 22 carat jewelry
Multiple repayment options: EMI, Bullet Repayment with EMI for interest and overdraft facility
Avail attractive loan offers from HDFC and Yes Bank
Apply Gold Loan @ 10.50%*
Compare Offers
and
Apply Loan Online
Get CashBack Upto
Rs.1,000
Assisted Digital Service
Gold Loan Interest Rates Comparison, Lowest EMI Sep 2017, Best rates
Bank
Gold Loan Interest Rates*
Lowest EMI per lakh for Max Tenure
SBI
11.05% - 11.05%
Rs. 3,830 for 30 months
Explore More Apply Now
Muthoot
12.00% - 24.00%
Rs. 3,321 for 36 months
Explore More Apply Now
Manappuram
14.00% - 26.00%
Rs. 34,114 for 3 months
Explore More Apply Now
HDFC Bank (4.5/5.0)

29 Users

11.00% - 14.50%
Rs. 4,661 for 24 months
Explore More Apply Now
ICICI Bank (5/5.0)

1 Users

10.00% - 16.50%
Rs. 8,792 for 12 months
Explore More Apply Now
Federal Bank
11.75% - 13.50%
Rs. 8,873 for 12 months
Explore More Apply Now
Canara Bank
12.65% - 12.65%
Rs. 8,915 for 12 months
Explore More Apply Now
Andhra Bank
9.70% - 10.45%
Rs. 8,778 for 12 months
Explore More Apply Now
Axis Bank
14.50% - 17.00%
Rs. 3,442 for 36 months
Explore More Apply Now
IndusInd Bank
11.15% - 15.75%
Rs. 8,845 for 12 months
Explore More Apply Now
Yes Bank (4.1/5.0)

2 Users

11.00% - 14.50%
Rs. 3,274 for 36 months
Explore More Apply Now
IIFL (5/5.0)

1 Users

12.00% - 12.00%
Rs. 9,645 for 11 months
Explore More Apply Now
PNB
10.75% - 11.75%
Rs. 8,827 for 12 months
Explore More Apply Now
---
Gold Loan Eligibility Check
You may be eligible for gold loan in India from one or more banks if you meet the following eligibility conditions:
Minimum and Maximum Age

Note: However, many banks require minimum age of 23 years
Loan Amount

Upto Rs. 50 lakhs. Most banks restrict maximum eligibility to Rs. 20 lakhs
Interest rates are lower for big ticket size loans and higher for smaller ticket size loans



Employment Type

Salaried and self employed both are eligible
Jewel loans do not have specified use and can be used for both personal and business expenses
These are instant loans and do not require any minimum number of employment track record or business experience in the case of self employed
Similarly, for availing a jewelry loan, no income proofs and CIBIL score are required. Hence, these loans are good options for first time borrowers with no credit history, for borrowers with no income proof or borrowers with bad credit

Quality of Gold

Gold ornaments should range in between 18 to 24 karats
Average gold price of 22 carat gold for the preceding 30 days is adjusted down for purity. So, the price of 18 carat jewelry can be estimated by multiplying the price of 22 carat jewelry by a factor of 18/22.
Please look at the table below to get the gold price and loan per gram for gold of varying purity levels.

Gold that cannot be used for taking a loan

Gold bars and coins
Gold with 24 carat purity or less than 18 carat purity
Mangalsutra. Some banks such as HDFC Bank and Yes Bank accept mangalsutra which does not have black beads

Gold that can be used for taking a loan

Gold ornaments with 18 carat purity and special minted coins with up to 50 grams weight
Lowest EMI for Gold Loan
Gold Loan EMI is the amount that you pay every month to the bank or financial institution in order to repay your loan. EMI is composed of both principal amount and interest component. Interest component on your EMI is higher in early months and reduced with each EMI. EMI Calculator helps you to calculate your monthly EMI at desired interest rate for a particular tenure.
MI depends upon loan amount, interest rate and loan tenure
Loan amount – If you apply for a high loan amount, then your EMI will be high
Interest rate - Higher interest rate on your loan leads to high amount of EMI
Loan tenure – EMI on gold loan reduces in case of high loan tenure
At the lowest interest rate of 10.50%, the minimum EMI works out to be Rs. 2,560 per lakh loan amount for 4 years.
Gold Loan per gram as per gold purity
The amount of loan you can avail is a function of the total weight of jewelry, level of purity, past 30 days average price of 22 carat gold and loan to value offered by your bank.
The past 30 days average price of 22 carat gold has to be adjusted down for level of purity before multiplying it with the LTV.
In the table, as on 20th Sep 2017, the past 30 days average price of 22 carat gold is Rs. 27,724.
If you take loan against a 10 gram of 22 carat jewelry, you will get a gold loan of Rs. 20,793 after multiplying the past 30 days average price with maximum LTV of 75% offered by banks.
| Gold Purity | Past 30 days average price of gold per 10 grams | Maximum LTV | Gold Loan per gram of gold |
| --- | --- | --- | --- |
| 22 carat | 27,724 | 75% | 2,079 |
| 20 carat | 25,204 | 75% | 1,890 |
| 18 carat | 22,684 | 75% | 1,701 |
However, you will be eligible for a lesser gold loan per gram of jewelry if you take a loan against 10 gram of 18 carat gold. If you take a loan against 18 carat gold, you will be eligible for a gold loan of Rs. 1,701 per gram after multiplying it with the calculated price of 18 carat gold as seen in the table above.
If you take a loan against 22 carat gold, you will be eligible for a gold loan rate of Rs. 2,079 per gram
Key Gold Loan Products
Gold Loan Schemes can be categorized based on the purpose of lending. Banks usually offer lower rate of interest for agricultural gold loans which are offered to farmers and people engaged in agriculture for meeting their farming expenses.
Agricultural Gold Loans: These are loans extended to farmers and agriculturists against gold ornaments to provide them finance for crop production expenses and investment purpose in agriculture or allied agricultural activities. Key Features of such loans are:

Evidence of farming activity in form of proof land records is required
Written undertaking by the borrower on the purpose for which he intends to use the loan is required. Banks may also monitor the end use of such loans
Loans extended for agriculture are categorized under priority sector lending and are eligible for interest subvention scheme from government, which reduces the interest cost to the borrower
These loans are allowed generally for a maximum period of 3 years
Some banks also offer the option of overdraft facility on such loans
Rate of interest: 8.00 to 10.00 %

Non Agricultural Gold Loans: Loans extended to all other categories of borrowers excluding farmers and agriculturists are known as non agricultural gold loans. These loans are available to all individuals including salaried, self employed professionals, businessmen, women, females, housewives, students, retired officials who own gold and want to pledge the same to get loan. The features on non agricultural gold loans have been explained under the loan schemes by repayment options.
Bullet Repayment: This is one of the most popular repayment option offered by banks and NBFCs, where the entire principal amount is repaid at the end of the tenure. This repayment option is more prevalent for shorter tenure jewel loans of less than 6 months, as this allows the borrower to utilize all borrowed funds for the required purpose and hence, save them from the burden of repaying principal every year. Key Features of such schemes are:

Loan amount is repaid at the end of the tenure
Interest is calculated on a monthly basis, with an option to pay interest only EMIs every month, where you pay monthly interest in the form of EMIs
Some banks allow a lower LTV of 65% on such schemes compared to maximum LTV of 75% on other loan schemes.

EMI Scheme: This scheme is increasingly being offered to jewel loan borrowers. Borrowers are required to pay monthly instalments or monthly EMIs to banks. This scheme is especially popular for longer tenure gold loan schemes with greater loan amounts. Key Features of such schemes are:

Lowest EMI for a Rs 1,00,000 loan is Rs. 2,560 at the lowest gold loan interest rate of 10.50% and maximum tenure of 4 years.
Attractive LTVs of upto 75%
Banks call for 6 months PDCs for EMIs. Some banks exempt the borrowers from PDC requirement for larger ticket size loans

Overdraft Scheme: This schemes is especially designed for businessmen and self employed who have fluctuating requirement for funds. The overdraft scheme allows the borrowers to withdraw any fund requirements or deposit any surplus in an overdraft requirements within a pre approved credit limit. Interest is charged only on the utilized portion at any given point of time. Key Feature of such schemes are:

Has an overdraft facility that allows deposit and withdrawal of funds during loan tenure
Interest expenses are minimized as it allows the borrower to deposit funds in the account when he has surplus funds
Available on all ticket sizes, though will be more suitable for relatively larger ticket size loans
Also comes with an option to renew the limit at the end of the tenure by paying processing fees
Comparison of Gold Loan Rates in India
Gold Loan Processing fees – Most banks charges minimum processing fees of Rs. 1,000 to upto 2%. Some banks may also offer lower processing fees. To get lowest fee, gold loan interest rate comparison, offers and cashback applying online through MyLoanCare.
Gold Loan Prepayment and foreclosure – Nobody wants to keep paying interest on a loan when you have surplus money available to repay it. When you want to repay your loan partially before time, it is called part prepayment. In case you decide to pay the entire loan amount before time, it is called foreclosure. Banks typically levy prepayment or foreclosure charges in such situations and these can range from nil to even upto 1%. So, check carefully if the low interest rate gold loan you are getting comes with high prepayment or foreclosure charges. Some loans also come with a lock-in-period and cannot be repaid before time.
Checklist for Gold Loan
Identity proof
Residence address and ownership proof
Photo identity proof
Passport size photograph
Documents Required
| | |
| --- | --- |
| Identity Proof | PAN Card/ Aadhar Card/ Voter's ID Card/ Passport Copy |
| Address Proof | Rent agreement/ Passport/ Driving License/ Utility Bills/ Aadhar Card/ Voter's ID Card |
Frequently Asked Questions on Gold Loan
Why do I need Gold loan?
These loans are usually taken for short term requirements. Generally, these are used for children education, marriage and other financial emergencies in the family. Usually rate of interest on jewel loan is relatively low as it a secured loan for banks and NBFCs.
What are the benefits of gold loan?
Gold Loan has the following benefits:
Allows you to utilize your jewel holdings in times of urgent expense requirements and emergencies
Low interest cost compared to personal loans
Easy loans with no income proofs and no CIBIL checks required.
Also allows first time borrowers and borrowers with bad credit to get loans.
Helps improve CIBIL score, as timely repayment is recorded in your CIBIL reports
Instant loans with turnaround time of few hours to 1-2 days
Loan amounts of up to Rs 50 lakh also available
No end use restrictions. The loan can be taken for any personal or business expenses
No proof in the form of invoice or purchase bill of the jewelry required
What are the dis-advantages of taking a gold loan?
We do not see any significant dis advantages of taking a gold loan except that you need to part away with your gold holdings and take them to the nearest branch of the lender for valuation and depositing it with the bank. RBI has specified strict guidelines for ensuring complete safety of your ornaments when they are pledged with a bank or a NBFC.
In addition to this, for salaried employees working with reputed companies taking a personal loan might be easier and come at a low rate of interest compared to gold loan.
What are the situations in which gold loan is not suitable for me?
You may not want to take a gold loan if:
You are a salaried employee working with a large reputed company and have other easy loan options available
You need a loan of more than Rs 50 lakh
You need loan for longer tenures of more than 4 years
You have other collateral to offer in the form of working capital, stock, property, securities etc.
How can I apply for Gold loan?
You can apply in several ways.
You can directly visit the bank branch and meet the sales person, contact a loan agent or apply online at any bank or NBFC's website.
The facility of tracking your loan is available with the bank.
You can also compare gold loan interest of all banks online at MyLoanCare and apply for jewelry loan through our website. We will assign a customer representative officer to you who will assist you in the loan process. You will get a call from our customer representative officer within a few minutes of filling the application form on our site, who will assist you with rest of the gold loan process. Before applying for a gold loan, calculate your eligibility with gold loan calculator.
How can I get a gold Loan?
Once you apply for a gold loan online through myloancare:
you will be contacted by bank representatives who will explain the process, documents required and also schedule a convenient appointment for you to visit their nearest branch.
Once your appointment is scheduled, you need to visit the branch with your jewelry. Your jewelry will be tested and valued by appointed valuers at the bank. If the jewelry passes the test and is in line with the specifications mentioned by you will applying, you will get the loan required. If the jewelry is found to be of lower purity or lower weight, you may be offered a lower loan amount.
Also, remember that even if one piece of jewelry is fake, the bank may refuse to offer any loan to you.
Once the jewelry is valued and loan amount is agreed and sanctioned, the bank will seal your jewelry in a packet in your presence and under CCTV recording. These packets are multi-layered to ensure complete safety of your ornaments.
The jewels are than kept in bank safes in strong rooms maintained by the banks.
The bank will simultaneously issue you a disbursement letter with loan amount and other details which have to be signed by you and the bank's representative.
What will the bank do if the gold prices fall during the tenure of gold loan?
The popular perception is that gold prices will never fall significantly in India. However, there have been situations, when gold prices in India have fallen rapidly. RBI allows a maximum LTV of 75% of the gold pledged. It also requires the lenders to maintain this LTV on an ongoing basis. Banks safeguard this LTV by extending EMI loans and also bullet loans where regular interest is paid every month. However, in case of sharp decline in gold prices, banks may do the following:
The financial institution might ask for more collateral or gold to maintain the LTV
The financial institution might request the borrower to partly pay a nominal amount which goes towards the principal
In rare cases, if the borrower fails to make this payment, the gold can be auctioned after giving due notice period and multiple reminders to the borrower.
What kind of jewelry will avail the best gold loan rate or best gold loan per gram?
For an Indian, jewelry is extremely precious and close to heart. Yet, in times of need, you might need to mortgage them to meet your urgent expenses. At such times, you need to ensure that you get the maximum gold loan per gram. It is advisable to choose the mortgaged jewelry with the help of following guidelines:
Specially minted gold coins of banks of up to 50 grams or 22 carat gold ornaments will offer you the best rates.
If you offer hallmarked jewelry, you will be charged a lower processing fees and hence, your cost of loan will be lower.
Lower purity gold ornaments of 18 and 20 carat will get your lesser amount of gold loan.
Ornaments with a lot of other stones including diamond, pearls, ruby etc might not fetch you a good loan amount as banks deduct the weight of these stones to calculate the net weight of gold and hence, the loan amount you will be eligible for can reduce depending on the net weight.
Avoid pledging your mangal sutras, as many banks as a policy do not accept mangal sutras as a valid mortgage, with the exception of few banks who accept mangalsutras without black beads as a valid security.
Try to use larger pieces of jewelry in place of smaller items of gold
What will the bank do in case I am unable to repay my gold loan in time?
If any individual fails to pay his EMI, interest or principal repayment on time, he is sent a follow-up reminder by the bank. Banks also levy a late payment fees as penalty on the borrower. In case of genuine borrowers, the banks may also offer an option to extend the tenure of the loan or renew the loan facility. If the borrower fails to repay the loan in 3 to 6 months, he will be treated as a default customer and the bank will send him a legal notice asking him to pay his dues, failing which the bank has the right to confiscate the jewelry kept with them and auction it, if required.
What is the minimum and maximum tenure of jewelry loan?
These are generally taken for shorter time period. Generally the tenure is from 6 months to 36 months.
Do I need to open bank account to service my jewelry Loan?
Yes, you need to have at least one functional bank account in your name. It is even better if you have an account with the same bank from which you would like to get a loan.
Can I apply for Gold loan jointly with my spouse?
Yes, you can apply for jewelry loan jointly with a co-applicant (either be your spouse or your parents).
Does it affect my co-applicant if I default on Gold loan?
Yes, if you fail to pay the loan on time then it will also affect your co-applicant as default in loan will affect his/her s CIBIL rating as well.
Will banks charge extra fee if I fail to repay loan on time?
Yes, banks charge penal fee for late payment. The percent of penal charge can be over and above the existing rate of interest or above the overdue amount. Most banks charge penal fee up to 2% p.a. over and above applicable rate of interest. Some banks also charge up to 24% p.a. as penal interest over and above applicable rate of interest. So be careful while selecting particular scheme and do check the penal fee and other charges
How much time will it take for me to get money?
Generally banks and NBFC's offer quick disbursement of jewel loan within an hour of walk-in at specialized loan branches. MyLoanCare can help you connect with your nearest bank branch. Play safe with your valuables and visit the branch only after your appointment is confirmed by us.
What are the documents required for availing gold loan?
The documents required for availing gold loan are:-
Two passport size photograph
Identity proof (PAN card/ passport/ Aadhaar card/ voter id card)
Address proof (Electricity bill/ telephone bill/ bank statement)
Who can access the customer online portal?
All existing customers get access to customer netbanking portal by login their user id and password.
Why MyLoanCare???
Nowadays, banks give various offers on Gold Loan to give the best rates to individuals. To get Gold Loan with lowest interest rate and lowest EMI, compare new rates and offers of all banks at MyLoanCare. You can do rates comparison, check your eligibility, apply online and get the cheapest rate on Gold Loan. MyLoanCare helps you throughout the loan process from the day you apply to the time you get complete disbursement. You can even track your loan status after getting registered with us. MyLoanCare make it easy for you to get hassle free Gold Loan with ultimate cashback and refer and earn benefits. So, apply for Gold Loan today and enjoy the benefits.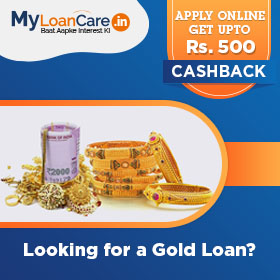 ---