Citibank Interest Rates on FD, Oct 2017
Last Updated 10th Oct 2017
Fixed Deposit Interest Rate of Citibank
Tenure
General Rates
Senior Citizen Rates
7 days

to

14 days
3.00%
3.50%
15 days

to

25 days
3.25%
3.75%
26 days

to

35 days
3.50%
4.00%
36 days

to

45 days
4.50%
5.00%
46 days

to

180 days
4.75%
5.25%
181 days

to

1095 days
5.00%
5.50%
1096 days

to

10 years
5.25%
5.75%
The above rates are applicable for deposits of below Rs. 1 crore.
Citibank FD Maturity Calculator
---
Citibank FD Interest Rates
Citibank offers multiple fixed deposit options to their customers to park their surplus savings for a fixed tenure. A customer is required to make a deposit once into their FD account at the time of opening the account with the bank. The customer is not allowed to deposit more money and withdraw any money in the account during the tenure of the deposit. Fixed Deposits of Citibank have a higher interest rate compared to their saving deposits. Benefits of opening a FD account in Citibank are:
Loan facility upto 90 per cent is available on the deposit while 75 per cent to the third party deposit
Nomination facility available
Earn higher returns on the money deposited
Interest on deposit is paid only at the time of the maturity
Citibank Fixed Deposit Rates
The factors affecting Fixed Deposit interest rates are as follows:
Policies Framed by RBI – As per RBI guidelines, the change in Cash Reserve Ratio (CRR) and repo rate affects the interest rate of all banking instruments including the fixed deposit.
Recession – Recession results in a decrease in the interest rate offered on fixed deposit. At the time of recession, RBI is forced to release the funds in the market which it achieves by lowering the rates on cash reserve of the banks and hence, providing them with additional liquidity. As a result of high liquidity and low credit demand, banks reduce the rates on FD.
Inflation – Inflation has a positive effect on a fixed deposit interest rate. Banks typically fix interest rates of FD in a manner that it is higher than the existing inflation rates. Hence, FD rates tend to be higher in a period of rising inflation.
Current State of Economy – Economic condition of the country is the major factor that affects the fixed deposit interest rate. In a booming economy, people need and are willing to take larger credit to meet their personal and business requirements. In periods of high credit demand, banks offer higher interest rate to garner more funds through fixed deposits.
Fixed Deposit Schemes Citibank
Regular Fixed Deposits
Description:
Under this scheme, the depositor is allowed to make investment into the deposit to earn attractive and higher returns along with a flexibility and security.
Loan facility upto 90 per cent is available on the deposit while 75 per cent to the third party deposit
Nomination facility available
Earn higher returns on the money deposited
Interest on deposit is paid only at the time of the maturity
Who is eligible?
Resident Indians, private or public limited company, hindu undivided family, trust and partnership firm
Multi Deposits
Description:
A flexible deposit scheme which promises higher returns and at the same time provides liquidity wherein the customer can withdraw funds whenever required.
Interest on deposit is compounded quarterly
Earn attractive interest rate on your deposit
Who is eligible?
Resident Indians, private or public limited company, hindu undivided family, trust and partnership firm
Senior Citizens Deposit
Description:
Specially designed account for senior citizens offering higher rates of interest as compared to accounts for other individuals.
Opportunity to earn higher rate of interest
Nomination facility available
Convenience of booking deposit through internet banking for RBL account holders
TDS facility available on the deposit
Who is eligible?
Resident Indians above 60 years of age
Tax Saver Deposits
Description:
The scheme has been designed to help the resident individuals, HUFs, minors and senior citizens to save tax along with great returns by investing into this fixed deposit.
Interest will be compounded on a quarterly basis
Nomination facility available
Interest on the deposit is liable to tax / TDS
Availability of auto renewal facility
Who is eligible?
Resident Indians and hindu undivided family
Citibank FD Interest Calculator
Citibank fixed deposit rates calculator helps you to calculate maturity value of your deposited amount at the interest rate offered compounded at quarterly. FD maturity amount that you will get depends on the following four parameters
Deposit amount – This is the initial amount deposited by a customer in Citibank. Bank may offer higher interest rate on larger deposits. Citibank offers deposit amount in the range of Rs. 1,000 to No Limit.
Rate of Interest - Interest rate is the rate charged by the bank on your fixed deposit. Citibank offers a higher rate of interest on fixed deposits of longer tenure and lower interest rate on deposits held for a shorter period. Highest interest rate offered by Citibank is 5.25% for deposit amount below Rs. 1 crore and the lowest interest rate offered by Citibank is 3.00%
Period of deposit - Bank offers low interest rate for short tenure FDs and higher interest rate for long tenure FDs. Bank offers a rate of 3.00% for a 7 Days FD and a rate of 3.00% for a 10 Years Years FD.
Interest Compounding Frequency - This calculates maturity amount based on monthly, quarterly, half yearly or annual frequency.
Illustration: Mr. A opens a FD account of Rs. 1 lakh with a tenure of 7 Days at an interest rate of 3.00%. In this case, the maturity amount at the end of 7 Days will be Rs. 100,057 and includes the principal and total interest earned on the principal amount during the period at Rs. 57. Similarly, you can calculate the interest and maturity amount for higher tenures by using FD calculators.
Citibank calculates interest earned on its fixed deposits on quarterly basis.
FD in Citibank – Premature Withdrawal
Premature closure of Term Deposit with Citibank is along with the lower interest rate of 1% than the contracted rate. The penal provisions for premature closure on Citibank FD are subject to change from time to time and may also vary with deposit schemes.
Loan against Fixed Deposit Citibank
Citibank offers loan up to 90% against its own deposit. Note that Citibank will not give you loan against FD of any other bank.
Maximum loan tenure is restricted up to the maximum tenure of the FD.
Illustration - Mr. Rahul has opened a fixed deposit of Rs. 100,000 for 2 years in Citibank. The borrower later decided to take loan against his FD. The bank has approved a credit limit of 90% against his FD at 10% interest rate. Now, if the borrower draws Rs. 90,000 on the first of the month and then repays the money on the 1st of next month, then he is supposed to pay the interest on Rs. 90,000 availed for 1 month only. The amount he repays after 1 month is Rs. 90,744. So, the interest charged on the loan taken is Rs. 744.
Documents required to open Fixed Deposit Account in Citibank
FAQs on Citibank Fixed Deposit
What is the highest interest earned on Citibank fixed deposit?
You can earn a maximum interest of 5.25% on Citibank fixed deposit.
Are there any extra benefits for senior citizens on fixed deposit of Citibank?
Yes, senior citizens get a higher rate on their deposits compared to FD rates. The rate of regular FD are in the range of 3.00% to 5.25%. Compared to this, the rate of senior citizens FD are in the range of 3.50% to 5.75%.
What is the tenure range for Citibank Fixed Deposit?
The tenure ranges from 7 days to 10 years.
Is there any minimum amount that I have to give for opening a Fixed Deposit with Citibank?
The minimum deposit amount required to book an FD with Citibank is Rs. 1,000.
Can I deposit additional amount in my FD account?
No, you cannot deposit any additional amount in your existing FD account as you are allowed to deposit only once at the time of opening the account. If you want to invest any additional amount in FD, you are required to open a new FD account.
Who is eligible for opening an FD account in Citibank?
All resident individuals, HUFs, NRIs, Firms including minors are eligible to open a fixed deposit account.
What documents are required to open an FD account in Citibank?
The documents required to open an FD account in Citibank includes PAN Card2 Photographs.
Is it possible to change the tenure of my existing fixed deposit account with Citibank?
No, it is not possible to alter the tenure selected for the fixed deposit account once the account is opened. However, you may close your existing fixed deposit account and can open a new account with a desired tenure of your choice.
What are the implications of opening an FD bank account without having PAN?
Following are the implications for the customers opening an FD account with Citibank without their PAN card
TDS will be deducted at the rate of 20% as against 10% under section 206AA
NO TDS credit from the Income Tax department
NO TDS certificate will be issued
Form 15G/H and other exemption certificates will be invalid and penal TDS will apply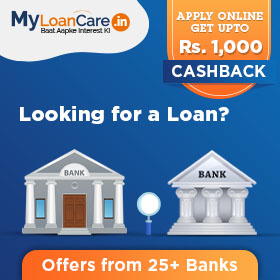 ---
*Terms and conditions apply. Credit at sole discretion of lender subject to credit appraisal, eligibility check, rates, charges and terms. Information displayed is indicative and from collected from public sources. MyLoanCare is an independent professional service provider and is not related to the government or government bodies or any regulator or any credit information bureau in any way. Information carried at this website is not and should not be construed as an offer or solicitation or invitation to borrow or lend. The Company does not undertake any liability with respect to the correctness of the content, information and calculations. Information is subject to change without notice. By submitting your query or using any tools or calculators, you authorize MyLoanCare to share your information with lender(s), consent for such lender(s) to access your credit information report and contact you regarding your query overriding your number being in National Do Not Call Registry. This is a free service and no charges are payable by the borrower to MyLoanCare. The Company may receive remuneration from lenders for services provided to them.