FD Interest Calculator
Last Updated 19th Aug 2017
Fixed Deposit Calculator in India Aug 2017
FD calculator calculates the maturity value of the deposited amount depending upon various factors
Deposit Amount – This is the amount which you invest once in your FD account. Minimum deposit amount should be Rs. 1,000.
Interest Rate – FD rates vary depending upon deposit tenure.
Deposit Tenure – Maturity value also depends on the period for which you invest your money in FD. Generally, FD tenure ranges from 7 days to 10 years.
Interest Compound Frequency – This calculates maturity amount based on monthly, quarterly, half yearly or annual frequency.
Compare Offers
and
Apply Loan Online
Get CashBack Upto
Rs.5,000
Assisted Digital Service
---
FD Interest Rate Calculator
Deposits are of two types – periodic interest payout and cumulative.
Periodic Interest Payout - In this option, you would receive a fixed interest at the end of every period (say, a quarter). The interest amount would remain unchanged through the tenure of the FD. Entire principal would be repaid at the end of the period.
Cumulative deposit - You may remember having studied "compound interest" in middle school. Say, you place a deposit of Rs. 10,000/- with Bank A at 10% p.a. for 3 years. Now, how much money would you get at the end of 3 years?
Is it Rs. 10,000 in principal plus 10% interest or Rs. 1000 multiplied by 3? That comes to Rs. 13,000. However, if you use the FD calculator here, the result will be Rs. 13,449. Why does bank pay you this extra Rs. 449? This is the compounded FD interest.
In simple terms, interest on bank FD's is typically compounded quarterly. So, a 10% per annum rate of interest means 2.5% per quarter. At the end of first quarter, the bank credits Rs. 250 to your deposit account and in the next quarter, the interest payable is 2.5% on Rs. 10,250 and not on Rs. 10,000. This process repeats itself for 12 quarters and earns you a total compound interest of Rs. 3,449.
More the compounding frequency, higher the interest a customer earns on FD. So, instead of quarterly compounding, if the above FD was on monthly compounding basis, the interest amount would be Rs. 3,482 instead of Rs. 3,449 with quarterly compounding.
In the context of fixed deposits, FD interest compounding refers to earning interest on the interest itself! Slightly complicated but then you make more money this way!
Income Tax on Fixed Deposit Interest
Interest income from FD's is taxed at tax rate applicable to the deposit account holder. So, depending upon your tax bracket, out of the 10% that your bank pays on your deposit, you may have to pay upto 33.99% of that to the government for it to run the country.
One word of caution - interest on deposits is to be taxed on an accrual basis and not a receipt basis. Say, you place a cumulative deposit with a bank for 5 years and hence will receive interest only at the end of five years. Still, you must pay tax on the accrued interest for each of the years in that year itself.
Tax Deduction (TDS) on FD interest
Banks are required to deduct tax at source (TDS) at the rate of 10.30% on interest paid (accrued) on FD's when the interest exceed Rs. 10,000/- in a financial year. This is calculated with all branches of the same bank taken together.
In case of companies, they must deduct TDS at 10.3% on deposits when the interest earned in a year exceed Rs. 5,000/-.
Frequently Asked Questions on FD Calculator
What is the minimum amount that can be deposited into a FD account?
You can deposit a minimum amount of Rs. 1,000 in FD account but there is no upper cap on deposit amount.
Are there any extra benefits for senior citizens on fixed deposit?
Yes, senior citizens get extra benefit of higher interest rates on their FD.
What is the minimum and maximum tenure for which I can open an account in FD?
You can open a fixed deposit account for minimum 7 days and maximum upto 10 years although it may vary bank to bank.
When do I become accountable for tax?
As per Income Tax Act, 1961 under section 194A when the interest earned on FD in a financial year exceeds Rs. 10,000, TDS is applicable on the credited interest.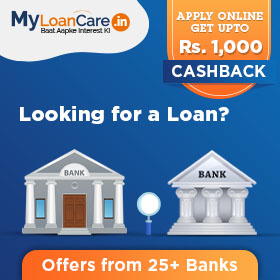 2017-08-03 :

Bank FD rates to fall as RBI cuts rates

Fall in repo rate cut by RBI is likely to bring down the FD rates. This move by the RBI is expected to hit the retirees and other investors who rely heavily on the fixed income products including the bank fixed deposits. At present, the bank's FD rates are already lying very low and are expected to come down further in future.

2017-07-24 :

Home loan, fixed deposit interest rates might sink further

RBI is likely to announce reductions in the repo and statutory liquidity ratio (SLR) rates in its bi monthly policy review on 2nd August, 2017 which will help the banks to announce lower interest rates on home loans and fixed deposits. Fixed deposits interest rates are likely to be reduced by around 15 to 30 basis points on an average. However, a range of the interest rate cut on home loans has yet not been decided.

2017-07-18 :

Investors may soon get to trade shares and commodities with one account

Sebi has amended regulations to simplify the process of retail investors to trade in shares and commodities. Under the arrangement, brokers and sub-brokers will be able to trade between different commodities and shares through one account and hence, ease out the process of trading between different commodities. The move is expected to benefit large brokerage firms as well as equity markets besides providing benefit to the retail customers.

2017-07-06 :

SBI reduces fixed deposit rates by 0.50 per cent

Private sector lender, State Bank of India (SBI) has cut its fixed deposit rates by 50 basis points for various maturities. The rates have been cut on one year FD to 6.75 per cent from 6.9 per cent earlier while on fixed deposits with maturity ranging between one year and 455 days, the rate have been cut to 6.5 per cent from 6.9 per cent. For two to less than three years fixed deposits, SBI will now offer a rate of 6.25 percent as compared to 6.75 percent while the deposit rates for senior citizen have been cut to 6.75 percent from 7.25 percent. The revised rates are effective from 1st July, 2017.
*Terms and conditions apply. Credit at sole discretion of lender subject to credit appraisal, eligibility check, rates, charges and terms. Information displayed is indicative and from collected from public sources. MyLoanCare is an independent professional service provider and is not related to the government or government bodies or any regulator or any credit information bureau in any way. Information carried at this website is not and should not be construed as an offer or solicitation or invitation to borrow or lend. The Company does not undertake any liability with respect to the correctness of the content, information and calculations. Information is subject to change without notice. By submitting your query or using any tools or calculators, you authorize MyLoanCare to share your information with lender(s), consent for such lender(s) to access your credit information report and contact you regarding your query overriding your number being in National Do Not Call Registry. This is a free service and no charges are payable by the borrower to MyLoanCare. The Company may receive remuneration from lenders for services provided to them.