Fixed Deposit Interest Rates Sep 2017 - SBI, HDFC, ICICI Bank, PNB and others
Last Updated 25th Sep 2017
Fixed Deposit Rates in India
FD calculator calculates the maturity value of the deposited amount depending upon various factors
Fixed deposit is a fixed income instrument whereby the depositor earns interest at a fixed contracted interest rate for a defined period.
Interest rates on fixed deposits vary from bank to bank and based upon tenure of the fixed deposit and in some cases even by the amount deposited.
While the interest rate payable remains fixed for the period of the deposit, the rates offered for fresh deposits and for renewals may vary from time to time.
Interest may be paid either periodically (say, quarterly or half yearly or annually) or on maturity.
Interest is usually compounded quarterly in case of fixed deposits issued by banks.
Compare Offers
and
Apply Loan Online
Get CashBack Upto
Rs.5,000
Assisted Digital Service
Compare Fixed Deposit Rates and Calculators in India
---
Comparison of Banks and institution FDs
| | Bank FD | NBFC FD, HFC FD | Corporate FD |
| --- | --- | --- | --- |
| Safety | Highest | Typically lower than banks | Typically lower than banks |
| Credit rating | Not required | Mandatory | Mandatory |
| Interest Rates | Market linked, lower than other FD's | Typically higher than banks but linked to credit rating | Typically higher than banks but linked to credit rating |
| FD Tenure | Few days to 10 years | 1 year to 5 years | 1 year to 5 years |
| Options available | Non cumulative and cumulative | Non cumulative and cumulative | Non cumulative and cumulative |
| Coverage under DCGCI | Yes | No | No |
| Security | None | None | None |
| Loan against FD | Available at 0.5 – 1.0% over FD rate | May be available | Not available |
| Flexi/ Sweep facility | Offered by many banks | Not available | Not available |
| Frequency of interest compounding | Quarterly | May vary | May vary |
| Tax deduction at Source (TDS) | On interest income of more than Rs. 10,000/ - for a PAN in one bank across branches | On interest income of more than Rs. 5,000/ - for a PAN | On interest income of more than Rs. 5,000/ - for a PAN |
| Tax Benefit | Available on principal amount for long term deposits under Section 80-C | None | None |
| Availability | Always on tap | From time to time | From time to time |
| Renewal | Always possible at then interest rates | From time to time | From time to time |
| Nomination Facility | Available | Available | Available |
| Employee FD's | > Available; slightly higher interest (upto 0.5%) may be offered | Available; slightly higher interest (upto 0.5%) may be offered | Available; slightly higher interest (upto 0.5%) may be offered |
| Special schemes for senior citizens | 0.25% to 1.0% higher interest rates | 0.25% to 1.0% higher interest rates | 0.25% to 1.0% higher interest rates |
| Shareholder FD's | No extra benefit | Slightly higher interest may be offered in some cases | Slightly higher interest may be offered in some cases |
Are fixed deposits secured?
Fixed deposits are not secured. However, deposits (including all types of deposits with a bank) of an individual or entity upto Rs. 100,000 with banks are guaranteed by the Deposit Insurance and Credit Guarantee Corporation (DICGC).
Fixed Deposit Features
FD allows an individual to earn higher interest rate on surplus money as compared to normal saving accounts which earns only 4-6% p.a.
Its period can range from a few days to 10 years.
A separate deposit is issued each time an amount is deposited as FD. However, there is no limitation on how many FD's one can open.
Depositor gets a fixed deposit receipt (FDR), which he/ she have to return to the bank at the time of maturity.
Bank Fixed Deposit's can be renewed if the depositor so desires. The fixed deposit rates applicable at the time of renewal (and not the FD interest rates at which the earlier FD is placed) will apply. FD's issued by other entities may or may not be renewed depending upon their requirements.
An individual can avail loans against fixed deposit from the same bank from which the FD has been issued. Loans against a bank's own FD are exempt from base rate benchmarked pricing and hence can be offered below base rate also. Typically banks offer loans against FD at 0.5 % to 1.0% above FD rate.
Part withdrawals are not allowed. However, in case of emergency an individual can close the fixed account prior to maturity date. In such cases, bank may charge a penalty to the investor and the rate of interest will change for the period. Let's say Anita invested in an FD for, say, 6 years with interest rate of 8% with a bank in India but decided to withdraw the deposit after 2 years. The interest payable to Anita will be 1 – 2% less than the interest rate applicable on the date of deposit for 2 year tenure (says 7.5%). So, instead of the contracted rate of 8%, Anita will earn interest at 5.5% to 6.5%.
Who can issue a fixed deposit?
A fixed deposit may be issued by any of the following entities:
Scheduled banks operating in India including public sector banks, private banks and foreign bank branches operating in India
Deposit taking NBFC's permitted by the RBI to accept deposits
Housing Finance Companies regulated by the National Housing Bank
Public Sector Companies and Undertaking
Private Sector Companies
Cooperative banks
Bank Fixed Deposits - Advantages
Fixed return; no risk of lower return irrespective of market movements.
Higher interest rate compared to savings bank account.
Loan facility against FD from the same bank at low rates.
Channelizes surplus capital towards economic development of the country.
Safety and security of principal and interest.
Fixed Deposit Account - Disadvantages
Potentially lower returns compared to other investment options.
Penalty applicable in case of premature withdrawal.
No hedge against inflation in the economy.
Bank Fixed Deposit – Things to know
Compare fixed deposit rates of all banks.
Compare FD rates of non banks like NBFC's, HFC's and private companies in case you have higher risk appetite and can forego liquidity.
Check frequency of compounding when comparing FD rates. Always try and compare effective rates on same basis of compounding.
Mode of interest pay out and FD maturity – prefer direct credit to bank account to avoid delays and cheque handling.
Understand pre mature withdrawal facility offered on chosen FD and its penalty, if any
Find out if the bank offers auto sweep facility
Eligibility to open a fixed deposit account
Individual depositors above 18 years of age and having a PAN
Hindu Undivided Family (H.U.F) with a separate PAN
Minors (those below 18 years of age) under guardianship of a guardian more than 18 years old
All depositors must satisfy RBI mandated KYC guidelines which include identity proof, age proof and address proof, among others.
Renewal of Fixed Deposit
On maturity, the customer may renew the bank deposit by contacting the branch. Customer can also place an auto renewal request with the bank for either the maturity amount or only the principal component (in which case the interest, subject to TDS, will get credited to the depositor's bank account).
Corporate, NBFC and HFC renewals are dependent upon their then existing policies.
Nomination facility on Fixed Deposits
All deposit accepting banks, NBFC's, HFC's and corporates offers nomination facility.
Nominee is a person who claims the deposit upon depositor's death.
Without a nominee, money in Fixed Deposit account will not be automatically transferred to the account-holder's next of legal heirs and the claimants will need to establish their bonafide with the bank.
Nominations can be changed or cancelled by the FD account holder.
Loan against Fixed Deposit
Banks offer facility of loan against FD. This is particularly helpful if the fixed deposit is for a long term and the requirement of funds is only for a brief period making it unattractive to break the fixed deposit. Loan against FD can be availed only from the same bank at which the deposit is placed.
Most banks allow loans upto 90% of the value of the fixed deposit.
Tenure for loan has to be within the balance maturity of the deposit.
The interest rate on a loan against Fixed Deposit is usually 0.5% – 2% above the interest rate on the deposit. Loans against bank's own deposits are exempt from base rate and hence cane b offered below the bank's base rate also.
Loan against Fixed Deposit can typically be availed even if the applicant has a poor credit history or CIBIL record and a low CIBIL score. Regular repayment of loan against FD may also help improve one's CIBIL score.
Tax Saving Fixed Deposits
This is a special type of fixed deposit where the investor gets tax deduction on principal invested under Section 80-Cwhen they invest a sum of money in the deposit. The maximum benefit is available up to an investment of Rs. 1 Lakh with a lock-in period of 5 years. Different banks offer different schemes under this category. Interest rate may vary from bank to bank and the deposit amount. Premature withdrawal is not allowed under this category. However, if the deposit is encashed before maturity, the amounts held under this scheme do not qualify for deductions.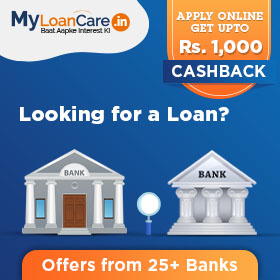 2017-09-19 :

Bajaj Finance announces to offer 8.1 per cent interest rate on FD to seniors

One of the leading non banking financial companies (NBFCs), Bajaj Finance has announced to offer 8.10 per cent interest on fixed deposits and for others it will offer a rate of 7.85 per cent. The move follows the government's recent announcement that it will offer a fixed 8 percent returns on 10 year bank deposits of up to Rs 7.5 lakh.

2017-09-12 :

Bajaj finance offers highest interest rate of 8.10 per cent on its fixed deposit to senior citizens

Leading non banking financial company, Bajaj Finance is offering an attractive interest rate of 8.10 per cent on its fixed deposits. The NBFC is offering a higher rate of interest to the senior citizens for an amount as low as Rs. 25,000.

2017-08-28 :

You may be under Income Tax radar for earning Rs. 5 lakh from fixed deposit

The Income Tax department will tighten its noose on individuals who are getting high returns on their fixed deposits investments but are not paying the taxes. For this purpose, the IT department is planning to watch closely over those individuals including senior citizens, those who are earning interest income of Rs. 5 lakh and above from fixed deposits.

2017-08-28 :

Bajaj Finance reports growth in fixed deposit

One of the leading NBFCs, Bajaj Finance has reported a significant growth in their fixed deposit in the first quarter of current FY18. Deposit witnessed a rise of 74 per cent to Rs. 5,095 crore during Q1 of FY18. The company intends to take this to 20-25 per cent in the next 5 years and will continue to leverage its better operational efficiencies to offer fixed deposits at the best interest rate.

2017-08-03 :

Bank FD rates to fall as RBI cuts rates

Fall in repo rate cut by RBI is likely to bring down the FD rates. This move by the RBI is expected to hit the retirees and other investors who rely heavily on the fixed income products including the bank fixed deposits. At present, the bank's FD rates are already lying very low and are expected to come down further in future.
*Terms and conditions apply. Credit at sole discretion of lender subject to credit appraisal, eligibility check, rates, charges and terms. Information displayed is indicative and from collected from public sources. MyLoanCare is an independent professional service provider and is not related to the government or government bodies or any regulator or any credit information bureau in any way. Information carried at this website is not and should not be construed as an offer or solicitation or invitation to borrow or lend. The Company does not undertake any liability with respect to the correctness of the content, information and calculations. Information is subject to change without notice. By submitting your query or using any tools or calculators, you authorize MyLoanCare to share your information with lender(s), consent for such lender(s) to access your credit information report and contact you regarding your query overriding your number being in National Do Not Call Registry. This is a free service and no charges are payable by the borrower to MyLoanCare. The Company may receive remuneration from lenders for services provided to them.