EPFO Member Portal Login
Employee Provident Fund Organisation
Last Updated 05th Aug 2020
Employee Provident Fund Organization was established in 1952, due to the Employee's Provident Funds and Miscellaneous Provisions Act, coming into effect.
Both Employee and Employer can log in on the EPFO member portal.
Before logging in to your account, getting a UAN is mandatory.
The portal to log in for employee and employer is same.
Covid-19 Relief Atmanirbhar ₹ 20,00,000 Crore Package ( 13th May 2020 ): EPF contribution has been reduced to 10% from existing 12% for both employee and employer for next 3 months (Read Details)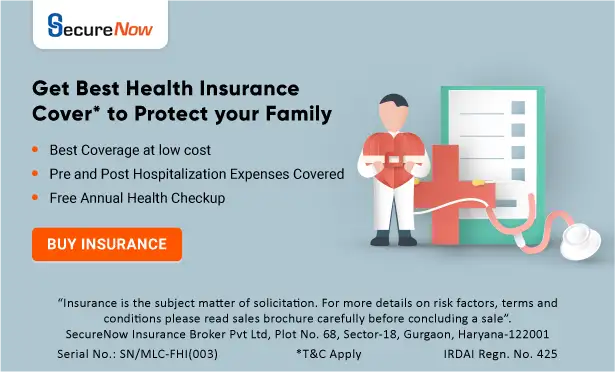 EPFO
Employee's Provident Fund Organization (EPFO), was established on 4th March, 1952. It functions as assistance to the central government to administer the compulsory contribution to Provident Fund Scheme, Pension Scheme, and an Insurance Scheme or the workers in the organized sector. It operates under the Ministry of Labour and Employment.
Before making EPFO login, you need to create your ID and password on the EPFO portal. The official website of EPFO is convenient and easy to navigate through.
Covid-19 Relief Aatamnirbhar ₹ 20,00,000 Crore Package ( 13th May 2020 )
EPF contribution has been reduced to 10% from existing 12% for both employee and employer for next 3 months.
EPF support for workers eligible under PM Garib Kalyan Package (PMGKP)
EPF to be deposited by Govt of India - For eligible establishments, 12% contribution of employer and 12% employee contributions was made by govt of India for the salary month of March, April and May 2020. Now this support will be extended by another 3 months to salary months of June, July and August 2020.
This scheme is applicable only for those who have less than 100 employees in their company and 90% of these employees have a monthly income of less than ₹ 15,000.
Workers who are not eligible under PM Garib Kalyan Package
EPF rate reduction - Statutory PF contributon of both employer and employee has been reduced to 10% each from existing 12% each for all establishments covered by EPFO for salary months of June, July and August 2020.
EPF rate for Govt employees - CPSEs and State PSUs will continue to contribute 12% as employer contribution.
Steps to Login to EPFO Portal
For anyone to login into the EPFO portal, the first and foremost requirement is to activate their UAN. It is Universal Account Number (UAN), which is allotted to each member of the EPF scheme, whether it is an employee or employer. If you are an employee, then you can take your UAN from your employer, or you might find it on your salary slip. Let us understand the EPFO member login process.
EPFO Employer Login
To facilitate every industry and help employers of every industry to transfer claims conveniently, EPFO or Employee Provident Fund Organisation has provided online space to the employers. Employers can log in to the web portal of EPFO to avail online services. The services which are provided to them include online registration of the establishments, filing monthly returns, and online payments of different charges. Member passbook, Establishment Search, TRRN ( Temporary Return Reference Number), and Employer Dashboards are some of the most frequent services which are available on the portal.
The steps for EPFO employer login are:
Step 1: First of all, you need to visit the EPFO employer login page. The link to EPFO unified portal login is https://unifiedportal-emp.epfindia.gov.in/epfo/#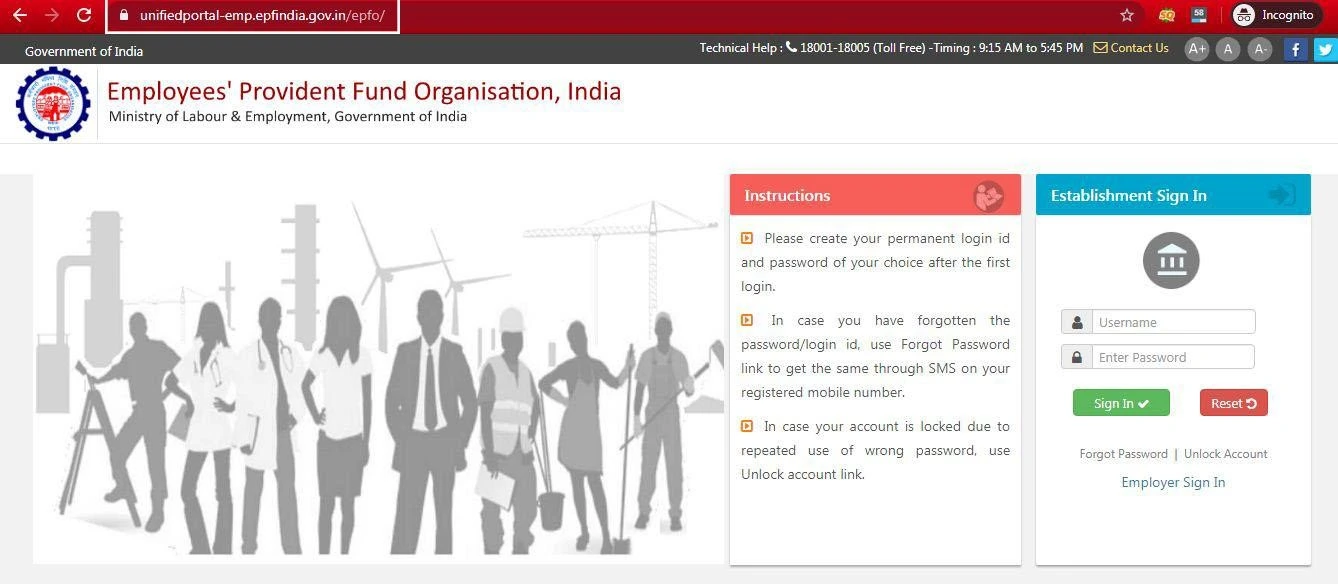 Step 2: Then 'Sign In' using the username and password.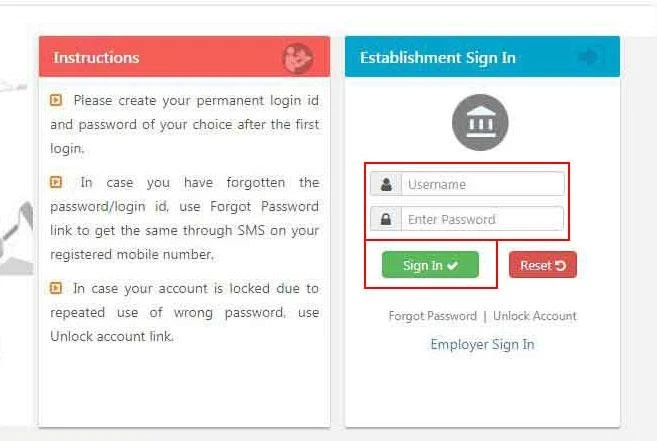 Step 3: On the next page, you will get the main page of the employer's EPFO portal. On this, you can approve the KYC details of employees.
Major Functions of EPFO Employer Portal:
Adding a New Employee and Activate their UAN.
Filing ECR (EPF Return).
Approve Employees KYC through Digital Signature.
Approve EPF amount transfer of an employee.
Transfer Old PF Account to New PF Account.
EPFO Employee Login
To provide better service to every employee, EPFO has offered information regarding all the available services online on its web portal. Employees can also download all the necessary forms to avail the benefits of various schemes provided by EPFO. Apart from knowing the status of their claim, employees can also view their passbook online. EPFO also has a separate portal for the pensioners. Pensioners can not only know about their pension status but also raise any query through the portal. 
The steps to EPFO login for the employee are:
Step 1: First of all, visit the EPFO website: https://www.epfindia.gov.in/site_en/index.php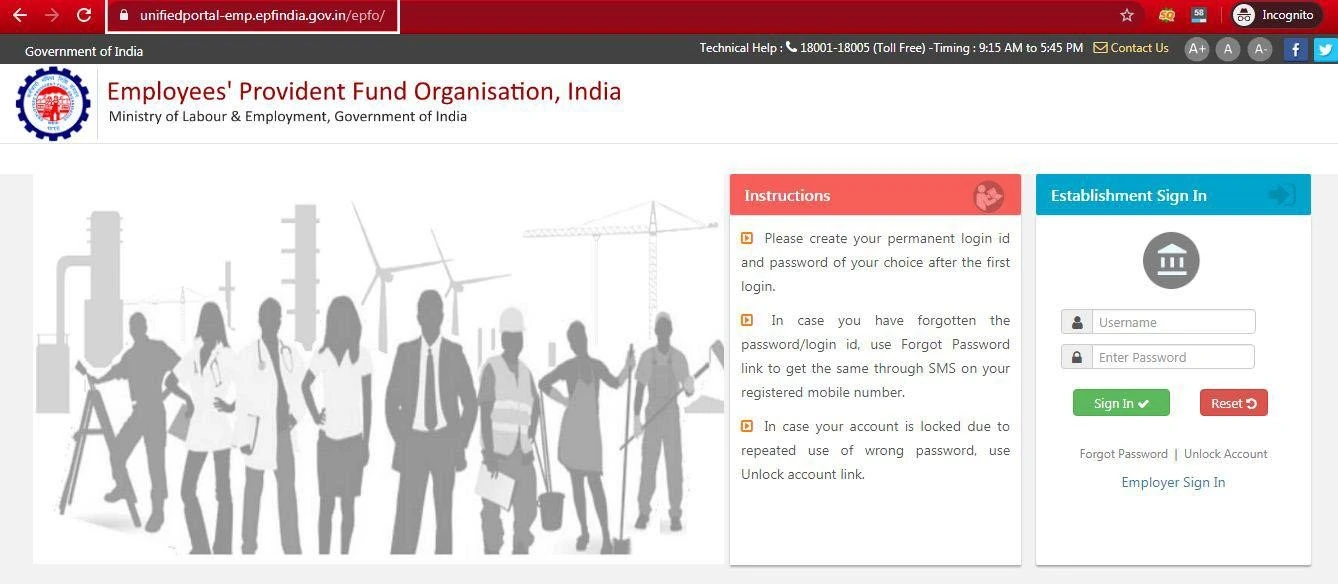 Step 2: Now click on 'For Employees' under 'Our Services'.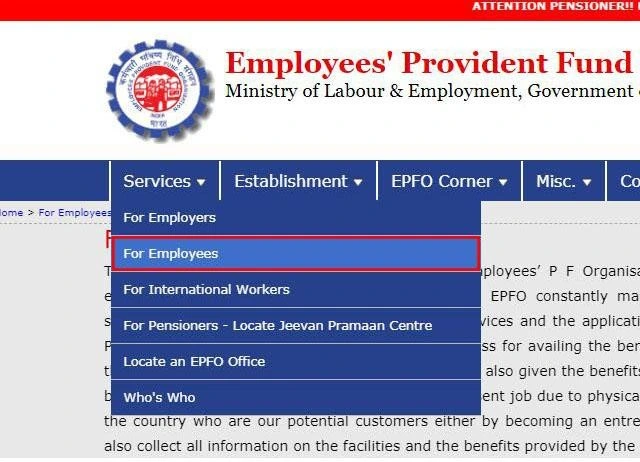 Step 3: On the next page under 'Services', click on 'Member UAN/Online Service (OCS/OTCP).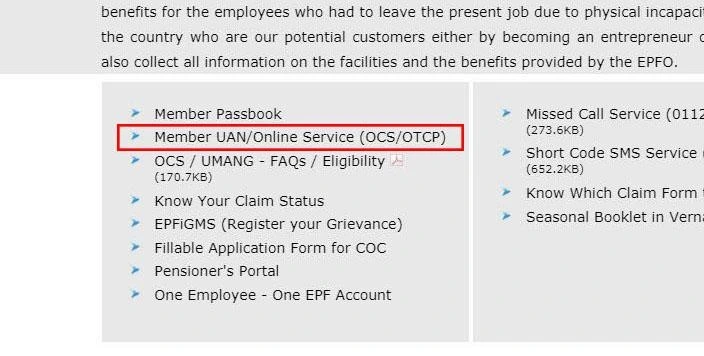 Step 4: In the next page, enter the UAN, password, and captcha and click on 'Sign In'.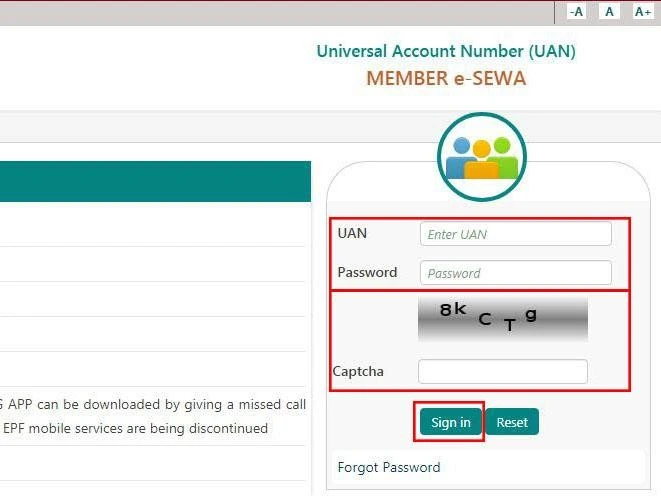 You will be followed to the main page of the Employee's EPFO portal. Here you can do your EPF balance check, claim PF amount, transfer PF amount, and update KYC.
In January 2020, EPFO launched a new feature through which employees will be able to update their exit date from the previous organization. The exit date is needed to be updated on the EPF employee login along with the date of joining with a new employer for the purpose of transferring the funds online.
EPFO Schemes
Considering the number of members and the financial transactions involved, EPFO is one of the world's biggest Social Security Organizations in the world. It includes three schemes:
a) Employee's Pension Scheme: Contribution under this scheme is made for members to be used after retirement or for their nominees to receive the money after the member has passed away.
Under this scheme, use Form 10D for monthly pension, and Form 10C for withdrawal benefits and scheme certificate.
b) Employees Provident Fund: Under this scheme, each month's contributon is accumulated from employee and employer to be used by the individual at the time of retirement. However, partial withdrawals are also allowed in certain cases.
Under this scheme, use Form 19 for the final settlement. Form 31 for withdrawal in certain cases, Form 13 for transfer of an old account to a new one. Form 20 for final settlement in favor of nominee or beneficiary of the deceased member, and Form 14 for financing LIC policy.
c) Employees Deposit Linked Scheme: As per this scheme, the benefit is provided to the family members of the individual in case he/she passes away while being a member of EPFO. The benefit is upto 20 times the salary of employee or ₹ 6,00,000 whichever is lower.
Under this scheme, use Form 5IF for claiming the insurance benefit in case of a member's death. It can only be used by the beneficiary or nominee.
EPFO Help Desk
EPFO has created a separate portal for handling the queries related to UAN and EPF related issues. For availing its services, you need to register on the portal bu entering details like UAN, PAN, and Aadhaar number.
The toll-free number of EPFO help desk is 1800118005.
FAQs
✅

Can a member pay more than the mandatory 12% share towards EPF? 

Yes, as a member, you can contribute more than the mandatory 12% share towards your EPF. However, the total contribution in a month from your side cannot exceed ₹ 15,000. 
✅

What is the benefit of having a UAN?

You can use UAN for multiple things like getting a printed passbook, checking EPF balance through various channels like SMS, online login, missed call or the mobile app. 
✅

In case I want to file a transfer claim, do I have to register on the member portal?

Yes, to file a transfer claim, you have to register on the member portal.
✅

Can I edit details such as the father's name, date of joining, and relationship on the EPFO portal?

No, you cannot edit details such as father's name, date of joining, relationship, date of birth, as it is entered in the EPFO database.
✅

What is the employer's and employee's contribution to EPF?

Both employee and employer contribute 12% of employee's salary for EPF. The entire employee's contribution is towards EPF, while 8.33% employer's contribution goes for the pension scheme and the remaining towards EPF.
✅

Who will receive the pension in case of a member's death?

In case of a member's death, his/her spouse and children, a maximum of 2 at a time, will receive a pension till the age of 25.
✅

In case the settlement of PF amount is not done within 20 days, where can I report?

You can report the matter to Regional P.F. Commissioner in charge of the grievances department. You can also file a complaint on the website using the EPFiGMS feature under 'For Employees'. You can also opt for appearing before Commissioner on 10th of every month under 'Nidhi Apke Nikat' program.
✅

How to transfer my account if I have changed job?

In case of job change, you can submit Form 13(R) and submit the claim for transfer online on the unified portal by logging in to his/her account.
✅

How long can an employee contribute towards his EPF?

There is no specific limit with regards to the period till which an employee can contribute towards EPF. However, if no contribution is made in EPF for 3 consecutive years, then no interest will be earned after the said period.
---
2020-07-29 :

EPFO updates KYC details for over 73 lakh members during April-June


The labour ministry reported that, retirement fund body EPFO has updated Know Your Customer details for 73.58 lakh subscribers during the April-June period amid novel coronavirus outbreak and subsequent nationwide lockdown in order to curb the virus spread. This updation includes Aadhaar seeding for 52.12 lakh subscribers, mobile seeding for 17.48 lakh subscribers and bank account seeding for 17.87 lakh subscribers.

2020-07-02 :

Government kept interest rates unchanged for small savings schemes


The government has kept interest rates unchanged for small savings schemes, including that of PPF and Senior Citizens' Savings Scheme, for the July-September quarter. Post office savings accounts will continue to fetch 4% interest. The PPF rate has been held at 7.1%.

2020-07-02 :

Auto-debit facility restarts, penalty rules eased


The auto-debit facility for contributions towards Atal Pension Yojana has resumed this month. In addition to this, no penalty will be levied if Atal Pension Yojana contributions from April 2020 to August 2020 are regularised before September 30, 2020.

2020-06-29 :

PFRDA introduces OTP-based onboarding for NPS scheme


PFRDA introduces OTP-based onboarding for NPS scheme. The move was taken to facilitate the ease in opening an NPS account through OTP.

2020-06-16 :

EPFO introduced multi-location claim settlement facility


The Retirement body EPFO launched a multi-location claim settlement facility. The facility is aimed towards ensuring uniform standards of service delivery across the country and optimum utilisation of its workforce during COVID-19 pandemic.
*Terms and conditions apply. Credit at sole discretion of lender subject to credit appraisal, eligibility check, rates, charges and terms. Information displayed is indicative and from collected from public sources.
MyLoanCare is an independent professional service provider and is not related to the government or government bodies or any regulator or any credit information bureau in any way. Information carried at this website is not and should not be construed as an offer or solicitation or invitation to borrow or lend. The Company does not undertake any liability with respect to the correctness of the content, information and calculations. Information is subject to change without notice. By submitting your query or using any tools or calculators, you authorize MyLoanCare to share your information with lender(s), consent for such lender(s) to access your credit information report and contact you regarding your query overriding your number being in National Do Not Call Registry. This is a free service and no charges are payable by the borrower to MyLoanCare. The Company may receive remuneration from lenders for services provided to them.
Read More
Read Less