Doctor loan Interest Rates - HDFC, SBI, Bajaj, ICICI Bank, All Banks
Last Updated 21st Aug 2017
Lowest Doctor Loan Interest Rates in India Aug 2017
Doctor loans range from Rs. 50,000 to Rs. 10,000,000
Avail lowest Doctor loan interest rates starting @ 11.25%* onwards
Personal loan for doctor's eligibility depends upon income/salary, and capacity to repay the loan
Avail doctor loan for buying new equipments, diagnostic tools or for setting up a new clinic
Maximum loan tenure ranges for a longer period upto 5 years i.e. 60 months
Apply for doctor loan online and avail attractive cashback upto Rs. 2,500
Apply Doctor Loan @ 11.25%*
Compare Offers
and
Apply Loan Online
Get CashBack Upto
Rs.2,500
Assisted Digital Service
Doctor Loan Interest Rates Comparison, Lowest EMI Aug 2017, Best rates
Bank
Doctor Loan Interest Rates*
Lowest EMI per Rs. Lakh for Max Tenure
SBI (3.3/5.0)

2 Users

10.00% - 15.00%
Rs. 1,660 for 84 months
Explore More Apply Now
HDFC Bank (3.8/5.0)

3 Users

11.25% - 14.50%
Rs. 2,187 for 60 months
Explore More Apply Now
ICICI Bank (3.3/5.0)

2 Users

12.50% - 12.50%
Rs. 2,250 for 60 months
Explore More Apply Now
PNB (3.6/5.0)

2 Users

11.20% - 11.20%
Rs. 1,723 for 84 months
Explore More Apply Now
Bajaj Finserv (3.5/5.0)

3 Users

NA
NA
Explore More Apply Now
Capital First (3.5/5.0)

1 Users

12.50% - 12.50%
Rs. 2,658 for 48 months
Explore More Apply Now
Bank of Baroda (5/5.0)

1 Users

10.85% - 11.35%
Rs. 2,167 for 60 months
Explore More Apply Now
Bank of India
10.80% - 11.80%
Rs. 3,264 for 36 months
Explore More Apply Now
Corporation Bank
10.75% - 11.50%
Rs. 1,363 for 120 months
Explore More Apply Now
Central Bank of India
10.75% - 11.00%
Rs. 1,699 for 84 months
Explore More Apply Now
Dena Bank
10.10% - 10.60%
Rs. 1,665 for 84 months
Explore More Apply Now
Union Bank of India
12.00% - 12.00%
Rs. 1,765 for 84 months
Explore More Apply Now
IDBI Bank
NA
NA
Explore More Apply Now
Documentation for Doctor Loan
| For Salaried Persons | For Self Employed/Professionals. |
| --- | --- |
| Filled Application form | Filled Application form |
| Identity Proof (PAN CARD) | Identity Proof |
| Qualification Proof | Address Proof |
| Own house proof | Qualification Proof |
| Latest 3 months Pay- slips | Last 2 years Income Tax Returns |
| 2 Passport Size color Photographs | Professional/Self employed existence proof for more than 3 years |
| Address proof | 2 Passport Size color Photographs |
| 6 months Bank Statements | 6 months Bank Statements |
Frequently Asked Questions on Doctor Loan
What is a Doctor Loan?
Doctors are life savers and highly respected individuals. They spend years of hard work and lots of money to become Doctor and master the profession and then devote their whole life for the treatment of people. But when it comes to setting up medical clinic/hospital, they have to rely on their family member or take help of money lending institutions. Almost every bank in India offers personal loan for Doctor. Although Doctor Fall under the category of self employed, banks offer them greater benefits.
What are the key benefits offered while taking Doctor Loan?
Listed below are the benefits offered when Doctor take doctor loan:
Higher loan amount
Flexible repayment tenure
Part payment option
Both fixed and floating options available
Processing time for personal loan is very fast
No guarantors or collateral
No prepayment and foreclosure charges
How can I apply for Doctor Loan?
You can apply in several ways. You can directly visit the bank branch and meet the sales person, contact a loan agent or apply online at any bank or NBFC's website. You can also compare personal loan interest rates of all banks online to apply for Doctor loan.
What are the eligibility requirements for availing Doctor Loan?
With benefits come following minimum requirements as follows:
Qualification should be MBBS, BAMS, BHMS, and other higher professional degree
Experience after the graduation and post graduation in a recognized centres
Annual income above certain limit
What are the Documentation requirements for availing Doctor Loan?
In order to avail Doctor Loan had to submit following documents:
Education qualification certificate
Bank statement for last 6 months
Income tax return certificate of last 2 years
Proof of permanent address, identity
Collateral security and guarantor depending on the loan amount. Although most of the banks do not ask for this.
Is CIBIL Score important for availing Doctor Loan important?
CIBIL score is very important for availing Doctor loan. You must have a Good CIBIL score in order to avail Doctor loan. As it indicates good repayment record and hence banks can offer you higher loan amount at low rate of interest. Bad CIBIL Score will result in either loan at higher interest rate or rejecting the loan application.
Do banks offer pre-approved loans for Doctor?
Yes, some of the banks give pre-approved loans, but it depends on the number of factors like the bank account they currently use, your income etc.
What are the uses of Doctor Loan?
Loan amount can be used for various purposes such as:
Buying clinical and electronic equipments, IT systems, diagnostic products
Purchase of ambulance
Development of clinic/ hospital such as buying patient bed, maternity bed, stretchers, operation theatre, ICU etc
Day to day expenses and many others.
How do I repay my Doctor loan?
You pay the loan in equal monthly installments (EMIs). The loan will be paid through post-dated cheques. You may also pay your Doctor loan through the Electronic Clearing System (ECS) or a standing instruction to debit your Bank account with the EMI amount.
Which banks in India offer specialized loan for Doctors?
Although most of the banks offer loans for Doctor, there are few lending institutions offering specialized loans as follows:
Canara Bank: Doctor Choice
Corporation Bank: Doctor Plus Scheme
Bank of India: Star Doctor Plus
Bank of Baroda: Baroda Loan to Doctor
State Bank of India: SBI Doctor Plus Scheme
Punjab National Bank: PNB Sanjeevani Scheme
What are the charges of availing Doctor Loans?
Apart from the interest rate, banks also apply following charges:
Processing fees: This is a miscellaneous fee (% of the loan amount) charged by the banks for documentation work, credit history check, admin tasks etc. This may also be charged upfront before even sanctioning the loan. This fee is refundable by various banks in case the loan application is declined. You can even bargain to lower the fees especially when the loan amount is bigger.
Prepayment penalty: Amount which borrower is supposed to pay. If you repay a bigger loan early, then it will generate expected return at lower than anticipated amount. This amount is collected in the form of interest.
Late payment charges: Never think of making a late payment. Always make your monthly payments on time in order to avoid late payment charges which are normally in the range of 1.5%-2.00%. Moreover, it affects an individual's credit history which results in future loan or credit card application getting rejected.
Why MyLoanCare???
Nowadays, banks give various offers on Doctor Loan to give the best rates to individuals. To get Doctor Loan with lowest interest rate and lowest EMI, compare new rates and offers of all banks at MyLoanCare. You can do rates comparison, check your eligibility, apply online and get the cheapest rate on Doctor Loan. MyLoanCare helps you throughout the loan process from the day you apply to the time you get complete disbursement. You can even track your loan status after getting registered with us. MyLoanCare make it easy for you to get hassle free Doctor Loan with ultimate cashback and refer and earn benefits. So, apply for Doctor Loan today and enjoy the benefits.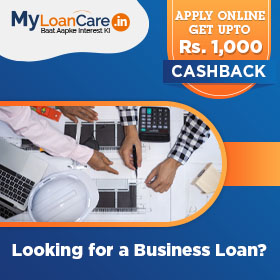 ---