How to compare education loan schemes of banks and private companies
Last Updated 06th Apr 2020
Lowest Education loan interest rates starting @ 8.40%.
Get lowest EMI of Rs. 1,579 per lakh on education loan.
Maximum limit of education loan in India is up to 10 lakh, where as for abroad studies up to 30 lakh.
Maximum loan tenure upto 7 years.
Flexi loans but prepayment charges are applicable.
As for security, tangible collateral or guarantor depending upon loan amount is required.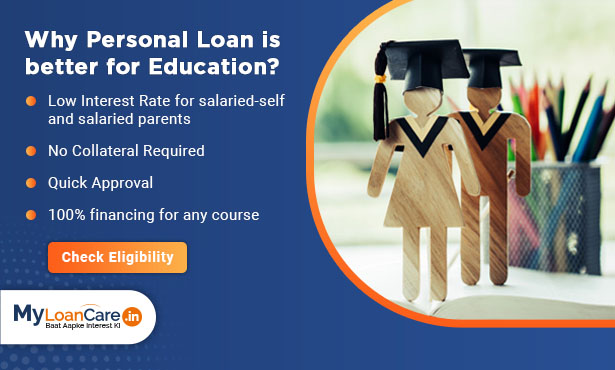 Education Loan Schemes
While educational loan schemes of all banks follow the model outlined by Indian Banking Association (IBA), the schemes differ significantly in terms of eligibility, cost heads to be covered, collateral and third party guarantee requirement, margin requirement, moratorium period, repayment and prepayment terms, processing fees etc. In this post, we provide the key parameters that a student borrower should compare and evaluate before deciding to take an educational loan.
Large public sector banks such as SBI and Canara Bank offer education loan at relatively lower interest rates as compared to specialized education loan companies like Credila and Avanse and may not even charge processing fees
Leading private education loan providers such as Credila and Avanse charge slightly higher rate of interest and processing fees on education loan, but provide several additional benefits that government banks do not offer:
Pre-approved loans that prevents an undesirable scenario where the borrower may be unable to get a loan sanction even after he/she secures an admission in the course of his/her choice
Customized repayment schemes such as step up EMIs or an option to service partial interest during the course duration and moratorium
Easy processing and documentation along with fast turnaround time of 3-4 days compared to public sector banks which may take 10-15 days
Collaterals accepted from extended family of the student including brother-in-law and sister-in-law
Course cost heads covered under education loans
Every bank has its own definition on the type of expenses and amount of expenses that they cover under education loan. Before deciding on an education loan offer, it is important to compare the amount of loans that different banks can provide based on their inclusions and exclusions in education loan.
Cost heads that are covered by all banks
Admission fees including Monthly Fees and Examination Fees and Caution Money
Books, Stationery and Equipments
Airfare for joining the course abroad
Boarding & lodging expenses of authorized hostel or boarding house
Expenses required for completing the courses like those on study tours, project work and thesis etc.
Cost heads that may be covered partially by few banks
Airfares – may be restricted to economy class fares and 10-20% of total expenses
Life insurance premium – most banks will insist on a life insurance equal to loan amount for the student but only some banks will fund the premium for the same as part of education loan
Costs of books, stationery and equipments may be capped to a certain % of total educational loan
Expenses required for completing the courses like those on study tours, project work and thesis etc.
banks such as SBI and HDFC Credila are even willing to lend up to Rs 30 lakh without any collateral for admissions to reputed institutions such as IITs/IIMs etc.
Maximum loan amount eligibility and margin money required
In addition to the cost head inclusions, lenders also have a cap on overall loan amount they provide and would also require the borrower to pay a certain % of the cost of the education from his pocket (known as margin money). The overall cap, margin requirements and cost head inclusions will together determine the amount of loan that a student borrower can get:
Lenders such as SBI and HDFC Credila are willing to extend loans of up to Rs 30 lakh for reputed courses outside India, compared to other banks which provide a maximum of Rs 10 lakh loan for studies in India and Rs 20 lakh loan for studies abroad.
Most banks have a stipulation of charging a 5 % margin (own contribution) on loans above Rs 4 lakh for studies in India and 15 % margin for studies abroad. However, Credila and Avanse provide loans of above Rs 4 lakh as well at 0% margin subject to the borrower meeting their eligibility conditions.
Do you need to provide collateral security or third party guarantee
Banks which follow the IBA model educational scheme, offer collateral free loans of up to Rs 4 lakh and loans with third party guarantee of up to Rs 7.5 Lakh. However, for loans above Rs 7.5 lakh, most of the banks insist for collateral in the form of a property.
If as a student borrower, you do not have a family property to mortgage or are not willing to mortgage your family property, no need to worry as there are a few banks and NBFCs which are willing to offer loans of higher amount without 100 % mortgage.
Banks and NBFCs such as SBI, IDBI Bank and NBFCs such as HDFC Credila and DHFL Avanse offer unsecured education loans even for amounts as high as Rs 13-25 lakh, but the offer is mostly limited only to the well reputed and recognized professional courses and degrees offered by the top notch or top ranked institutes in India and abroad. In such cases, banks are more assured of the borrower's employability and hence, their ability to service/repay his/her loan post completion of the education programme.
---