Car Loan Interest Rates of SBI, HDFC, ICICI, Kotak Bank, Others Compare
Last Updated 26th May 2017
Car Loan Calculator, Interest Rates May 2017 - Car, MUV, SUV
Best new car loan offers for salaried and self employed
Compare and get lowest interest rates @ 9.25%* from banks
Get maximum loan amount depending upon on road price and ex- showroom price
Maximum loan tenure upto 7 years
Apply new car loan online at fixed and floating rates
Apply Car Loan @ 9.25%*
Enter OTP (One Time Password) sent on

Compare Offers
and
Apply Loan Online
Get CashBack Upto
Rs.1,000
Assisted Digital Service
Car Loan Interest Rates Comparison, Lowest EMI May 2017, Best rates
Bank
Car Loan Interest Rates*
Lowest EMI per lakh for Max Tenure, Maximum Loan Amount
Andhra Bank
9.20% Fixed
Rs. 1,619 for 7 years, 85.00% of on-road price
Explore More Apply Now
Axis Bank
11.00% - 12.00% Fixed
Rs. 1,712 for 7 years, 95.00% of ex-showroom price
Explore More Apply Now
Bank of India
9.35% Floating
Rs. 1,627 for 7 years, 85.00% of on-road price
Explore More Apply Now
Bank of Maharashtra
9.20% Floating
Rs. 1,619 for 7 years, 85.00% of on-road price
Explore More Apply Now
Central Bank of India
8.90% Floating
Rs. 1,604 for 7 years, 90.00% of on-road price
Explore More Apply Now
Corporation Bank
9.15% - 9.90% Floating
Rs. 1,617 for 7 years, 85.00% of ex-showroom price
Explore More Apply Now
Federal Bank
9.92% - 10.52% Fixed
Rs. 1,656 for 7 years, 90.00% of ex-showroom price
Explore More Apply Now
HDFC Bank (4.3/5.0)

9 Users

9.25% Fixed
Rs. 1,622 for 7 years, 100.00% of ex-showroom price
Explore More Apply Now
ICICI Bank
10.75% - 12.75% Fixed
Rs. 1,699 for 7 years, 100.00% of ex-showroom price
Explore More Apply Now
IDBI Bank
9.95% Fixed
Rs. 1,658 for 7 years, 90.00% of ex-showroom price
Explore More Apply Now
Indian Bank
9.95% Floating
Rs. 1,658 for 7 years, 85.00% of on-road price
Explore More Apply Now
IndusInd Bank
10.65% - 15.50% Fixed
Rs. 2,157 for 5 years, 85.00% of ex-showroom price
Explore More Apply Now
Kotak Bank
11.50% - 13.50% Fixed
Rs. 2,199 for 5 years, 90.00% of ex-showroom price
Explore More Apply Now
OBC
9.90% - 10.05% Floating
Rs. 1,655 for 7 years, 85.00% of on-road price
Explore More Apply Now
PNB
9.60% - 9.95% Floating
Rs. 1,640 for 7 years, 85.00% of on-road price
Explore More Apply Now
SBI
9.60% - 9.65% Floating
Rs. 1,640 for 7 years, 85.00% of on-road price
Explore More Apply Now
Tamilnad Mercantile Bank
11.30% - 11.55% Floating
Rs. 2,189 for 5 years, 85.00% of on-road price
Explore More Apply Now
Union Bank of India
9.00% Floating
Rs. 1,609 for 7 years, 85.00% of on-road price
Explore More Apply Now
United Bank of India
9.35% - 10.45% Floating
Rs. 1,627 for 7 years, 85.00% of on-road price
Explore More Apply Now
---
Car loans are available for buying a new car, a used car, an SUV or an MUV.
SBI, ICICI, HDFC, Kotak, Bank of Baroda, Indian Bank, Bank of India and IndusInd Bank are among the many car loan options available.
Car loan schemes of each bank differ in terms of interest rates and other factors like maximum loan amount, loan tenure, EMI, processing fees and prepayment fees.
EMI schemes available include 0 interest scheme, advance EMI scheme, reducing balance scheme, fixed rate scheme, floating rate scheme and zero interest schemes.
So, compare the schemes as shown below and then select the one that suits you.
5 questions to ask your Car Loan agent:
What is the loan amount eligibility based on your income and the car or SUV or MUV model you are planning to buy?
What is the EMI amount and loan tenure per Rs. 1 lakh loan amount?
Is the EMI payable in advance or at end of month?
What are the processing charges payable?
Can you make prepayment of the car loan? If yes, are there are charges and restrictions on when and how much you can pay?
You may be wondering why we haven't listed car loan interest rate in the above list of questions regarding car loan? That's because many banks and car finance companies quote interest rates in a way so as to make them look low when they are not. They may quote flat rates or advance EMI rates.
Car loan jargon you must know when comparing loans of different banks:
Ex-showroom price is the price of the car including excise duty but excluding local duties and statutory charges.
On road price is the price you pay for the car including the ex-showroom price and cost of registration, insurance, octroi, municipal entry tax, road tax and any accessories. The on road price tends to be 15-25% more than the ex-showroom price and may vary from city to city.

Caution - Note that a car loan of 80% of on road price is likely to be more than 95% of ex showroom price.

EMI in arrears scheme – this is the standard method of paying EMI where the interest for a month (and principal repayment) is payable at or after the end of the month.
Advance EMI scheme – you pay interest and EMI at the beginning of the month. So, each month, you pay interest on amount that you have already repaid to the bank at the beginning of the month.

Caution – In case your bank charges EMI in advance, the EMI amount should be about 1% lower than that in case of EMI in arrears. For those interested in more precise figures, EMI per Rs. one lakh loan amount on a 60 month car loan at 10% rate of interest as per EMI in arrears method comes to Rs. 2,125 while that as per EMI in advance method comes to Rs. 2,107.

Zero interest car loan scheme (also called 0% finance scheme) – this is one of those free lunches that actually doesn't exist. So, beware of schemes that claim to offer zero interest. It is likely that the car company is offering a subvention scheme whereby the interest is paid by it to the bank upfront. Now, you could always ask the car dealer for the same amount as a cash discount. It's like padding up the price of the car for the interest amount and marketing it under a nice name.
Flat rate of interest car loan scheme – in this method, you pay interest on the entire principal amount of car loan till maturity. So, on a Rs. five lakh car loan at 10% for 5 years, you would have to pay back a total of Rs. five lakhs plus interest of Rs. 50,000 a year, that is a sum total of Rs. 7,50,000. The EMI in this case would be Rs. 12,500.
Reducing balance car loan scheme - in this method, you pay interest on the amount outstanding each month. With each EMI, the balance principal amount keeps reducing. So, on a Rs. five lakh loan at 10% for 5 years, you would have to pay back a total of Rs. five lakhs plus interest on reducing basis which comes to Rs. 1,37,411 or Rs. 6,37,411 including principal. The EMI in this case would be Rs. 10,624, a good 15% less than that for a flat rate scheme.

Caution – Never get hoodwinked with the low rate of interest offered on a flat rate scheme. A flat rate of 10% is equal to an interest rate of 18.7% on reducing rate basis on a five year car loan.
Why MyLoanCare???
Nowadays, banks give various offers on to give the best rates to individuals. To get with lowest interest rate and lowest EMI, compare new rates and offers of all banks at MyLoanCare. You can do rates comparison, check your eligibility, apply online and get the cheapest rate on . MyLoanCare helps you throughout the loan process from the day you apply to the time you get complete disbursement. You can even track your loan status after getting registered with us. MyLoanCare make it easy for you to get hassle free with ultimate cashback and refer and earn benefits. So, apply for today and enjoy the benefits.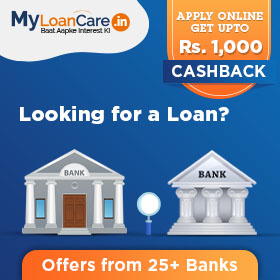 ---
x
We May Have Some
Car Loan
Best Offers For You
Cashback Upto Rs. 1,000/-*
Compare SBI, PNB, ICICI Bank, HDFC, Axis Bank, Citibank, SCB, DBS, Indiabulls, DHFL and others online.
*on loan disbursement
Our loan expert will reach you shortly. For further queries, write us at care@myloancare.in or call - 0124 460 3660. Cheers!!
| Loan Amount | Cashback |
| --- | --- |
| Rs. 2 lakh - Less than Rs. 5 lakh | Rs. 250 |
| Rs. 5 lakh - Less than Rs. 10 lakh | Rs. 500 |
| Rs. 10 lakh and above | Rs. 1,000 |
Car Loan News - May 2017
2017-04-27 :

Banks stop lending Vehicle loans to Ola and Uber taxi drivers on falling income

A fall in income of taxi drivers of Ola and Uber has prompted some of the India's top banks to put a stop on extending vehicle loans to them. State bank of India, one of the largest lenders to the segment with a portfolio exposure of around Rs. 120 crore to the drivers has tightened its credit norms and has become more selective in selecting their borrowers.

2017-01-16 :

Axis Bank ties up with Droom.com to offer car loans for used cars

Axis Bank has announced a partnership deal with Droom.com (a leading new and used auto website) to provide car loans for both used and new cars. The bank will offer loan up to 85 percent of the value of vehicle with a maximum tenure of five years. As for used car loans, loan can be availed for cars which are less than five year old.

2017-01-09 :

Bank of India reduces car loan rate by 70 basis points

Bank of India has reduced its car loan interest rate to 9.35 percent for new car buyers as compared to 10.05 percent earlier. The rate is effective from 7th January, 2017.

2016-12-19 :

SBI offers on the spot car loan at 9.99 percent in Vishakhapattnam

SBI is offering spot sanctioning of car loan in the two day Express Auto Expo 2016 carnival. Customers can avail loan at an interest rate of 9.99 percent. Under the spot offer, SBI claims to complete all formalities and sanction the loan within a day.

2016-11-29 :

Car loan market to remain stable despite demonetization

Moody Investors, a leading credit rating company, has maintained a stable outlook on the car finance market in the aftermath of demonetization. Robust economic growth and lower oil prices are expected to push growth in the car loan market despite the current market disruption. Even as bad debts in car loan market are expected to rise in the short term, the agency expects the bad debts to return to their current level during the course of 2017.
*Terms and conditions apply. Credit at sole discretion of lender subject to credit appraisal, eligibility check, rates, charges and terms. Information displayed is indicative and from collected from public sources. MyLoanCare is an independent professional service provider and is not related to the government or government bodies or any regulator or any credit information bureau in any way. Information carried at this website is not and should not be construed as an offer or solicitation or invitation to borrow or lend. The Company does not undertake any liability with respect to the correctness of the content, information and calculations. Information is subject to change without notice. By submitting your query or using any tools or calculators, you authorize MyLoanCare to share your information with lender(s), consent for such lender(s) to access your credit information report and contact you regarding your query overriding your number being in National Do Not Call Registry. This is a free service and no charges are payable by the borrower to MyLoanCare. The Company may receive remuneration from lenders for services provided to them.
;