Business Loan Interest Rates - All Banks
Last Updated 20th Oct 2017
Business Loan Interest Rate in India
Earn cashback upto Rs. 2,500 on disbursal of loan
Avail best business loan offers for both salaried and self employed individuals
Option of Flexi loans and nil prepayment charges are also available
Apply business loan online without any security or collateral
Apply Business Loan @ 13.50%*
Business Loan Interest Rates Comparison, Lowest EMI Oct 2017
---
Types of Business Loans
Secured Loan
These loans are those which are taken against some type of personal gurantee or any valuable asset as collateral. Inventory loans, equipment loans, term loans and loan against property are secured business loans. To know more about loan against property, click below.
Unsecured Business Loan
Most of the companies prefer to take unsecured commercial financing because it offers multiple benefits like:
Short turnaround time of 5 -15 days as compared to secured loans
No collateral or security required to get this loan
Reduces your dependence on friends, relatives or money lenders for borrowing for urgent or seasonal business expenses
This page is about unsecured business loan. Refer this page for detailed information.
Business Loan Calculator
Eligibility Criteria
Eligible Entities
Self employed professionals – Doctors, CA, CS, Architects.
Self employed non professionals – Sole proprietors, partnership firms, private limited companies, public limited companies involved in the business of manufacturing, trading and services
Age
25 – 65 years

Note : Some banks give loan to the borrowers whose age is 21 years or more

Loan Amount
Minimum Rs. 5 Lakhs. Some banks give loan of Rs. 2 lakh also.
Maximum Rs. 1 crore, in selected cases up to Rs. 5 crore
Interest Rate
13.50 - 22%, floating rate of interest
Loan Tenure
1-3 years. Few lenders offer loans of up to 5 years in selected cases
Processing Fees
Upto 3% of loan amount + applicable tax
Prepayment Penalty
As per the loan agreement
Loan Amount Eligibility
Lenders use multiple ways to estimate the eligibility

Turnover product, where an industry margin of up to 15% is applied on the turnover to estimate the income of the borrowers
DSCR product where eligibility is estimated using the debt repayment capacity of the borrower
Many other Surrogate income products for loan amount of less than Rs. 10 lakh are being offered by lenders. Such loan products come at slightly high interest rates

Business Existence
For self employed professional, minimum business existence of 3 years is required while for self employed businessmen, business should be 5 years old
Annual Turnover

Banks and NFCs ask for minimum turnover of Rs. 50 Lakhs for traders and Rs. 25 Lakh for manufacturers. However, there are few NBFCs and banks also which give small business loan to businesses with turnover less than Rs. 10 Lakhs
There should be a consistent growth in turnover every year and net worth should be positive which may help you to get the best loan
Business must be earning profit in the last 2 to 3 years

Other Parameters

Borrowers who have their own residence or office or who have been staying in a residence for many years are eligible for this loan
CIBIL is very important factor to know the eligibility and repayment capacity of the borrowers. Banks ask for a credit score of 700 or more to approve your loan

Documents Required

KYC documents including address and identity proof
Business stability proof as per bank's norms
Loan agreement
Last 3 years Income Tax Returns that have been filed on time
Bank Statements of last 6 months
Complete audited financials of last 2 years
Profit and loss statement and balance sheet of last 2 years
VAT returns for six months
VAT number, registration certificate, GST identification number etc
Professional degree and registration number
Ownership documents
Tips to Improve Chances of Getting Loan for Business
Business loans are secured as well as unsecured in nature. In case of unsecured loans, banks have their own set of policies. If the borrower does not fulfil the eligibility criteria of the bank, the bank rejects his/her loan application. So, here are few tips which will help you to improve your chances of getting your loan application improved.
Improve Credit Score – First of all, identify the factors that have resulted in a low credit score. Credit score can be adversely affected due to late payment of credit card or default in outstanding loan EMI payments. Defaulting and late payments, both result in bad credit score. It is extremely important to maintain healthy credit repayment track record and make all your payments on time. Always ensure that you have adequate balance in your bank account to make ECS transactions.
Avoid multiple loan applications - Sometimes, you apply for loan with multiple banks in order to improve your chance of getting loan on time. However, applying for loan at multiple banks at the same time increases the chances of the loan being rejected as each query gets captured in your credit report. Customers are also unaware that any loan that is rejected by a bank, has a less chance of getting an approval at other banks as well. Banks tend to become more cautious in lending to customers who have been rejected by other banks.
Choose your Bank wisely – Research the banks which are offering best rates on business loan. Opt for a bank which offers fast service with low interest rate. You must know also have a good sense of your loan eligibility and your ability to service loan repayments from your monthly cash flows. Negotiate and apply for a loan through online market places to get best deals on rates and processing fee.
Business Existence – Generally, banks give loan to companies with minimum business existence of 3 years. If your business is new and loss making, then the chances of your application getting approved is reduced.
Apply for a loan amount based on your repayment capacity – Determine the loan amount that you can easily repay in future. If you apply for a loan amount which is higher than your eligibility, it can create doubt in the mind of lender and lead to rejection of your loan application. So, make sure you choose the correct loan amount that you can comfortably service.
Maintain proper accounts and financial information- As a business entity, it is extremely critical that you have your GST registration in place. Also, it is advisable to keep audited record of your financial statements, as the same are an important set of documents referred to by the bank at the time of calculating your eligibility.
Regularly check your CIBIL Score: As a business entity which can need to borrow frequently from banks, it is advisable to access your credit score report on a regular basis and do regular timely corrections in your report.
Lowest Business Loan Rate Online
If you are self employed, then there could be a possibility that your reported income is lesser than your real income. Many banks and NBFC have specific programs which offer you a higher eligiblity based on an estimate of your real income and not entirely on the basis of your reported income. If you visit a traditional bank for this loan, chances are that you will be eligible for a lower loan amount. There are few banks and NBFCs which offer surrogate products to calculate your correct eligibility and offer you highest loan amount based on your estimated income. Some of these popular loan products are:
Banks consider banking surrogate program to define your eligibility. This helps in assessing your net income. Banks track your 1 year banking behavior to estimate your average bank balance. Your net income is the multiplier of your average monthly balance and if you well maintain your bank balance then it won't come your way to get your loan sanctioned.
ITR program also helps to calculate eligibility in case you do not have audited financial statements of your company. Banks are strict to the fact that they need income tax report of past 3 years. ITR of 3 years is important to estimate your income, profit and losses of your business and other deductions. It also shows your tax refund or tax liability.
Some banks offer turnover program in which your loan amount eligibility is based on the turnover of your company. Turnover eligibility can be different for different industry segments. Some banks consider minimum annual turnover of Rs. 25 lakh for manufacturers and Rs. 50 lakh for traders. However, there are few banks and NBFCs which give small business loan for low turnovers and loan amount. Industry margin is pre-decided by lenders for specific industry segment in which customer falls. Industry margin is used as a multiplier to the turnover of your company that helps in determining your income. Your income eligibility is calculated as : Industry Margin * Turnover – Obligations. Your eligibility will be higher if your turnover is high. However, banks consider bank statement and VAT returns of 6 months to know your real income which is higher than what you have mentioned in books.
Business Loan EMI Calculator
Business Loan EMI is the monthly instalment that you pay every month to the bank or financial institution in order to repay your loan. EMI is composed of both principal amount and interest. Interest component in your EMI is higher in early months and gets reduced with each EMI. Similarly, principal repaid is a significantly small component in total EMI in early months and gets higher with each EMI. EMI Calculator helps you to calculate your monthly EMI at desired interest rate for a particular tenure.
EMI depends upon loan amount, interest rate and loan tenure
Loan amount – Higher the business loan amount, higher will be the EMI

Interest rate - Higher interest rate on your loan leads to higher amount of EMI

Loan tenure – Longer the loan tenure, lower the EMI and vice versa
Compare Unsecured Business Loan Rates
Processing fees – Most banks charges minimum processing fees of 2% to 3% on loans. To get lowest fee, comparison of business loan rates, offers and cashback applying online through MyLoanCare.

Insurance premium - Since these loans are unsecured loans, it is advisable to take an insurance policy like life and accidental insurance by the name of the borrower when availing a loan. Most banks give insurance coverages to the owner of the company to protect the financial risks in case of any emergencies. However, the premium varies from bank to bank depending upon the risk coverage under various policies and loan amount borrowed by the applicant. So, check the loan terms of the bank carefully to know the coverage and premium. And, consider other banks and insurance companies also who offer better insurance plan for the same amount.

Prepayment and foreclosure – Nobody wants to keep paying interest on a loan when you have surplus money available to repay it. When you want to repay your loan partially before time, its called part prepayment. In case you decide to pay the entire loan amount before time, it is called foreclosure. Banks typically levy prepayment or foreclosure charges in such situations and these can be upto 5%. So, check carefully if the low rate of interest you are getting comes with high prepayment or foreclosure charges. Note that some business loans cannot be repaid before time.
Best Business Loan
Offer based on loan amount - You may be surprised to know that in some cases rate of interest on say, a Rs. 40 lakh loan, may be lower than that on a Rs. 35 lakh loan. This is due to different pricing grids of banks and discounts for higher loan amounts that are offered from time to time. It is advised to take 1 or 2 lakh higher loan amount if it comes with lower interest rates.

Do not apply with multiple banks – Remember that every loan application is recorded in your CIBIL report. Too many loan applications at the same time can hurt your chances of getting a loan and even lead to an increase in rate of interest. Multiple applications signal desperation to get loan on the part of the customer.

Do not fall for marketing gimmicks – It is common for loan agents and DSA's to lure customers by quoting a lower rate of interest knowing very well that the final rate will be higher. Always check with authorized representatives and get the rates in writing before giving your documents for processing.

Calculate your eligibility before applying for loan - Ensure that you understand the eligiblity criteria of the banks clearly before giving in your documents for further processing. It is useful to approach the banks through online channel partners of multiple banks to get a fair and broad comparison on key loan terms in a transparent manner.
Business Loan Apply Online
Documents required
Signed Application Form
Identity Proof (PAN)
Residential Address Proof
Last 3 years ITR (self and business), profit and loss account, balance sheets certified/audited by a CA.
Last 12 months bank account statement (self and business)
Certificate and Proof of Business Existence
Business Profile
Office address - ownership/ lease / rent agreement/ utility bill
| | Individuals | Firms, Partnerships |
| --- | --- | --- |
| Identity Proof | PAN card, Passport, Driving License, Aadhar Card, Voter id, Govt issued i-card | PAN card, Passport, Driving License, Aadhar Card, Voter id, Govt issued i-card |
| Certificate and Proof of Business Existence | | PAN , sales tax/ excise/ VAT/ service tax registration, Copy of partnership deed, Trade license, certificate of practice, registration certificate issued by RBI, SEBI |
| Address Proof | Passport, Driving License, Election ID card, Electricity/ Telephone/ Mobile bill/ bank statement (not more than 3 months old) | Bank statement, utility bill, Registry copy, lease or rent agreement, TAN allotment letter |
Frequently Asked Questions
What should be the borrower's age to apply for business loan?
Borrower should be atleast 21 years old and not more than 65 years of age.
Does no CIBIL history affect business loan?
Yes, banks may reject your loan application if you do not have a CIBIL history or poor CIBIL. In that case, you have to opt for a loan with high rate of interest. Banks consider you to avail gold loan or credit card to build some CIBIL history before you apply for a loan.
What factors affect my business loan interest rate?
Interest rate on business loan can be affected by 3 main factors:
Higher the loan amount, lower will be the rate of interest
Higher the business turnover, lesser will be the interest rate
Longer time in business can avail you loan at lower rates
Can I reduce EMI on business loan?
You can reduce your loan EMI if the bank offers part prepayment or full prepayment. Most banks allow prepayment after repayment of 6-12 EMI's and some banks allow after 1 EMI only. So, you can easily opt for prepayment of loan if you have surplus amount and want to lower your burden of EMI during the loan tenure.
How can I apply for business loan?
You can apply in several ways. You can directly visit the bank branch and meet the sales person, contact a loan agent or apply online at any bank or NBFC's website. You can also compare best interest rates of all banks online at MyLoanCare and apply for loan. We can connect you to banks with best loan offers at lowest rate of return. We also assist you throughout the loan process and allow you to apply online for a loan without a long tedious process.
What is the minimum and maximum tenure of business loan?
These are generally taken for a short period of time. Generally, the loan tenure is between 12 months to 60 months.
What are the charges for unsecured business loan?
In addition to rate of interest, banks charge the following two fees on loan.
Processing fee: Processing fees is charged when you apply for a loan. The processing fee can range upto 3% of the loan amount and can be negotiated down, if you bargain. If you apply for loan through an online market place like myloancare.in, then we negotiate with the bank on your behalf and also, offer attractive cash backs on sanctioned loans. Sometimes, we also get to offer exclusive loan schemes on behalf of the banks such as nil processing fees for our valued customers.

Pre-closure fee: This fees is charged when you want to close your loan before the completion of loan tenure. Banks imposes this penalty to cover the loss. Preclosure charges can range up to 5% of the outstanding loan amount. You need to carefully read the terms and conditions of your loan agreement to check on the prepayment clause and ensure that it is not too strict compared to market benchmarks.
What security should I provide to get a business loan?
For unsecured business loans, banks do not ask for security or collateral to approve your loan, though banks needs complete documents to evaluate your eligibility.
Does it affect my co-applicant if I default in business loan?
Yes, if you fail to pay the loan on time then it will also affect your co-applicant as default in loan will affect his/her CIBIL rating as well.
Am I eligible for a business loan despite a poor credit score?
Yes, you may be eligible for qualifying a business loan even with a bad credit score. But, the lenders may charge a higher rate of interest on your loan and may ask you to apply for loan along with a co-applicant who can take the responsibility in your absence.
How much time does it take for a business loan to get disbursed?
Business loan disbursment can take approximately 15 working days after all the documents are submitted. Some banks and NBFCs can give you an in-principle approval subject to verification of documents submitted by you and the results of their field visits. In this case the loan disbursement process can also be as short as a week.
Why MyLoanCare???
Nowadays, banks give various offers on Business Loan to give the best rates to individuals. To get Business Loan with lowest interest rate and lowest EMI, compare new rates and offers of all banks at MyLoanCare. You can do rates comparison, check your eligibility, apply online and get the cheapest rate on Business Loan. MyLoanCare helps you throughout the loan process from the day you apply to the time you get complete disbursement. You can even track your loan status after getting registered with us. MyLoanCare make it easy for you to get hassle free Business Loan with ultimate cashback and refer and earn benefits. So, apply for Business Loan today and enjoy the benefits.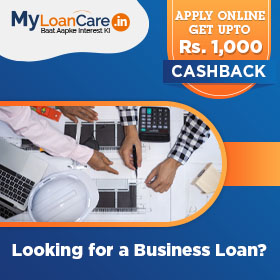 ---