Business Loan Interest Rate - HDFC, Bajaj, ICICI Bank, All Banks
Last Updated 18th Aug 2017
Business Loan Interest Rates in India
Get lowest business loan interest rates starting @13.50%* from various banks
Get lowest EMI of Rs. 2,301 on business loan
Earn cashback upto Rs. 2,500 on business loan
Avail best business loan offers for both salaried and self employed individuals
Maximum loan tenure available up to a longer period of 5 years
Option of Flexi loans and nil prepayment charges are also available
Apply business loan online without any security or collateral
Apply Business Loan @ 13.50%*
Compare Offers
and
Apply Loan Online
Get CashBack Upto
Rs.2,500
Assisted Digital Service
Business Loan Interest Rates Comparison, Lowest EMI Aug 2017, Best rates
Bank
Business Loan Interest Rates*
Lowest EMI per lakh for Max Tenure
SBI (3.3/5.0)

2 Users

11.20% - 16.30%
Rs. 2,594 for 48 months
Explore More Apply Now
HDFC Bank (3.8/5.0)

3 Users

15.50% - 18.30%
Rs. 2,808 for 48 months
Explore More Apply Now
ICICI Bank (3.3/5.0)

2 Users

12.15% - 16.65%
Rs. 2,232 for 60 months
Explore More Apply Now
Citibank
15.99% - 18.99%
Rs. 2,431 for 60 months
Explore More Apply Now
RBL Bank
20.00% - 22.00%
Rs. 2,649 for 60 months
Explore More Apply Now
Tata Capital
13.50% - 23.00%
Rs. 2,708 for 48 months
Explore More Apply Now
Lendingkart
18.00% - 27.00%
Rs. 9,168 for 12 months
Explore More Apply Now
Bajaj Finserv (3.5/5.0)

3 Users

14.00% - 20.00%
Rs. 2,733 for 48 months
Explore More Apply Now
Capital First (3.5/5.0)

1 Users

16.00% - 24.00%
Rs. 3,516 for 36 months
Explore More Apply Now
Bank of Maharashtra
14.50% - 15.50%
Rs. 3,442 for 36 months
Explore More Apply Now
Kotak Bank
16.00% - 19.99%
Rs. 2,432 for 60 months
Explore More Apply Now
IndusInd Bank
14.00% - 23.00%
Rs. 2,327 for 60 months
Explore More Apply Now
Bank of Baroda (5/5.0)

1 Users

14.10% - 14.10%
Rs. 3,423 for 36 months
Explore More Apply Now
Fullerton India (3.3/5.0)

2 Users

16.00% - 33.50%
Rs. 2,834 for 48 months
Explore More Apply Now
IDBI Bank
13.00% - 14.00%
Rs. 2,275 for 60 months
Explore More Apply Now
Allahabad Bank
11.10% - 15.55%
Rs. 1,718 for 84 months
Explore More Apply Now
PNB (3.6/5.0)

2 Users

12.60% - 15.60%
Rs. 2,255 for 60 months
Explore More Apply Now
OBC
11.95% - 11.95%
Rs. 1,763 for 84 months
Explore More Apply Now
Indian Overseas Bank
14.90% - 15.25%
Rs. 2,374 for 60 months
Explore More Apply Now
Tamilnad Mercantile Bank
13.40% - 14.40%
Rs. 2,296 for 60 months
Explore More Apply Now
Dhan Laxmi Bank
13.15% - 13.40%
Rs. 2,283 for 60 months
Explore More Apply Now
Development Credit Bank
10.70% - 18.00%
Rs. 1,118 for 180 months
Explore More Apply Now
Andhra Bank
15.75% - 16.00%
Rs. 2,419 for 60 months
Explore More Apply Now
United Bank of India
14.15% - 14.15%
Rs. 2,335 for 60 months
Explore More Apply Now
Corporation Bank
13.55% - 14.55%
Rs. 1,849 for 84 months
Explore More Apply Now
Syndicate Bank
14.45% - 14.45%
Rs. 2,350 for 60 months
Explore More Apply Now
Unsecured Business Loan
Eligibility Criteria for Business Loan
Eligible Entities
Self proprietorships, partnership firms, private limited companies, doctors, self employed professionals with a minimum annual turnover of Rs 25 lakh for manufacturers and Rs 50 lakh for traders
Minimum Loan Amount
Rs 5 lakh
Maximum Loan Amount
Up to Rs 1 crore, in select cases up to Rs 5 crore
Interest Rate
14-22%, floating rate of interest
Loan Tenure
1-3 years. Few lenders offer loans of up to 5 years in select cases
Processing Fees
2-3%
Prepayment Penalty
As per the loan agreement
Loan Amount Eligibility
Lenders use multiple ways to estimate the eligibility

Turnover product, where an industry margin of up to 15% is applied on the turnover to estimate the income of the borrowers
DSCR product where eligibility is estimated using the debt repayment capacity of the borrower
Other Surrogate income products for loan amount of less than Rs 10 lakh

Documents Required

Last two years Income Tax Returns that have been filed on time
Bank Statements of last six months
VAT number, registration certificate etc
Professional degree and registration number
Business Loan
Compare Unsecured Business Loan Rates
Business Loan processing fees – Most banks charges minimum processing fees of Rs. 999 to upto 2% on Business Loans. To get lowest fee, comparison of business loan rates, offers and cashback applying online through MyLoanCare.
Business Loan insurance premium - Since Business loans are unsecured loans, it is advisable to take an insurance policy when availing a loan. However, the premium varies from bank to bank depending upon the risk coverage under various policies. So, check the loan sanction letter carefully to know the coverage and premium.
Business Loan prepayment and foreclosure – Nobody wants to keep paying interest on a loan when you have surplus money available to repay it. When you want to repay your loan partially before time, its called part prepayment. In case you decide to pay the entire loan amount before time, it is called foreclosure. Banks typically levy prepayment or foreclosure charges in such situations and these can range from nil to eve upto 5%. So, check carefully if the low rate of interest you are getting comes with high prepayment or foreclosure charges. Note that some Business loans cannot be repaid before time.
Lowest Business Loan Rate Online
How to get and apply online?
Offer based on loan amount – You may be surprised to know that in some cases rate of interest on say, a Rs. 20 lakh loan, may be lower than that on a Rs. 19 lakh business loan. This is due to different pricing grids of banks and discounts for higher loan amounts that are offered from time to time.
Discount for tenures – Banks may offer lower rates on business loan for certain tenure and it may be useful to check these carefully.
Best Business Loan
How to get best business loan interest rates?
Do not apply with multiple banks – Remember that every loan application is recorded in your CIBIL report. Too many Business loan applications at the same time can hurt your chances of getting a loan and even lead to an increase in rate of interest. Multiple applications signal desperation to get loan on the part of the customer.
Do not fall for marketing gimmicks – It is common for loan agents and DSA's to lure customers by quoting a lower rate of interest knowing very well that the final rate will be higher. Always check with authorized representatives and get the rates in writing before giving your documents for processing.
Business Loan Apply Online
Documents for Business Loan Application
Signed Application Form
Identity Proof (PAN)
Residential Address Proof
Last 3 years ITR (self and business), profit and loss account, balance sheets certified/audited by a CA.
Last 12 months bank account statement (self and business)
Certificate and Proof of Business Existence
Business Profile
Office address - ownership/ lease / rent agreement/ utility bill
Typically Accepted Proofs
Individuals
Firms, Partnerships
Identity Proof
PAN card, Passport, Driving License, Aadhar Card, Voter id, Govt issued i-card
Certificate and Proof of Business Existence
PAN , sales tax/ excise/ VAT/ service tax registration, Copy of partnership deed, Trade license, certificate of practice, registration certificate issued by RBI, SEBI
Address Proof
Passport, Driving License, Election ID card, Electricity/ Telephone/ Mobile bill/ bank statement (not more than 3 months old)
Bank statement, utility bill, Registry copy, lease or rent agreement, TAN allotment letter
Business Loan Interest Rate in India
Frequently Asked Questions
What should be the borrower's age to apply for business loan?
Borrower should be atleast 21 years old and not more than 65 years of age.
Does no CIBIL history affect business loan?
Yes, banks may reject your loan application if you do not have a CIBIL history or poor CIBIL. In that case, you have to opt for a business loan with high rate of interest. Banks consider you to avail gold loan or credit card to build some CIBIL history before you apply for a loan.
What factors affect my business loan interest rate?
Business loan interest rate can be affected by 3 main factors:
Higher the loan amount, lower will be the rate of interest
Higher the revenue, lesser will be the business loan interest rate
Longer time in business can avail you loan at lower rates
Can I reduce EMI on business loan?
You can reduce your business loan EMI if the bank offers part prepayment or full prepayment. Most banks allow prepayment after repayment of 6-12 EMI's and some banks allow after 1 EMI only. So, opt for prepayment of loan if you have surplus amount and want to lower your burden of EMI.
Why MyLoanCare???
Nowadays, banks give various offers on Business Loan to give the best rates to individuals. To get Business Loan with lowest interest rate and lowest EMI, compare new rates and offers of all banks at MyLoanCare. You can do rates comparison, check your eligibility, apply online and get the cheapest rate on Business Loan. MyLoanCare helps you throughout the loan process from the day you apply to the time you get complete disbursement. You can even track your loan status after getting registered with us. MyLoanCare make it easy for you to get hassle free Business Loan with ultimate cashback and refer and earn benefits. So, apply for Business Loan today and enjoy the benefits.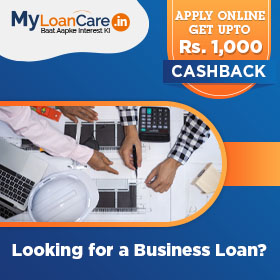 ---