Business Loan EMI Calculator Oct 2017 - HDFC, SBI, ICICI Bank, Kotak, Fullerton, IndusInd, SCB
Last Updated 16th Oct 2017
EMI Calculator for Business Loan
Loan Amount - Higher the loan amount, higher will be the EMI
Rate of interest - Lower the interest rate, lower the EMI
Work profile - Banks offer different rates on business loans based on nature of business
CIBIL score - Higher the CIBIL Score, more are the chances of getting the business loan at lower rate and hence lower will be the EMI
Loan Tenure - Longer the loan tenure, lower the EMI. Longest business loan tenure available is 5 years (60 months)
Business Loan EMI Calculator
Lowest Business Loan EMI per lakh of Banks in India Oct 2017
| Bank | Lowest EMI per lakh | Max Tenure |
| --- | --- | --- |
| SBI Business Loan | Rs. 2,594 | 48 months |
| HDFC Bank Business Loan | Rs. 2,808 | 48 months |
| ICICI Bank Business Loan | Rs. 2,232 | 60 months |
| Citibank | Rs. 2,431 | 60 months |
| RBL Bank | Rs. 2,649 | 60 months |
| Tata Capital | Rs. 2,708 | 48 months |
| Lendingkart | Rs. 9,168 | 12 months |
| Bajaj Finserv | Rs. 2,733 | 48 months |
| Capital First | Rs. 3,516 | 36 months |
| Bank of Maharashtra | Rs. 3,442 | 36 months |
| Kotak Bank | Rs. 2,432 | 60 months |
| IndusInd Bank | Rs. 2,327 | 60 months |
| Bank of Baroda | Rs. 3,423 | 36 months |
| Fullerton India | Rs. 2,834 | 48 months |
| IDBI Bank | Rs. 2,275 | 60 months |
| Allahabad Bank | Rs. 1,718 | 84 months |
| PNB | Rs. 2,255 | 60 months |
| OBC | Rs. 1,763 | 84 months |
| Indian Overseas Bank | Rs. 2,374 | 60 months |
| Tamilnad Mercantile Bank | Rs. 2,296 | 60 months |
| Dhan Laxmi Bank | Rs. 2,283 | 60 months |
| Development Credit Bank | Rs. 1,118 | 180 months |
| Andhra Bank | Rs. 2,419 | 60 months |
| United Bank of India | Rs. 2,335 | 60 months |
| Corporation Bank | Rs. 1,849 | 84 months |
| Syndicate Bank | Rs. 2,350 | 60 months |
---
EMI Calculator Business Loan
The monthly amount calculated by the EMI calculator for business loan is the fixed money you pay to the bank towards payment of principal and interest
For a business loan at 12.99% interest rate, the EMI per Rs. one lakh loan amount is as below:

| Loan Tenure | 2 years | 3 years | 5 years |
| --- | --- | --- | --- |
| EMI amount for loan amount Rs. 1 lakh at 12.99% | Rs. 4,754 | Rs. 3,369 | Rs. 2,275 |
| Total amount you pay back to the bank including principal and interest | Rs. 114,089 | Rs. 121,281 | Rs. 136,488 |
| Interest you have to pay over loan tenure | Rs. 14,089 | Rs. 21,281 | Rs. 36,488 |
What is the impact of interest calculation method - flat rate method Vs reducing balance method - on business loan EMI?
Your loan EMI will be higher in case of loan on flat rate while EMI will be lower with reducing rate.

Flat interest rate: Here the interest is calculated on the original principal amount for the entire period. So, if you opt for a business loan of Rs. 5 lakhs at 12.50% flat rate of interest for a period of 3 years, the EMI will be Rs. 19,097. Here the total interest per year will be 5,00,000* (10/100) = 50,000. Thus total interest in 2 years = 50,000 * 2 = 1,00,000. This interest along with principal amount is distributed over the entire loan period to arrive at monthly EMI. Here the impact of repayment of capital is not considered.
Reducing balance method: In this method, the interest rate is charged only on the outstanding amount of the loan. Generally in this case the interest rate is higher than the flat rate but actually it may turn out to be cheaper as the interest is paid only on the remaining principal amount. Every month some part of EMI goes towards principal amount, thus the interest is charged on the remaining amount. Hence there will be a gradual reduction of the principal amount and as a result of the same interest will be applicable on the lesser amount. So, if you opt for a business loan of Rs. 5 lakhs at 12.50% rate of interest for a period of 3 years, the EMI will be Rs. 16,727.
Frequently Asked Questions on EMI Calculator Business Loan
What if I miss EMI payment or there is an ECS bounce?
If you miss your EMI payment or if there is an ECS bounce then bank may charge a penalty. In addition, it will also be reflected in your CIBIL report and your CIBIL score may get impacted.
What if I get delay in paying the business loan EMI?
Banks charges penalty for delaying EMI payment. The amount of penalty varies from bank to bank.
Why it is necessary to calculate EMI beforehand?
It is important to calculate your EMI in advance to maintain stability in future payments. When you avail loan, you promise the bank to pay a fixed amount at fixed date every month. So, before availing the loan you should consider the stability of your income, monthly expenses and the existing loan obligations to avoid any discrepancies in future payments.
Does the loan tenure affect my EMI for business loan?
Business loan can be availed for maximum tenure of 5 years. Tenure affects your monthly EMI. Longer the tenure of business loan, lower will be your EMI.
How MyLoanCare EMI calculator helps in calculating EMI?
MyLoanCare EMI calculator calculates the EMIs of different banks as per the details entered by you. You can easily compare the EMIs and opt for the best option. You also get to know about the interest charged on loan amount entered.
Compare Business Loan EMI of All Banks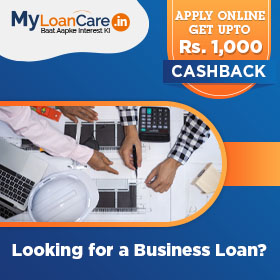 ---