Aadhaar Card Form
Documents Required for Aadhar Card Form
Last Updated 27th May 2022
Aadhar card form is a one page application form which can be downloaded ftom UIDAI's official website.
Applicants need to provide documents for proof of identity and address for verification.
Applicants will also have to provide their biometric details such as fingerprint, iris data.
Any changes in Aadhar can be done on the same Aadhaar enrolment form.
When mentioning changes in Aadhar correction form, only mention the corrections you want to make.
Aadhaar Card Application Form
Aadhar card application form is one page long form which can be used for multiple purposes like correction or updation in Aadhar.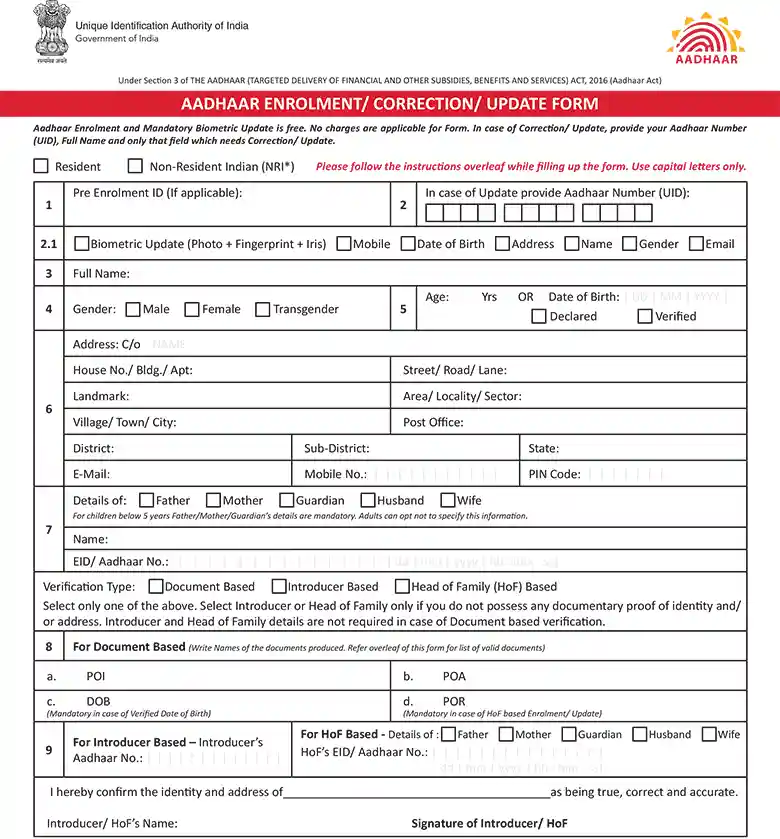 Contents of Aadhaar Card Enrollment Form
Following are the details of the contents of the Aadhar application form.
The acknowledgement number received after Aadhaar's online request.
Tax identification number (TIN), or the survey slip of the National Population Register.
Applicant's full name.
Applicant's gender, i.e. men, women or transgender people.
The applicant must specify the age or date of birth.
The applicant's full residential address as specified in the proof of address.
Details of family members of the applicant, such as the Aadhaar no of parents, spouse, children, etc.
The applicant can allow or deny the right of UIDAI to share their data in the form with different agencies.
Providing bank information is optional.
Mention the introducer's or HUF's credentials, if the applicant does not have proof of identification or address.
For biometric details, iris data, photo and the thumbprint is required for validation.
List of Verification Documents Required while filling Aadhar Form
Documents required while filling the Aadhar card form.
Proof of Identity: Election ID, Passport, PAN, Driving License, Govt Photo ID Cards, etc
Proof of Address: Ration card, Voter ID, Passport, bank statement/passbook, etc.
Instructions for Filling the Aadhaar Form
The applicants have to take into account the following points while filling out an Aadhaar form:
Fill in the details in capital letters.
If the correction relates to the date of birth, then make the changes correctly as adjustments can only be made once for the date of birth
Applicants must mention their mobile number when registering for Aadhaar.
The documents mentioned in the form must be the same while submitting it.
If you have filled the form and submit the documents correctly, Aadhaar authorities will move ahead with a thorough verification process. Your application will be considered successful only after the verification process is complete.
Aadhaar Correction Form
In the same Aadhaar enrollment form, you can apply for correction on the Aadhaar card. Note the points below while trying to make some correction
If you have to change your birth date, make sure it's correct, because you will have one opportunity to correct it.
If you are updating details, don't mention old data or details in the form.
List of Verification Documents Required while filling Aadhar Correction Form
Following are the documents used for verification as to proof of address and identity:
Address proof

Ration card
Election Card
Passport
bank statement/passbook.

Identity Proof

Passport
PAN Card
Election ID
Driving License
Govt Photo ID Cards
Things to Remember while Filling Aadhar Correction/Updation Form
Here are a few vital points applicants and cardholders must remember for their Aadhaar Correction/Updation form.
Use only capital letters and write full name while filling the Aadhaar Correction/Updation form.
Make sure the correct document is attached to the updates you want.
To make any online correction request, you must connect your mobile number with Aadhaar.
If you are filling the form for making corrections, fill only those fields that require correction and nothing more.
Ensure that you have mentioned complete and correct address information, as your Aadhaar card will be sent through post to the same address.
All photocopies must be approved by a gazetted agent or notarized public officer if you do not have not the original documentation for authentication.
Do not mention wrong or incorrect information.
Do not use greetings such as Mr./Mrs./ Dr./Col. or unidentifiable picture.
How to Download Aadhar Card Form Online?
Navigate to the official website of UIDAI https:/uidai.gov.in/ and reach the section 'My Aadhaar.' On the right of the screen there will be a "download" tab, click the "Aadhaar Enrolment/ Update Form" to download the registration form.
FAQs
✅

How can I fill my Aadhar card form Online?

No, you can not fill an Aadhar form online. However, you can fix your appointment at the enrollment centre near you through the online process.
✅

How can I download my Aadhar card enrollment form?

You can download Aadhar card enrollment form by visiting the link https://nsdl.co.in/uid_search/UID-Downloabables-Form.php.
✅

How can I correct my details in the Aadhar card?

In the Self Service Update Portal, you can update your address online. Please visit the Permanent Enrollment Center for other information such as name, address, dob, gender, mobile number, e-mail and biometrics(fingerprints, iris & photo).
✅

Where do I send my Aadhar card correction form?

Individuals must send their revised Adhaar Card Corrections form to the following address with attached documents: Unique Identification Authority of India, Post Box Number - 99, Banjara Hills, Hyderabad — Pin: 500034, India.
✅

Will the Aadhaar number remain the same in case I Update Aadhar?

Yes, your Aadhaar number will remain the same throughout even after an update.
✅

Is it mandatory to carry the original documents when I visit the Aadhaar Enrolment Centre?

Yes, you must bring the original documents with their photocopies and enrollment form when you visit the Aadhar enrollment centre.
---
Home Loan

Home Loan at all-time low rates starting at 6.50%. Cashback of up to ₹ 1,000

Apply Now

Personal Loan

Instant Personal Loan starting at 10.25% with Cashback of up to ₹ 1,000.

Check Offers

Gold Loan

Instant Gold Loan starting at 9.00% with Cashback of up to ₹ 500

Apply Now

Loan Against Property

Best Loan Against Property Offers starting @ 6.90%. Cashback of up to ₹ 1,000*.

Apply Now

Business Loan

Collateral Free Business Loan Rates starting at 14.00% with Overdraft facility.

Apply Now

Fixed Deposit

AAA rated FDs with returns as high as 7.05%.

Invest Now
*Terms and conditions apply. Credit at sole discretion of lender, which is subject to credit appraisal, eligibility check, rates, charges and terms. Information displayed is indicative and collected from public sources.
MyLoanCare is an independent professional service provider and is not related to the government or government bodies or any regulator or any credit information bureau in any way. Information carried at this website is not and should not be construed as an offer or solicitation or invitation to borrow or lend. The Company does not undertake any liability with respect to the correctness of the content, information and calculations. Information is subject to change without notice. By submitting your query or using any tools or calculators, you authorize MyLoanCare to share your information with lender(s), consent for such lender(s) to access your credit information report and contact you regarding your query overriding your number being in National Do Not Call Registry. This is a free service and no charges are payable by the borrower to MyLoanCare. The Company may receive remuneration from lenders for services provided to them.
Read More
Read Less

Please wait while your information is being processed...